Mexican government says it will deport Central American migrants who tried to breach border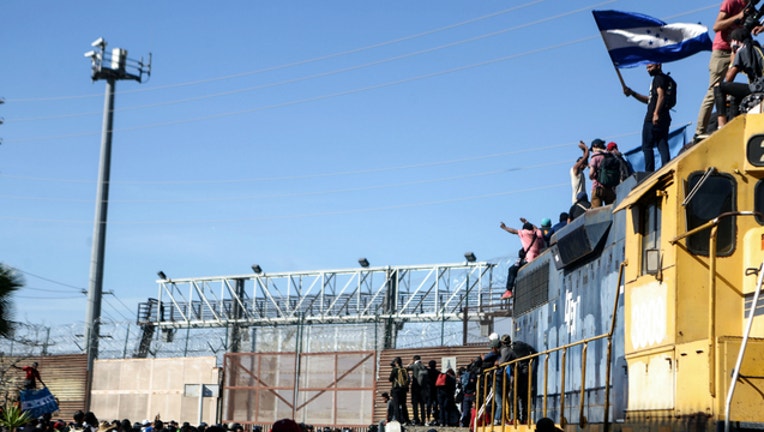 article
TIJUANA, Mexico (AP) - The Mexican Interior Ministry has said it would immediately deport Central American migrants who tried to "violently" breach the border with the U.S. just south of California and that it would reinforce the border.
RELATED: U.S. agents fire tear gas as some migrants attempt to breach border crossing
Meanwhile, Homeland Security Secretary Kirstjen Nielsen said Sunday that U.S. authorities will continue to have a "robust" presence along the Southwest border and that they will prosecute anyone who damages federal property or violates U.S. sovereignty.
About 500 migrants who arrived in Tijuana by caravan marched toward the border to plead for the U.S. to speed processing of asylum requests.
The march, however, was dispersed by tear gas after some in the group tried to force their way into the U.S. The Mexican government described Sunday's events as "acts of provocation" that were "far from helpful" for the migrants' objectives.
U.S. President Donald Trump took to Twitter Sunday to express his displeasure with the caravans in Mexico.
"Would be very SMART if Mexico would stop the Caravans long before they get to our Southern Border, or if originating countries would not let them form (it is a way they get certain people out of their country and dump in U.S. No longer)," he wrote.
Mexico's Interior Ministry said Sunday the country has sent 11,000 Central Americans back to their countries of origin since Oct. 19, when the first caravan entered the country. It said that 1,906 of those who have returned were members of the recent caravans.
Mexico is on track to send a total of around 100,000 Central Americans back home by the end of this year.