Not this house! NC woman removes snake from her living room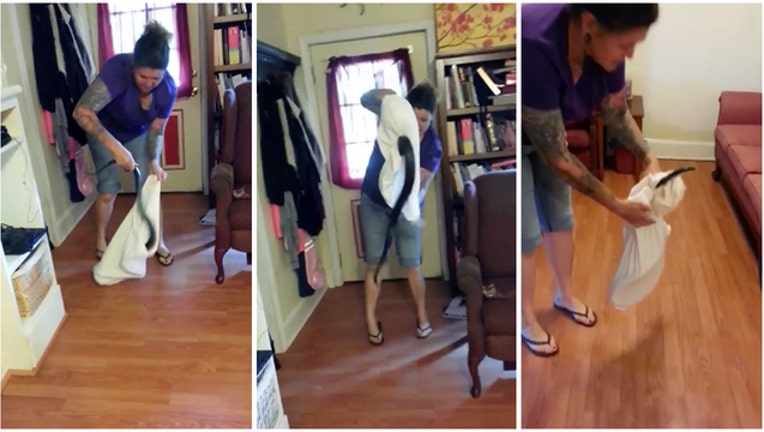 article
FOREST CITY, NC (FOX 46) - A woman in North Carolina came home to discover a 5-6 foot snake slithering in her living room. 
SunShine McCurry posted the heart-pounding video to her Facebook page:
The video has since gone viral with more than 35,000 shares and 7,000 reactions. 
McCurry had a family member take video of the surprise encounter on her cell phone while she quickly (and bravely) put the black rat snake inside a pillow case. 
Experts say a black rat snake's best defense is its last resort 'smell release'. When in serious danger, like being attacked by a dangerous predator, the snake will release a foul smelling musk-like smell.
The black rat snake thought exactly that - and released the foul odor all over McCurry.
"Sometimes living in the country ain't too cool, and other times it is. But I really stink right now, so I gotta go wash this off of me," McCurry said in the video. 
More Snake Stories:
Woman finds ball of snakes on popular greenway trail
Black rat snake in the bathroom
Large snake found on Lake Norman
Video: Snake eats catfish at North Carolina Park
Social media helps identify venomous snake that bit man 
Waxhaw woman's post aims to educate folks on how to be 'snake safe'