Oh, Yeezus: Trump and Kanye West trade Twitter love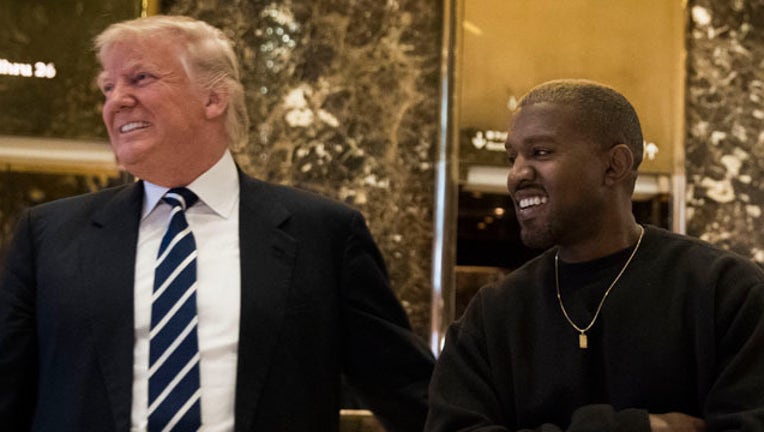 article
NEW YORK (AP) - Trump-West 2020?
In a moment that seemed to encapsulate 2018's social media-driven blurring of celebrity and politics, President Donald Trump tweeted his thanks to rap superstar Kanye West on Wednesday for his recent and perhaps unexpected online support.
"Thank you Kanye, very cool!" the president posted in response to the tweets from West, who called the president "my brother."
West, the enigmatic hip hop provocateur, posted a series of tweets in support of the president, whom he visited at Trump Tower in December 2016 during the presidential transition.
"You don't have to agree with trump but the mob can't make me not love him. We are both dragon energy," West wrote Wednesday. "He is my brother. I love everyone. I don't agree with everything anyone does. That's what makes us individuals. And we have the right to independent thought."
Later, West posted a photo of himself wearing one of Trump's signature red campaign "Make America Great Again" hats and showcased that the president had signed it. "MAGA!" Trump responded in another tweet, using the acronym for his slogan.
West noted that his wife, reality star Kim Kardashian West, wanted him to clarify that he was not in lockstep with all the Republican president's positions.
"My wife just called me and she wanted me to make this clear to everyone," West wrote. "I don't agree with everything Trump does. I don't agree 100% with anyone but myself."
West lent an air of celebrity to Trump, who has not been nearly as popular among movie and music stars as his Democratic predecessor, Barack Obama. He complained about struggling to lure big-name talent to his Inauguration and made a point of calling Roseanne Barr, a rare Trump supporter in Hollywood, for the recent success of her sitcom.
Trump has also consistently been supported by a small percentage of black voters.
West has recorded several best-selling albums and produced a buzzy fashion line and has the undeniable talent for attracting attention. He's also been linked to several previous presidents, including when Obama called him "a jackass" in 2009 for storming the stage at an MTV awards show to interrupt Taylor Swift. And in 2005, during a telethon to raise money for the victims of Hurricane Katrina, West criticized the White House's response to the storm by famously charging that "George W. Bush doesn't care about black people."
There was quick backlash to West on Twitter on Wednesday.
"Kanye doesn't care about black people," tweeted comedian Akilah Hughes.
But others were quick to embrace West.
Eric Trump, one of the president's sons, tweeted three American flags next to West's declaration of dragon energy. His brother Donald Trump Jr. appropriated Hillary Clinton's slogan, "#ImWithHer," when he retweeted a Kardashian West post in which she denounced the media for calling the rap superstar erratic. And InfoWars host Alex Jones, a conspiracy theory promoter, invited West onto his show.
West has toyed with running for president himself and on Wednesday tweeted a poster of his face emblazoned with the slogan "Keep America Great" and "#Kanye2024."
Coincidentally or not, West also tweeted earlier this week that he has a new album coming out this summer.
___
Follow Lemire on Twitter at http://twitter.com/@JonLemire