Over 100 tons of trash removed from Austin homeless camp, officials report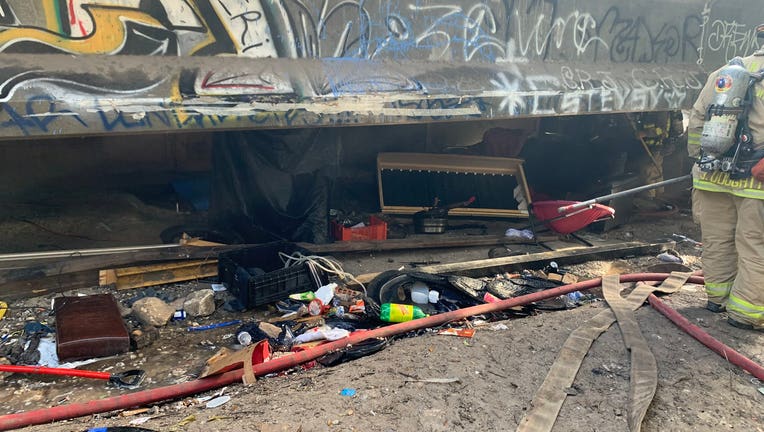 article
AUSTIN, Texas - A homeless camp located near Highway 183 and Anderson Lane was recently cleared and according to city resource officials over 100 tons of trash has been collected from the site. 
The cleanup began on February 21 at a homeless camp that sits under a bridge at Highway 183 and Cameron Road on February 21. The emergency clean up followed two fires that had previously erupted at the site. 
RELATED: Emergency cleanup underway following second fire at homeless camp
FOX 7 Austin reached out to the three organizations that assisted with clearing the site and learned that altogether the organizations removed approximately over 100 tons of trash from the site. 
Austin Resource Center said their department collected 30 tons of trash from the camp while Austin Public Works says that their department collected nearly 25 tons. The third organization, Austin Watershed Protection said they removed eight truckloads of trash.
The department estimates that each truck carries six to seven tons fo trash, totaling over what they believe is over 50 tons of trash. 
Workers with Austin Resouce Recovery spent all day on February 21 picking up items including bicycles and wheelbarrows. 
RELATED: State officials clean up area of recent homeless camp fires
After the fires, TxDOT brought in an inspector to assess if there was damage to the bridge but there were some issues due to people's belongings and trash in the way. TxDOT was able to finally assess and found no issues with the bridge.
---------
Get breaking news alerts in the FOX 7 Austin News app. It is FREE!
---------
"This is one of those sites that we discovered that we didn't know a whole lot about and then, once we learned more about it in terms of the scale and the level of debris there, we moved in to do an assessment," said Ken Snipes, director of Austin Resource Recovery.