Family of Pflugerville woman killed three years ago still searching for answers
PFLUGERVILLE, Texas - Three years have passed since 51-year-old Sharon Selman was shot and killed at an apartment complex.
The incident happened on March 31, 2020, and investigators are looking for help identifying a potential suspect.
"It's extremely frustrating to not have answers and not have justice for my mom, to not really know who's responsible for her death," Lakeshia Craft, Selman's daughter, said.
The detective in the case says each year, new leads come in.
"We're working with several agencies in the area making sure that we're sharing Sharon's story, because what may have happened with another agency in their investigations may help us significantly," Det. Janie Campana said.
Investigators released a sketch of a potential suspect in 2021 after they met with a witness.
"Why we shared it is to make sure the public uses that as assistance with a timeline so where that person may have been seen beforehand, during, or after, that helps them remember what took place," Campana said.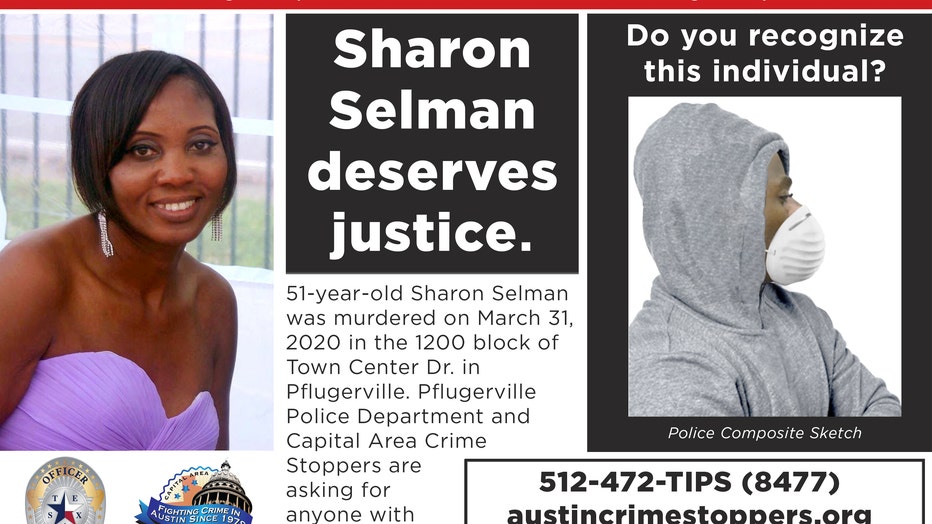 Craft says this would be her message to the suspect, "you're a sorry excuse for a human being. You're a coward, you took a beautiful soul, you took a mother and grandmother away from her family, and you're going to get caught, your time is coming."
She says not a day goes by where she doesn't think about her mother.
"She was very beautiful, she was well-liked by everyone, always smiling, always happy, the type of person who could really brighten up your day," she said. "She really loved her family, she loved her community, she loved her church, she was just a light, and everyone who knew her and loved her misses her dearly."
Craft and Campana are urging anyone with information to come forward.
"What you think may not be significant is actually so important and can provide justice and answers for this family and what they deserve," Campana said.
"Our family wants answers, and just please come forward," Craft said.
If you have any information, you can reach out in any of the following ways and remain anonymous: 512-472-TIPS (8477), cidtips@pflugervilletx.org or austincrimestoppers.org.
Crime Stoppers is offering up to a $1,000 reward for information leading to a suspect's arrest, and Selman's family is offering up to $25,000 for information leading to a suspect's arrest.