Popular Austin restaurant Shady Grove closes permanently
AUSTIN, Texas - A popular Austin eatery on Barton Springs Road is closing its doors for good. Shady Grove said COVID-19 was the final 'nail in the coffin.'
The Austin staple had been around for almost 30 years. 
Marsha Milam, who spoke with FOX 7 Austin on behalf of Shady Grove, said being closed for the spring made the restaurant lose millions of dollars. She also said the huge rise in property taxes was a big factor in their decision to close.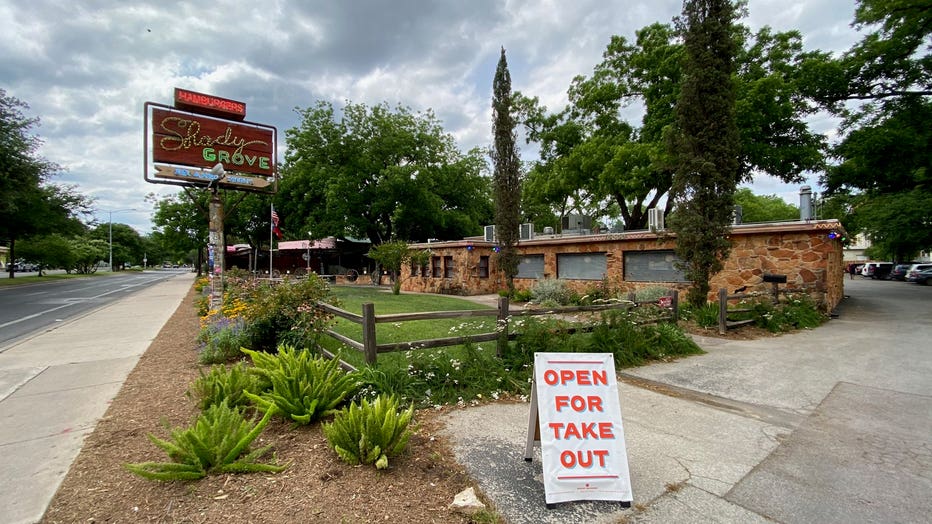 The restaurant will close permanently on Monday, May 11. The owners released more information in a statement on their website.
"Though my heart is heavy, it is full of gratitude and pride for what has truly been a magical journey of 28 years. It's been a privilege to serve this city we love so much," Rusty Zagst, the owner of Shady Grove said in his statement. "I am thankful for all our wonderful customers for sharing their lives and experiences with us as together we've watched our town grow into the big city. I am equally grateful and humbled by all the amazing music we've been able to present and share over the past 27 years."
SIGN UP FOR FOX 7 AUSTIN EMAIL ALERTS
The restaurant had hosted a concert series called Unplugged at the Grove, which became an Austin institution over the years. For 25 years, Thursday evenings at Shady Grove was synonymous with exceptional music at the lowest price humanly possible.
---------
Get breaking news alerts in the FOX 7 Austin News app. It is FREE!
---------
"Words however will never fully express my love and gratitude for all the incredible employees, both past and present, I have been fortunate enough to work with over the years. I am the luckiest guy in the world for having known you. Shady Grove has been a beautiful spot on Barton Springs Road, one which has provided us memories of joy, happiness, magic, comfort and camaraderie. But Shady Grove is more than a physical location. Shady Grove is a place in your heart where people are friendly, life is easy, Austin is still cool and you are always welcome."
To read the full statement from Shady Grove, click here.
CLICK HERE FOR THE LATEST INFO ON THE CORONAVIRUS OUTBREAK
---
FOX 7 Austin is working to keep you up to date with coronavirus, with both local and national developments. Every weekday we're live at 12 p.m. with a special show reporting the latest news, prevention tips and treatment information.
You can watch live in your FOX 7 Austin app or on the FOX 7 Austin Facebook page.
You can also get the latest COVID-19 news from around the country at coronavirusnow.com.