Second US death reported as Lee skirts New England with high winds, dangerous waves
BAR HARBOR, Maine - A second death related to Lee in the U.S. was reported Saturday as the sprawling storm pounded New England with damaging winds that have left nearly 300,000 customers across both the U.S. and Canada without power.
The first death happened in Florida earlier this week when then-Hurricane Lee churned up dangerous rip currents that officials said led to the drowning of a 15-year-old swimmer. On Saturday, police said winds from Post-Tropical Cyclone Lee knocked down a tree onto a car in Searsport, Maine, and killed a 50-year-old man inside.
According to the National Hurricane Center, the storm came ashore on Long Island off Nova Scotia, Canada, with winds of about 70 mph. While the name of Lee changed from "hurricane" to "post-tropical cyclone," the difference for those in New England is in title only.
Central Maine Power said Saturday morning that they were already seeing damage from Lee with impacts picking up throughout the day. (Central Maine Power via X)
The storm is now getting its power from more traditional atmospheric clashes between warm and cold air, and no longer drawing energy from warm waters below like hurricanes and tropical storms, the FOX Forecast Center said and remains a dangerous storm system.
More than 92,000 households were also experiencing outages in the New England area – the vast majority in Maine. Nova Scotia Power reported more than 161,000 customers are without power. Another 29,000 customers are reported to be without electricity in New Brunswick.
Cell phone service was also reported to be spotty in the region, which was likely a result of widespread power outages.
WHAT'S THE DIFFERENCE BETWEEN A TROPICAL STORM AND A SUBTROPICAL STORM?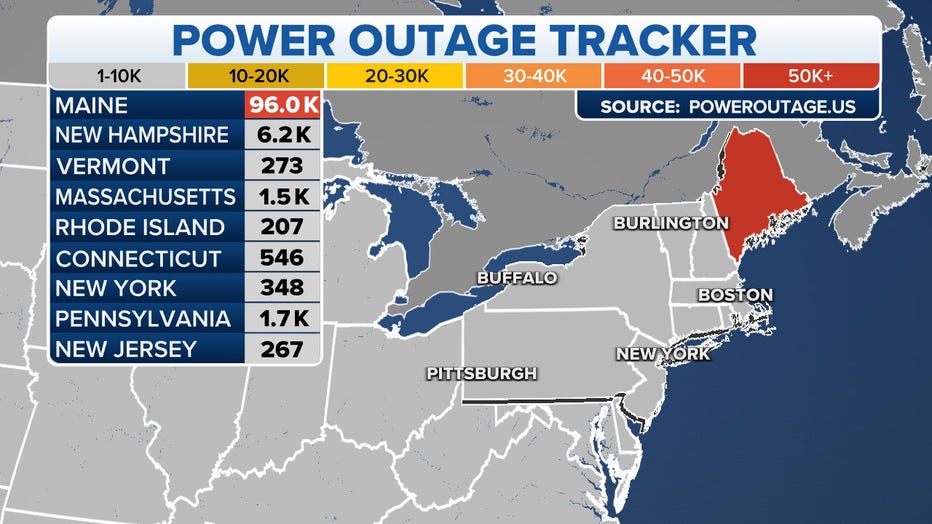 Here's a look at the current power outages across the Northeast. (FOX Weather)
On Saturday morning, FOX Weather meteorologist Michael Estime was covering the storm from Bar Harbor, Maine when he witnessed a boat being forcefully propelled by strong waves towards a concrete pier and slamming into a seawall.
"We watched as one of these boats…became unhinged and the boat was rocking and rolling … and within 30 seconds that the wind took that boat and smacked it up against the sea wall right behind Pier no. 2 and then we lost it as it sailed out of our field of vision," he said.
BOAT BREAKS FREE OF MOORINGS AS LEE BATTERS NEW ENGLAND WITH DAMAGING WIND, WAVES
Conditions started worsening late Friday evening and will be at their worst late Saturday morning into Saturday afternoon. Governors in Massachusetts and Maine declared states of emergency ahead of the storm and activated National Guard members to prepare for the needed response.
In Manasquan, New Jersey, a boat capsized on Friday night due to Lee's high waves and rough surf, causing a man to go missing. The area experienced 8 to 10-foot waves during the incident, leading to the 31-foot boat's overturning. A father and his two sons were onboard, and while the father and one son were rescued. Coast Guard and local agencies searched until sunset Friday for the son still missing. The search was suspended pending further developments.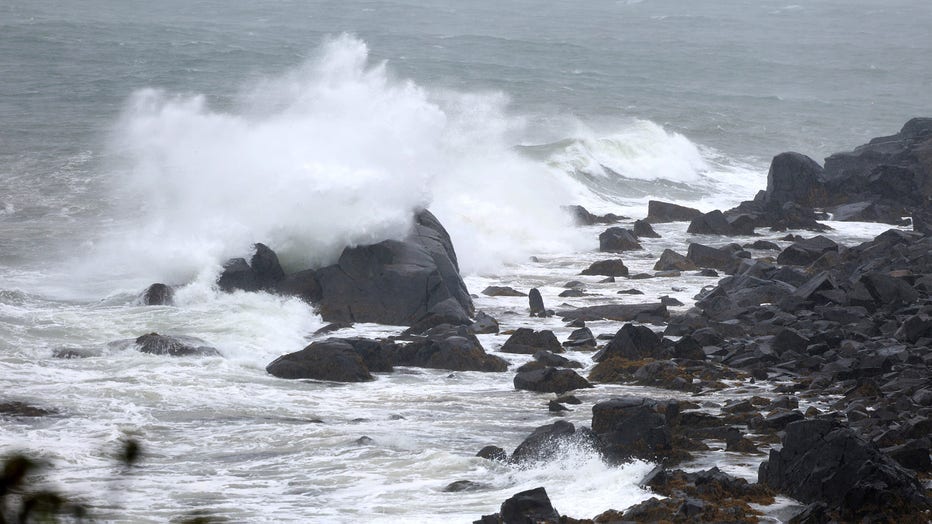 Waves crash ashore from Post-Tropical Cyclone Lee on September 16, 2023 in Lubec, Maine. Formerly a hurricane, the storm was downgraded, but forecasters say it will remain large and dangerous. (Photo by Joe Raedle/Getty Images)
Lee's hurricane-force winds felt from New Hampshire to Canada
As the storm moves northward, it is expected to bring wind gusts of 50-65 mph along the immediate coastlines of Maine and the western Canadian Maritimes.
The cyclone produced hurricane-force wind gusts in both the U.S. and Canada before its landfall in Nova Scotia. In Perry, Maine, near the Canada–U.S. border, a wind gust reached 83 mph early Saturday morning. A gust on Canada's Grand Manan Island reached 93 mph while Halifax, Nova Scotia has hit 73 mph. An observation site in New Brunswick reported a wind gust of 93 mph.
At the higher elevations, Lee helped produce a wind gust of 96 mph at Mount Washington in New Hampshire.
Conditions will rapidly improve later Saturday into Sunday from south to north as Lee begins to accelerate and race off to the northeast through the Canadian Maritimes. 
100+ MPH WIND GUSTS EXPECTED ON NEW ENGLAND MOUNTAIN SUMMIT AS HURRICANE LEE ROARS PAST REGION