Nephew of victim speaks out after arrest of Texas man described as serial killer
PFLUGERVILLE, Texas - The nephew of a man killed by a suspected serial killer is speaking out. Raul Meza admitted to killing Jesse Fraga in Pflugerville.
"He was my father figure. He was the one who raised me," Jesse Fraga's nephew Fred Alverez said.
When Alverez was in junior high, his parents got divorced, so he moved to Austin and lived with Fraga and his family.
"He was always helping out other people and other kids in the neighborhood," Alverez said.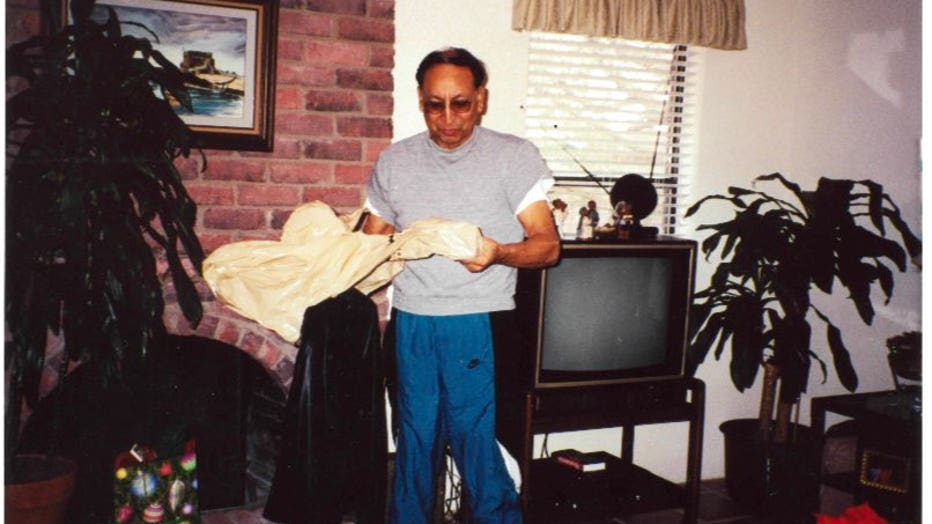 Jesse Fraga. Photo courtesy: Fred Alverez
READ MORE: Man described as serial killer by police arrested for multiple murders
He said his helpful nature may have been his downfall.
"Do you think he was too caring, too compassionate for others? And that's how this happened?" FOX 7 Austin News reporter Meredith Aldis asked Alverez.
"Yes, his big heart may have gotten him into trouble, but I feel that that was Jesse's calling. Jesse was deeply religious in his convictions of trying to help others and nobody was really a lost cause," Alverez said.
In May, 80-year-old Fraga was found stabbed to death at his home in Pflugerville. The man who said he did it was 62-year-old Raul Meza Jr.
"I believe that they should have been able to apprehend him long before this," Alverez said.
Meza's criminal history dates back to 1975 when he shot and wounded a man in a robbery. He served five years before being released on parole.
In 1982, Meza raped and murdered 8-year-old Kendra Page. The little girl's body was found in a dumpster outside Langford Elementary School in Southeast Austin. As part of a plea deal, Meza was sentenced to 30 years in prison, but was released on parole after serving just 11 years.
Kendra Page. Photo courtesy: Tracy Page
"Somebody made a bad decision 41 years ago and let this guy, for whatever reason, manipulate the system and justice was not served," Austin Police Department Former Sgt. Bruce Mills said.
In 1994, Meza was arrested on a parole violation and spend the next 20 years in and out of prison, on and off parole. That's when Meza befriended Fraga who was an adult probation officer.
READ MORE: Austin 'serial killer' accused of sexually assaulting, strangling elderly woman
"His job gave him inside as to how people could be at times," Alverez said.
Meza later moved in with Fraga and his family. Fraga's wife and son later died of COVID.
"I remember seeing Raul at Jonathan's memorial service and Tilly's memorial service and I just never thought he was that kind of person. I didn't know him that well and one thing Jesse taught us how to do is not judge until you get a chance to walk in their shoes and know who they are. But, yeah, I just didn't expect that," Alverez said.
Alverez said he couldn't believe the reason Meza gave police for killing Fraga.
Meza told police on the phone Fraga, "started demanding sex. Started demanding it and I saw no way out." After one encounter, he said he lost it.
"I know of what was said about Jesse and this other guy and I don't believe the relationship, I don't believe they were having that type of relationship. Jesse was a devout Christian person," Alverez said.
When Meza admitted to killing Fraga on the phone with police, he also confessed to the murder of 66-year-old Gloria Lofton in East Austin in 2019.
"I quote, I got out in 2016. I end up murdering a lady soon afterward. It was on Sara Drive," Austin Police Department Detective Patrick Reed said.
Austin police said, so far, Meza has also confessed to two murders in San Antonio, and they're looking into at least 10 cold cases in Austin.
"So we are backtracking it to 1996 and even earlier. So there is a good possibility that we will find additional cases as well," Austin Police Department Detective Katy Conner said.
Alvarez said he can't forgive Meza for killing his uncle.
"Why did you have to hurt the man who tried to help you?" Alverez said.
Meza is charged with capital murder, two counts of murder, and unauthorized use of a motor vehicle.