Russian President Putin says strike on Syria will exacerbate humanitarian catastrophe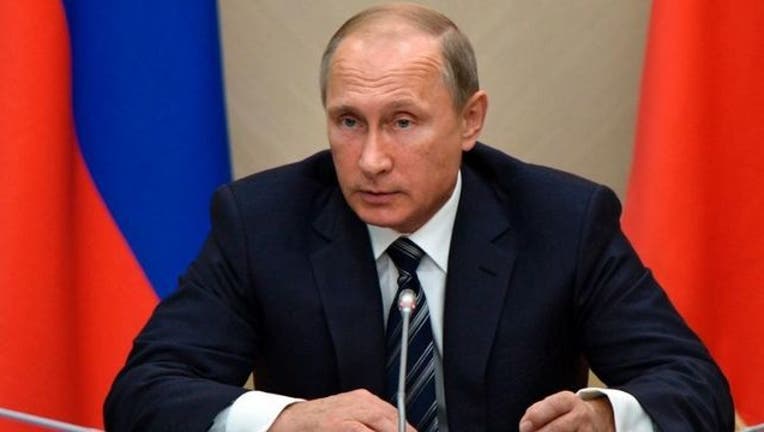 article
MOSCOW (AP) - Russian President Putin says strike on Syria by US and its allies will exacerbate humanitarian catastrophe in Syria.
Russian officials warned of "consequences" after President Donald Trump announced his approval of U.S.-led military strikes in Syria against the Russian-backed regime of Bashar al-Assad.
Early Saturday, Russian President Vladimir Putin issued a statement saying the Western coalition's "act of aggression" would only exacerbate the humanitarian catastrophe in Syria.
Putin called the strike a "destructive influence on the entire system of international relations" and said Moscow would call for an emergency meeting of the U.N. Security Council.
Immediately following Trump's televised address Friday night, announcing the U.S.-led strikes, loud explosions and thick smoke were reported in the Syrian capital city, Damascus.
Syrian air defense units shot down 71 out of 103 cruise missiles launched by the U.S., Britain and France, the Russian military claimed Saturday. 
Russia's Defense Ministry had earlier asserted that none of the missiles launched by the U.S. and its allies entered areas protected by Russia's missile defense.
Col. Gen. Sergei Rudskoi of the Russian military's General Staff said Saturday that the Syrian military used a Soviet-made missile defense system to shoot down all the missiles targeting four key Syrian air bases. He added that there were no casualties from the strike and its targets suffered only minor damage.
Rudskoi said Russian air defense assets in Syria monitored the strike, but didn't engage. He also noted that while Russia had refrained from supplying Syria with its state-of-the-art S-300 air defense missile systems, that could be reconsidered now.
Prior to Putin's statement, other Russian officials issued grim reactions to the Western military effort.
"A pre-designed scenario is being implemented," Antonov said. "Again, we are being threatened. We warned that such actions will not be left without consequences. All responsibility for them rests with Washington, London and Paris.
"Insulting the President of Russia is unacceptable and inadmissible," he said. "The U.S.—the possessor of the biggest arsenal of chemical weapons—has no moral right to blame other countries."
Credit: FOX NEWS