Support local businesses this Mother's Day
AUSTIN, Texas - May 10 is Mother's Day and while you may not be able to celebrate the way you'd like that doesn't mean you still can't do something special.
FOX 7 Austin has compiled a noncomprehensive list of some things, gifts, and more that you can consider doing or buying. 
SIGN UP FOR FOX 7 AUSTIN EMAIL ALERTS
ATX Love Local presents ATX Mother's Weekend Brunch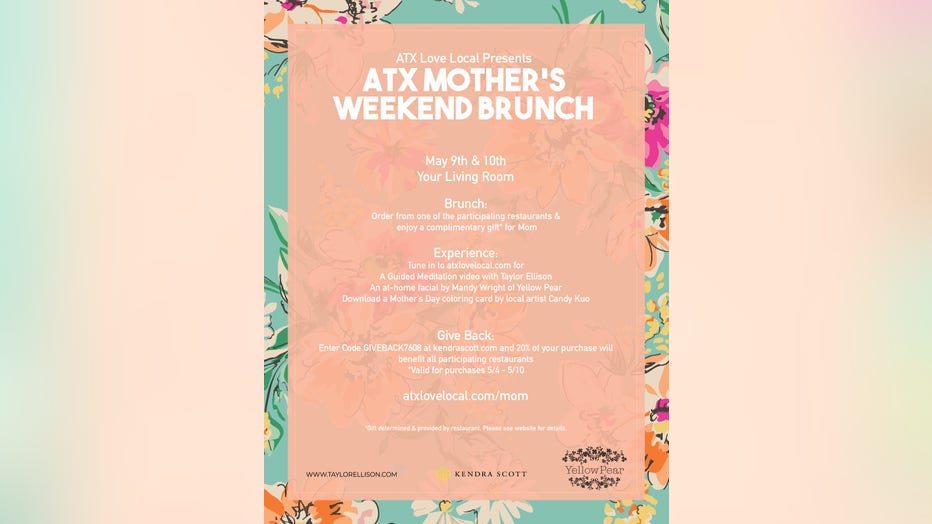 After the success of its recent ATX Living Room Picnic, ATX Love Local is hosting a similar stay-at-home event for the entire weekend of Mother's Day on May 9 and May 10. It's offering ideas for special gifts, digital experiences, and food you can get so you can celebrate at home and still support local businesses. 
Ideas include brunch packages, cocktail kits, flowers, cookies, candles, gift cards, and wine. 
Participating restaurants will include a free custom Mother's Day Coloring Card designed by local artist Candy Kuo. The card can also be downloaded to print from home.
Other options include a 30-minute guided meditation and reiki as well as video tips from YellowPear aesthetician Mandy Wright on making an oatmeal maks and lip sugar scrub using items from the pantry.
RELATED: Local restaurants offering delivery, curbside and takeout service after restaurants and bars shut down
Kendra Scott is also giving back with 20% of purchases from 5/4 - 5/10 using code GIVEBACK7608 on kendrascott.com benefiting all participating restaurants in ATX Love Local's Mother's Weekend Brunch. 
Participating businesses include: Aviary, Blenders and Bowls, Buenos Aires Café, Chi'Lantro, Chuy's, Contigo, East Side King, épicerie, Foreign & Domestic, Hipstirs, House Wine, Juliet Italian Kitchen, Kesos Tacos, Mighty Fine Burgers, Fries & Shakes, Nourished, Phantasma Kitchen, Rosen's Bagel Co., Rudy's Country Store & BBQ, Scholz Garten, Sugar Mama's Bakeshop, Tiny Pies, Wink, Z'Tejas, and more.
For more info on Mother's Weekend Brunch packages, special gifts, and digital experiences you can head to https://www.atxlovelocal.com/mom.
---------
Get breaking news alerts in the FOX 7 Austin News app. It is FREE!
---------
RELATED: How you can help service industry workers furloughed or laid off due to coronavirus
Easy Tiger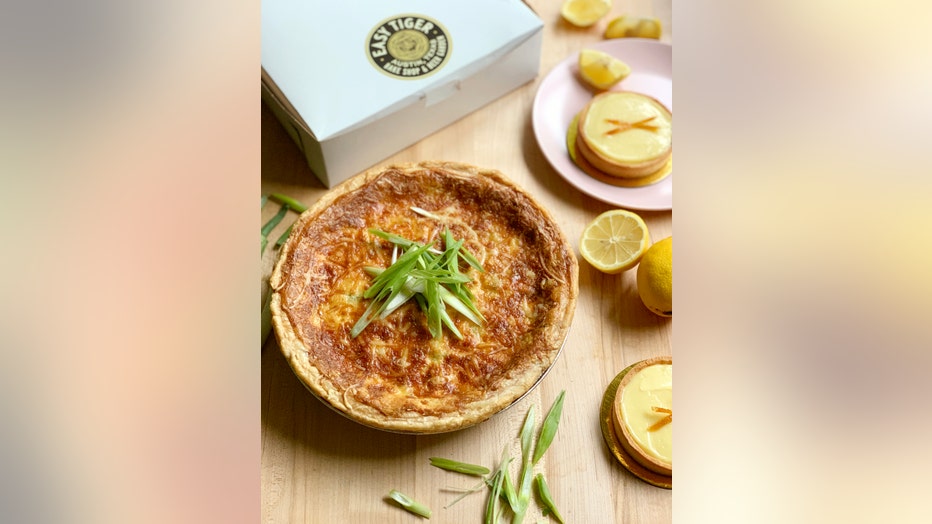 The bakeshop and beer garden is offering some Mother's Day specials that will be available for pickup or delivery May 8-10. The offerings are:
Lemon Tarts (two per box, $12)
Asparagus and gruyere quiche (serves six to eight, $25)
Mother's Day gift pack ($30)
Here's what to do to place pre-orders:
**IMPORTANT** Choose Friday May 8, Saturday May 9 or Sunday May 10 for Pick Up or Delivery, anytime between 9 AM and 8 PM. You must choose a time within the availability window to view the Mother's Day offerings.
Choose 'Mother's Day Menu' from the 'Choose a Menu' tab.
Make your selection and complete your purchase. 
RELATED: Easy Tiger launches community challenge to help feed those affected by coronavirus
You can also just send a delivery of freshly baked goods right to mom's house. Choose 'Delivery' and enter the recipient's address. Choose your gift and complete the order and the Easy Tiger team will do the rest. 
More information can be found on the Easy Tiger website.
LORO
Offering some special additions for Mother's Day in addition to its Rib Dinner for Two package. You can get a Mimosa DIY Cocktail Kit ($32) and a limited number of sweet treats from Executive Pastry Chef Ariana Quant (TBD).
The rib dinner includes one rack smoked baby back Durac pork ribs, coconut-scented rice, and a choice of two sides. Sides include Texas sweet corn, crunchy cabbage salad, sesame rice noodles, tomato & cucumber salad, and oak-grilled snap peas.
Details can be found here.
Kingsted Facemasks
If you're looking for a thoughtful and practical gift for mom, Kingsted, an Austin-based t-shirt company, has shifted its focus to provide protective face masks. The masks come in a variety of colors. The company is also donating masks to members of the Austin community that are most in need. **NOTE** Masks are not for medical use and are not FDA approved. Details on pricing and shipping can be found here.
Halcyon Coffee at Aldrich Street
Per Governor Greg Abbott's announcement that some businesses can reopen with limited capacity, Halcyon Coffee at Aldrich Street will be reopening for dine-in on May 1. Pick-up and delivery are still available and the last day for Mother's Day orders is May 8.
Brunch offerings include chicken and waffles with bourbon syrup ($12-$24 for one or two people) and a classic croque madame ($14).
RELATED: Trendy Tuesday: Mother's Day
A Mother's Day dinner is also being offered for $75 (serving two to three) or $125 (serving four to six) that contains fresh lobster and mushroom risotto, chef salad, housemade garlic bread, and tiramisu.
Mimosa flight kits can also be added on. For full details, you can go to Halcyon's website.
CONTi-GO Dispatch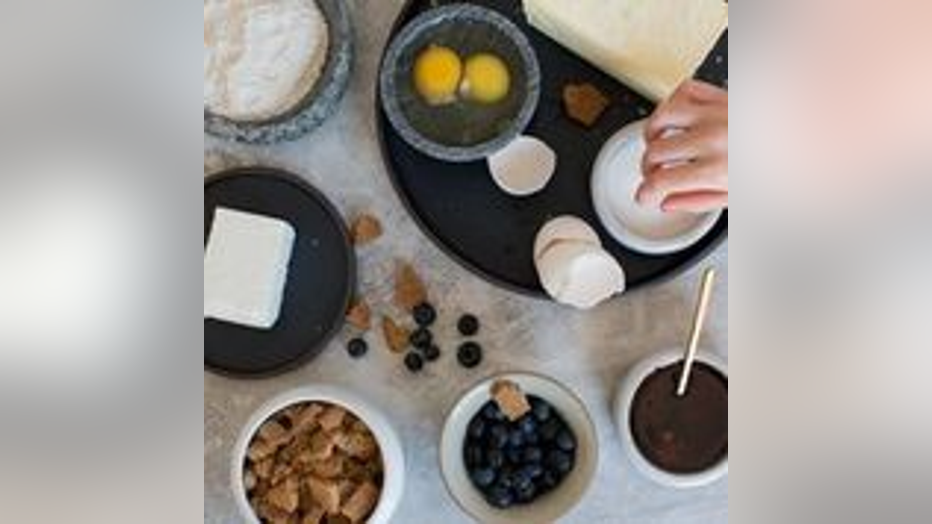 A Mother's Day brunch is being offered (serves six, $160) that includes several items like lox, egg salad, chicken & apple sausage, pancake kit, and more. You have the option to add on a bottle of sparkling wine ($12) or a Gypsy Florals floral arrangement or floral crowns ($30-$40). Preorder by May 5 for free delivery or pickup at 3709 Promontory Point, Suite B201. Get details and order online here.
Colleen's Kitchen at Aldrich Street
Offering takeout daily from 11 a.m. to 9 p.m. and Mother's Day spread is available for pre-order for pick-up on May 9. The "Take + Heat" all-day spread is $125 and includes items for breakfast (like cranberry brown butter biscuits), snacks (like salmon rillettes), dinner (like tenderbelly pit ham), and sweet (cheescake). **NOTE: All items are served cold and require reheating. Instructions are included.** Details here.
Bakery Lorraine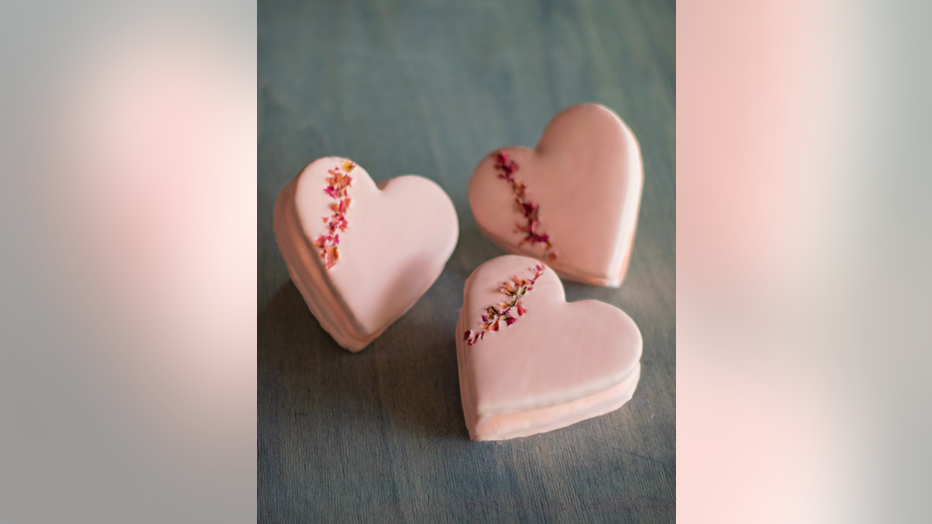 Accepting pre-orders until May 3 on their website for Mother's Day (at which point items will be available on a first-come, first-serve basis) and pickup is available May 9 and May 10 only. Items include macarons, a Mother's Day dessert box, and a Mother's Day meal option. 
Old Thousand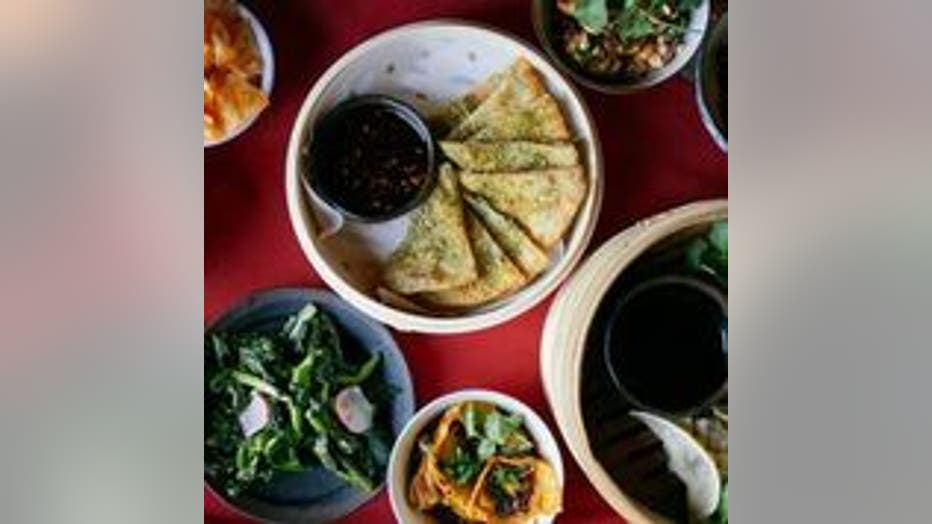 A Mother's Day Dim Sum Brunch is being offered that serves two and comes with entree(s), dim sum choices, sparkling wine, and orange juice. $44 and $55 options are available, whole and half chicken packages can be purchased as well. Call (737) 222-6637 to preorder next Monday-Friday for May 10 pickup.
Buenos Aires Cafe at Hill County Galleria
Takeout service continues but the restaurant is open at reduced capacity per the state's phase one reopening rules. Mother's Day order deadline is May 7 at 8 p.m. and pickup is May 9 from 12- 8 p.m.
The Mother's Day menu is ($150 + tax) and includes four empanadas, salad, au gratin potatoes, a berry trifle, and four individual servings of either salmon with julienne of vegetables en papillote or CAB beef tenderloin with haricots verts. Call 512-441-9000 to order or go to the restaurant's website.
Flip'N Art at Hill Country Galleria
An acrylic pour Mother's Day Box is available for retail-to-go and in-store. It's a family paint party for a crafty way to celebrate. The store is open weekends with shortened hours (1-6 p.m. Friday, Saturday, Sunday). Details here
William Chris Vineyards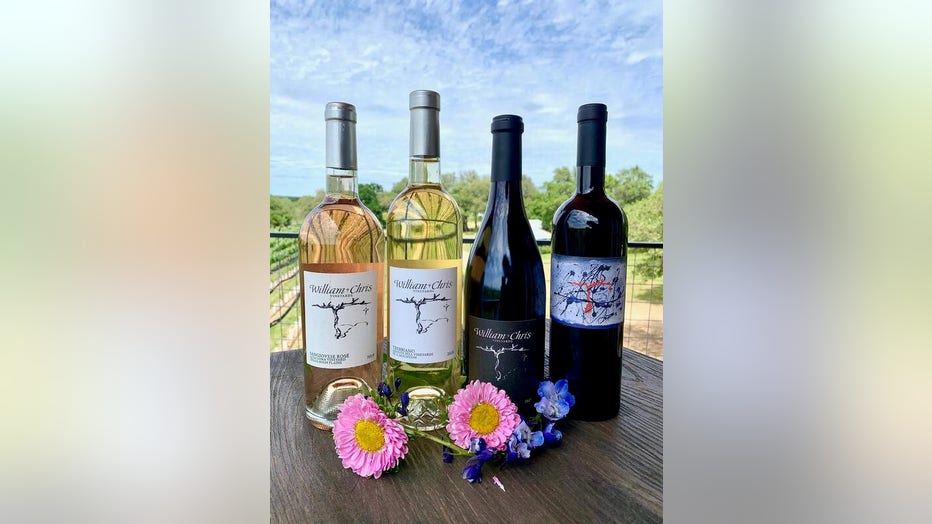 The vineyard is offering a Mother's Day four-pack of its wine for $95 with shipping included. There are only 200 packs available and they advise to order before May 1 at 5 p.m. to ensure that it gets shipped on time. The offer expires on May 10. The following wines are included in the pack:
2019 Sangiovese Rosé, Alta Loma Vineyard
2018 Trebbiano, Granite Hill Vineyards
2017 Cinsault, Lost Draw Vineyards
2017 Wanderer Series Italian Blend
Get more details about Wiliam Chris and other options you can consider here.
The Cavalier
Pre-order brunch, dinner, treats, and cocktails for Mother's Day by May 6 for pickup on May 9 or May 10. Items include the Cavalier's biscuits for brunch, King Ranch Chicken for dinner, and treats like peach cobbler. Details can be found here.
Austin Parks Foundation Outdoor Accessories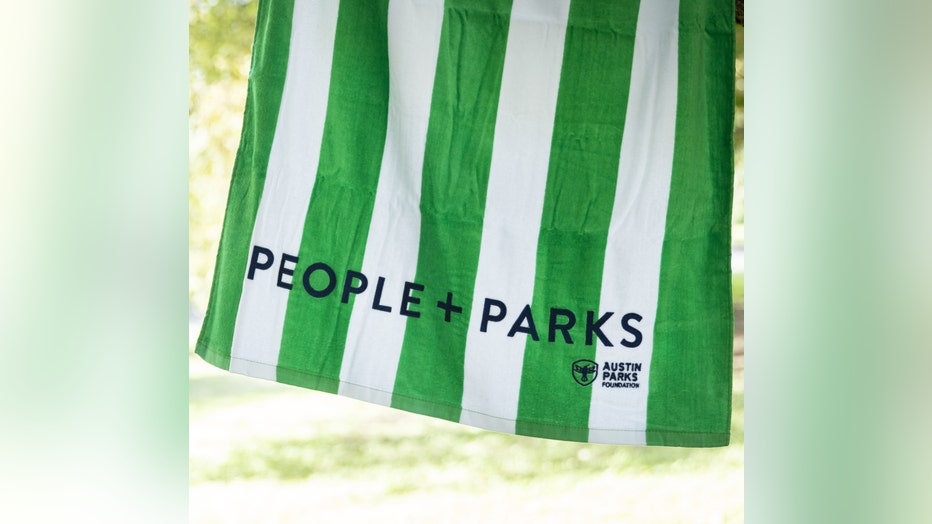 Looking for a gift that also helps give back? Austin Parks Foundation has items, including a cabana towel ($40) you can get, and purchases made on its online store help support its mission of improving and maintaining Austin's parks, trails, and green spaces. Details about shipping and a list of items can be found here.
Tony C's at Hill County Galleria + Avery Ranch
Offering to-go and delivery daily from 11:30 a.m to 8 p.m. and accepting pre-orders through May 8 at 8 p.m. A brunch pack is being offered that serves four to six people ($125) and contains items including croissants and nutella, bacon-wrapped figs, chicken picata, a mimosa kit, and more. Details here.
Andiamo
A cannelloni stuffed with veal ossobuco (four per order for $20) is being offered and you can add a bottle of prosecco or Sangiovese for $30. Preorder by calling the restaurant by next Monday-Friday for pickup on May. Details on their website.
The League Kitchen & Tavern
Offering to-go and delivery daily from 11:30 a.m. to 8 p.m. and accepting pre-orders until May 8 at 8 p.m. A brunch pack is being offered that serves four to six people ($125) that includes items like biscuits & jam, whole roasted chicken, smoked salmon deviled eggs, bread pudding french toast, and more. Details here.
San Antonio Museum of Art - Gift Shop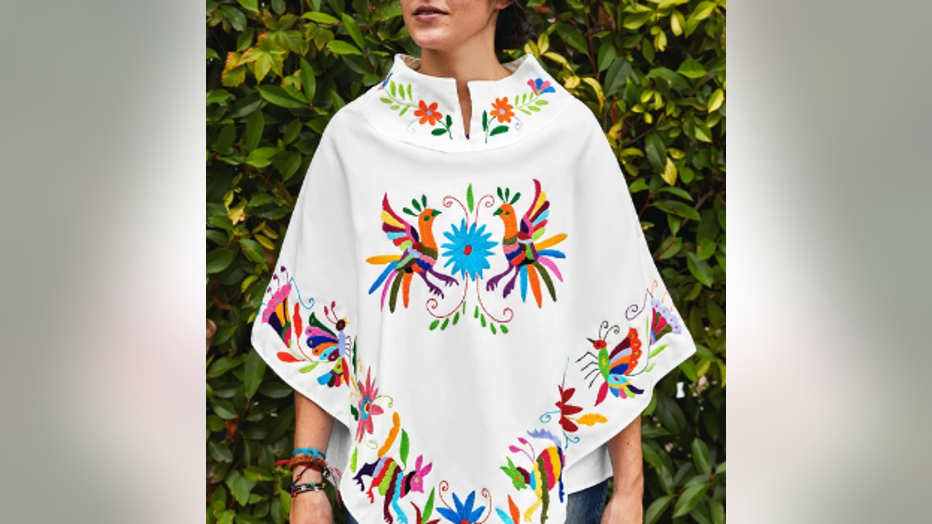 One of the leading contemporary art museums in Texas has some gifts you can get for mom that are available for statewide or national shipping. You can get giftcards or purchase items like an Otomo Quechquemitl garment hand-embroidered in Mexico, jewelry handrafted in Italy, a scarf inspired by the museum's Texas women exhibition, and more. Details here.
Historic Pearl
If you live in San Antonio, there's a variety of shops that are offering specials for mom. 
A selection of the gifts from the one-of-a-kind retailers at the Pearl will be available for curbside pick up through Pearl's Farmers Market Online. Ordering will be available at pearlfarmersmarketcurbside.com starting Friday, May 1, and go through Tuesday, May 5 (items currently not listed on the site, but will be available starting 5/1 in the evening). 
Several stores in the Pearl District are also gifts available for pickup and some offer to ship as well. Click on the shop's name to head to its website.
La Panaderia 
The San Antonio bakery is offering select items to ship statewide. Empanadas are available to be shipped anywhere in Texas via two-day shipping. Flavors include apple, pineapple, strawberry, and guava. Available in a dozen ($50) or two dozen ($84). Customers can order online via La Panaderia's website.