Texas border floating barrier: Abbott defends buoys in letter to Biden
AUSTIN, Texas - Installation of the border buoy barrier started earlier this month. When the idea was announced in June, Governor Greg Abbott admitted the floating wall, he described as a "marine barrier", is a unique approach. 
"What they are doing now is deploying a strategy that no state has ever done before," said Abbott, during the June news conference in Austin. 
The Biden Administration notified state officials the 1,000-feet link of round floating balls creates a navigation problem, and poses a risk to migrants who try to get around it. On Monday afternoon, the Biden Administration sued Gov. Abbott.
In a letter sent to President Joe Biden, Governor Abbott claimed the state of Texas has the authority to secure the border. He stated, "If you truly care about human life, you must begin enforcing federal immigration laws." 
Governor Abbott also restated an earlier declaration, "Texas will see you in court, Mr. President." That is in response to the administration's deadline to remove the river barrier or face a federal lawsuit.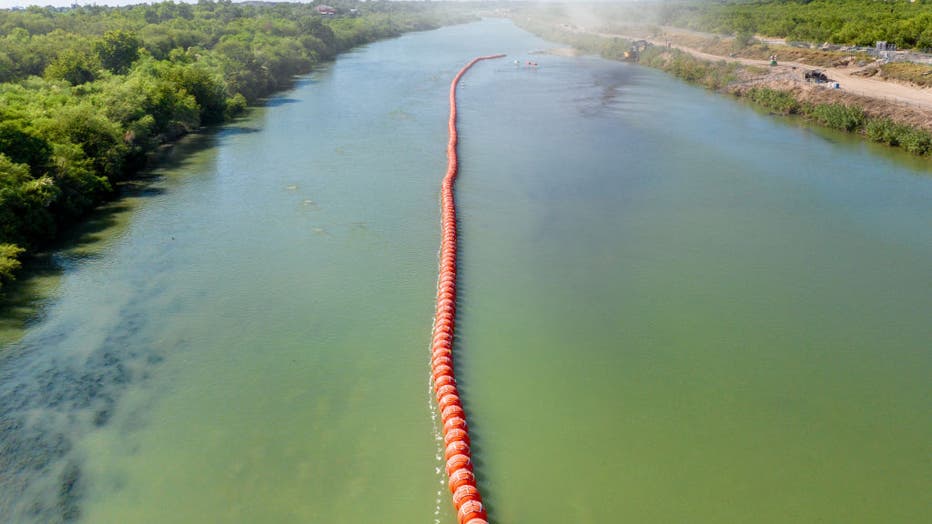 EAGLE PASS, TEXAS - JULY 18: Buoy barriers are installed and situated in the middle of the Rio Grande river on July 18, 2023 in Eagle Pass, Texas. Texas has begun installing buoy barriers along portions of the Rio Grande river in an effort to deter i
"We're going to see a lot of law-fare between the Department of Justice and the state of Texas," said Political Analyst Brian Smith with St. Edwards University. 
This looming confrontation in a federal courtroom, Smith said, will likely fail to address the problem at the border. 
"When we look at the surveys, Americans have always been in favor of legal immigration. People coming into the country, going through the steps, becoming citizens. So any steps towards that end are always seen as being something good. The problem, of course, is the push factors from other nations overwhelm our legal process system, which can be oftentimes very, very slow," said Smith.  
An example of that was posted overnight from Eagle Pass. Lt. Chris Olivarez, a DPS spokesperson, described his encounter with a group of migrants that crossed the river.
"I asked them, 'why don't you go to a port of entry? Why don't you use the CBP1 APP?' They say they've been waiting in Mexico for months, waiting for an appointment for months, and the CBP 1 APP was not working. They tried it both in English and Spanish, and it's not working. That's why the frustration builds up and that's why they continue to cross and risk their lives crossing the river," said Olivarez. 
The frustration builds up and, according to Olivarez, that's why the migrants continue to risk their lives crossing the river. Olivarez, in his social media post, echoed the defiant promised Governor Abbott made in the letter to the President.
RELATED COVERAGE:
"Until something is put in place, until there's some type of intervention, we're going to continue with our operations. We're going to continue putting more infrastructure concertina wire, whatever other resources and strategies we can put in place to discourage illegal border crossings and save lives, because that's, that's the real that's the real factor," said Olivarez. 
The border fight, according to Smith, is not expected to be decided by a judge. 
"This is very much a ballot box issue, and it's the issue of the border. How safe is the border? How secures the border, how good or how poor is our immigration system? And when Joe Biden runs and says, 'I'm going to make the border a top priority.' Events like this show that it might not necessarily be the best issue for him to run on next election," said Smith. 
The Head of Homeland Security is expected to testify before a Congressional House Committee on Wednesday.