Texas fighting order to disclose execution drug supplier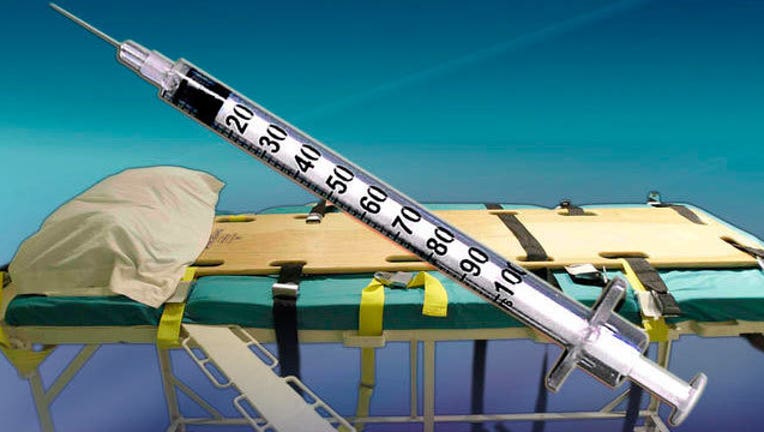 article
HUNTSVILLE, Texas (AP) — More than a year after a judge ordered Texas to divulge the source of its execution drugs, the information has not been released, legislators passed a state law protecting the prison agency from doing so, and the lengthy appeal that has allowed the provider to remain secret will finally be heard.
Texas, the nation's most active capital punishment state, will try to persuade an appeals court Wednesday to keep the Texas Department of Criminal Justice from being forced to disclose who provided the lethal drugs before last Sept. 1, when the law shielding suppliers took effect.
Prison agency spokesman Jason Clark wouldn't say Tuesday whether the provider of execution drugs then is still the supplier, reiterating that the drugs come from a licensed compounding pharmacy that is not publicly identified. Such pharmacies custom-make drugs for a specific client, although critics contend they operate with less stringent regulatory scrutiny and testing standards compared to larger drug companies.
The availability of execution drugs has become an issue in many death penalty states, and Texas began using a compounding pharmacy as its source when traditional pharmaceutical makers refused to sell their products to prison agencies to be used for capital punishment. Similar lawsuits about whether states must identify their providers have been argued in states including Georgia, Arkansas and Missouri.
Lawyers for the two inmates originally named as plaintiffs in the Texas suit failed to block their executions in April 2014 with arguments that the identity of the supplier of the sedative pentobarbital was essential to verify the product's potency so it didn't cause unconstitutional pain. Their suit, filed under the Texas Public Information Act and now before the Austin-based 3rd Texas Court of Appeals, argues that changes in execution methods and drugs from "new and unreliable sources" led to botched executions in Oklahoma, Ohio and Arizona.
Knowing the identity of the supplier also was important to ensure an execution "comports with the Constitution and the awesome responsibility being carried out," attorney Philip Durst said in a court brief.
Although Texas had released the name of its lethal injection drug suppliers for years, then-Attorney General Greg Abbott, who is now governor, changed course in May 2014, citing a "threat assessment" signed by Texas Department of Public Safety director Steven McCraw. Texas law allows exceptions to the Public Information Act if releasing certain information would cause a substantial threat of physical harm.
The attorney general's office contended that a Texas pharmacy identified as a previous lethal injection drug supplier received "a firestorm of hate mail," that prison agency officials testified to an escalation of threats related to executions, and that McCraw warned of possible violence to and the vulnerability of pharmacies if they're identified.
But state District Judge Darlene Byrne in Austin rejected arguments that disclosing the provider's would be a safety risk and ruled in December 2014 that it is a matter of public record.
"What the evidence should do — and does — is demonstrate that the release of requested information entails a substantial threat of physical harm," Richard Farrer, an assistant Texas Solicitor General, said in a filing with the appeals court.
"TDCJ's alleged claim of imminent violence is far-fetched," Durst said.
Since it resumed carrying out capital punishment in 1982, Texas has put to death 537 prisoners, far more than any other state. Texas also has avoided many of the supply difficulties experienced elsewhere. Executions in Ohio are on hold until at least next year because of the state's inability to obtain drugs.
Texas executions also have been carried out with no unusual occurrences.
The last 55 prisoners put to death in Texas have been executed with pentobarbital, a switch from a three-drug mixture previously administered. In the most recent 25 cases, including six this year, the pentobarbital has come from a compounding pharmacy that officials will not name.
Similar legal moves have unfolded elsewhere. Virginia lawmakers have approved Gov. Terry McAuliffe's proposal to shield the identities of pharmacies that supply lethal drugs for executions as an attempt to address that state's drug shortage. Inmates in Georgia have failed to overcome that state's secrecy law.
The Arkansas Supreme Court will review a lower court's ruling partially striking down a law blocking state officials from revealing where the state gets its execution drugs. A judge in Missouri, where an execution is scheduled for Wednesday night, has ruled that the state must disclose the source of its lethal injection drugs.
The Texas appeals court is not expected to rule immediately, and its decision could be appealed to the state Supreme Court.