Gov. Abbott signs bill aiming to hold 'rogue district attorneys' accountable
AUSTIN, Texas - Gov. Greg Abbott signed a total of eight public safety-related bills into law. Among them was HB 17, which aims to hold so-called "rogue district attorneys" accountable.
"These George Soros-backed woke DAs are refusing to do the job they were elected to do by the voters," said Marvin Riles, president of the Combined Law Enforcement Association of Texas (CLEAT).
Under the law, a DA's refusal to prosecute certain types of crimes would constitute "official misconduct." That would then allow the prosecutor to potentially be removed from office by a judge from outside that district. Supporters say this will ensure that victims truly get justice.
"If a district attorney wants to be in law enforcement, they have to start by enforcing the laws," said Abbott. "If they want to make state policy, they should run for state legislature."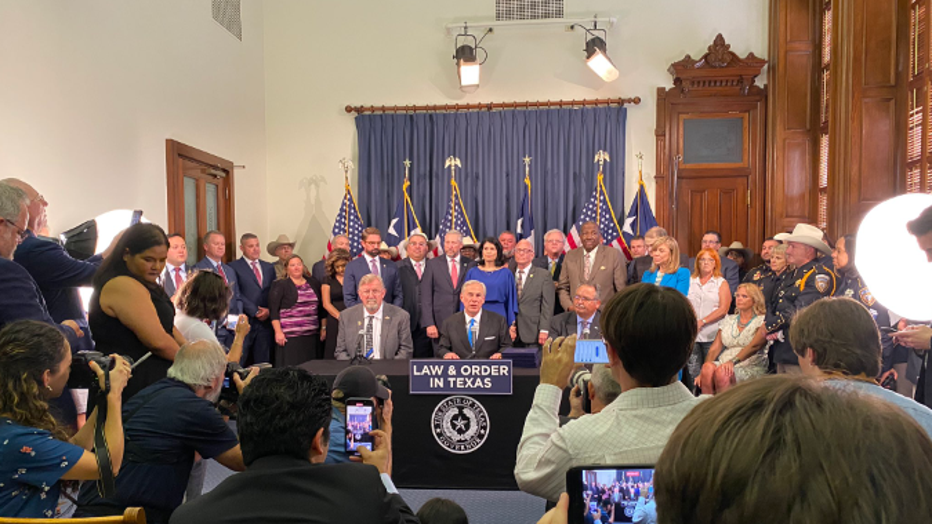 On June 6, Gov. Greg Abbott signed eight public safety-related bills into law.
FOX 7 reached out to Travis County District Attorney Jose Garza's office, which has pledged not to prosecute low-level drug offenses or cases related to the state's abortion ban. Garza's office didn't provide any comment on HB-17.
But Austin Justice Coalition Policy Director Chris Harris is concerned the law will keep reform-minded DAs out of office, and lead to more incarcerations.
"This is a step towards catching our governor up with the governor of Florida," said Harris. "Ensuring that the people that they go after, the people that they try to marginalize, whether it's trans folks, people seeking abortion, undocumented folks or black people in our community, that all the elected officials within their state have to do the same thing."
Meanwhile, Abbott also signed two new laws to combat "street takeovers" like the ones in Austin earlier this year. Under the laws, police will now be able to seize a car involved in racing, and classify street racing as a type of organize crime.
"To curb illegal racers in Texas who threaten the safety of everyone around them," said Abbott.
The governor also signed off on stiffer penalties for the theft or illegal possession of catalytic converters, more prison time for violent criminals who leave their victims paralyzed, and making it a felony for parolees to cut off their ankle monitor.
Abbott also approved $330 million in funding for sheriff's offices in rural counties like Llano, Hays, Bastrop and Burnet.
"It increases salaries of sheriffs in their staff, provides funds to hire more staff," said Abbott.
At Tuesday's bill signing, Abbott also addressed the current impasse between the House and Senate over property tax reform. The governor said he will continue to call special sessions until both sides reach a deal.