Texas school safety bill leads to fierce debate in House
AUSTIN, Texas - Texas lawmakers engaged in spirited debate Monday about House Bill 3, a piece of legislation would provide $1.6 billion on school safety. The bill has bipartisan support after the tragic shooting in Uvalde, Texas, but many lawmakers have questions about how the money will be spent.
"I can tell you talking to parents, teachers, grandparents, educators, even classroom teachers from Uvalde, having somebody there as a security guard is a sense of safety and really something that can be more safe," said State Rep. Dustin Burrows (D-Lubbock).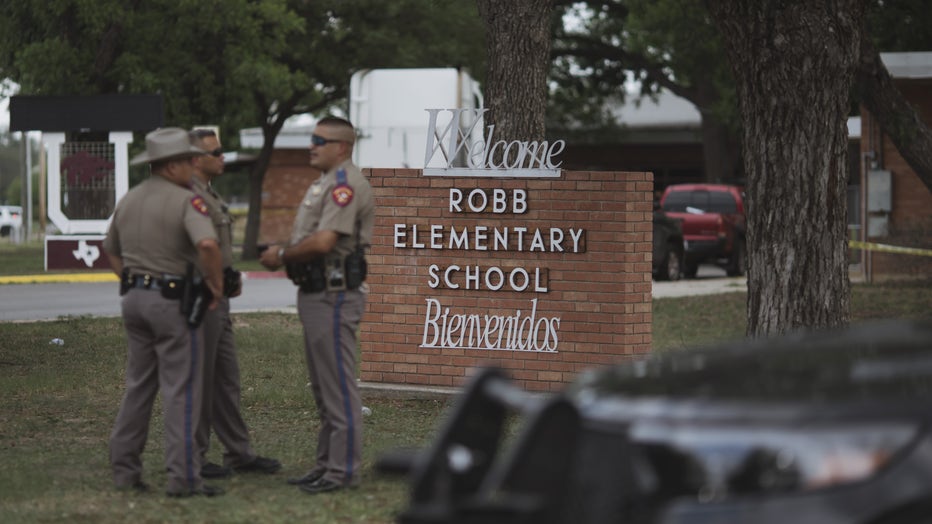 Texas state troopers outside Robb Elementary School in Uvalde, Texas, US, on Tuesday, May 24, 2022. Fourteen students and one teacher were killed during a massacre in a Texas elementary school, the deadliest US school shooting in more than four years
House Bill 3 calls for a police officer, school security officer, guardian or district employee to be armed on every campus.
State Rep. Ana Maria Ramos (D-Dallas) pushed back on the idea of educators having to be armed.
"Now who works at a school? Who would be considered a school district employee? A teacher? So yes, it can in fact and very well may, in many of your communities, arm teachers. That is the truth," said Ramos.
READ MORE: Texas Senate passes bill to strengthen school active-shooter plans
State Rep. Vicki Goodwin (D-Austin) questioned how districts would have trained, armed personnel on every campus when many municipalities have a shortage of police officers.
"I think in my district in particular, AISD, their preference would be to have school resource officers, as opposed to having armed teachers. How are we going to fill those positions? How are we going to have a school resource officer on every single campus when we can't fill our law enforcement peace officer positions already?" she asked.
"We are putting $1.6B into schools this session. They will have tools to basically expand and meet this the way they need to meet it," said State Rep. Penny Morales (D-Houston).
Morales said it was her understanding that Uvalde families wanted some new laws to help slow guns getting into young hands.
The shooter in Uvalde was 18.
"Were you aware that the biggest request that those families had was to raise the age to 21?" she asked.
Burrows responded, saying that was not the focus of this bill.
"There's not a solution, there's a bunch of different solutions, and whether we're talking about social media, whether we're talking about mental health availability, whether we're talking about school hardening, all of these things have to work together," said Burrows.
"There could possibly be more guns on our school campuses, how are we going to make sure that those people armed on school campuses are making them safer, not making them more dangerous?" asked Rep. Goodwin.
The bill passed on its second reading with 122 votes.
A vote on final passage in the House will be held on Tuesday.