Thai king's body at Grand Palace for people to pay respects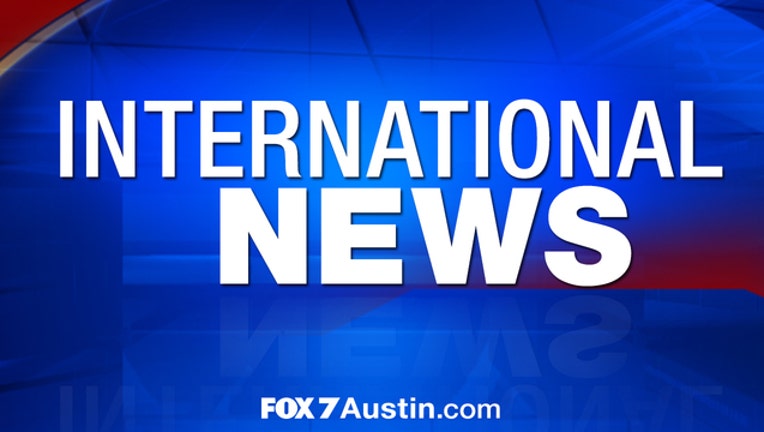 article
BANGKOK (AP) — A royal convoy led by a van carrying the remains of Thai King Bhumibol Adulyadej drove to the Grand Palace in Bangkok's historic center on Friday where the body will remain for people to pay respects to the monarch revered by many Thais as their father and a demigod.
Bhumibol died Thursday at age 88 at Siriraj hospital, which had been his virtual home for years as doctors treated him for various illnesses afflicting his lungs, liver, kidneys, brain and blood.
The convoy drove the short distance across the Chao Phraya river to the sprawling Grand Temple complex, a major tourist attraction replete with resplendent palaces, museums and temples.
Thousands of people sat four to five rows deep on both sides of the road, sobbing openly and bowing deeply as the convoy passed. Most held portraits of the king in regal yellow robes. Some without portraits pulled currency notes from their wallets — all bank notes carry the king's face. Many had camped 24 hours since Thursday.
Most Thais had known no other king. Bhumibol, the world's longest-reigning monarch, had been on the throne for 70 years. His son, Crown Prince Maha Vajiralongkorn, who is to ascend the throne, followed the king's body in a yellow Mercedes van. Accompanying Vajiralongkorn was his consort, Lt. Gen. Suthida Vajiralongkorn na Ayudhaya. Behind them were dozens of cars.
The body will lie at the Temple of the Emerald Buddha, or Wat Phra Kaew, inside the Grand Palace complex for an undisclosed duration. No date has been set for the cremation.
"I wanted to send his majesty off for the last time. When I got here the atmosphere was so sad, and everyone had the same emotions," said Win Weeraprateep, 27, an office worker waiting along the convoy route for two hours.
"When I heard the news (of the king's death) I lost my breath. I couldn't believe that it was real. I didn't want to work, I didn't want to have fun," he said. "I just don't want to do anything anymore."
Friday marked the first day in 70 years that Thailand has been without a king as Vajiralongkorn asked for more time to mourn with the rest of the nation before ascending the throne. The constitution says that in the absence of a king, the head of the Privy Council will become the regent, but it is vague about the situation in which the heir apparent hasn't taken over.
The government declared a public holiday and people across the shaken nation donned black, their eyes swollen and red with hours of weeping. Many were still sobbing — in building halls, elevators, shops — in spontaneous outbursts of emotion that reflected the deep love and respect Bhumibol commanded.
The momentous news of his death, announced in a palace statement, had long been both anticipated and feared. But the nation remained stable and life continued largely as usual with most shops, banks and tourist sites open.
A one-year mourning period for the government has been declared together with a 30-day moratorium on state and official events. But no demands have been made of the private sector. The government has only urged people to refrain from organizing entertainment events for a month, apparently mindful of the need to ensure that the sputtering economy does not suffer. Tourism is one of Thailand's biggest revenue earners, and entertainment remains an integral part of it.
The stock market and banks remained open, as did Thai embassies worldwide. After plunging for days, the Thai stock market opened higher, rising more than 4 percent in morning trading in a sign of renewed confidence.
Television channels were running non-stop programs devoted to the life of the king. Although a constitutional monarch, Bhumibol wielded enormous political power and served as a unifying figure during Thailand's numerous political crises.
But in recent years, he suffered from a variety of illnesses and remained publicly detached from recent political upheavals, including the 2014 coup that brought Prime Minister Prayuth Chan-ocha, an army general, to power.
"His death means that the Thai political system must find an alternative focal point around which to unite the country's factionalized population," said Tom Pepinsky, a Southeast Asia expert at Cornell University.
He said one challenge that royalists will face is the possibility that the monarchy's popularity would be undermined by the crowning of Vajiralongkorn, who does not command the same respect his father did.
Bhumibol Adulyadej (pronounced poo-mee-pon ah-dun-yaa-det) became king in 1946. He anchored the Southeast Asian country through violent upheavals at home and communist revolutions next door with a blend of majesty and a common touch.
So revered was Bhumibol that his portraits would be displayed in virtually every Thai home and business, generally depicting him in arduous travels to remote villages, where he often went to see the situation of his subjects first hand.
But recently, whenever Bhumibol appeared in public, he was in a wheelchair, waving feebly at his subjects. Even those rare appearances stopped as he became confined to the hospital.
He died a little before 4 p.m. on Thursday, the palace said. It said he passed away peacefully.
"He is now in heaven and may be looking over Thai citizens from there," Prayuth said in a statement. "He was a king that was loved and adored by all. The reign of the king has ended and his kindness cannot be found anywhere else."
Besides Vajiralongkorn, the king is survived by his 84-year-old wife Sirikit who also has been ailing and has rarely been seen in public in years. The couple has three daughters — Princess Sirindhorn, the most beloved royal after her father, Princess Ubolratana, and Princess Chulabhorn Walailak. Sirindhorn is unmarried; Ubolratana is divorced from her American husband and their two daughters live in the U.S.; Chulabhorn is also divorced and has two daughters.
___
Associated Press journalists Jerry Harmer, Kiko Rosario and Tassanee Vejpongsa contributed to this report.