Thieves attempt to break into South Austin gun shop
PFLUGERVILLE, Texas - Thirty-two guns were stolen out of a Pflugerville gun range, and just a few minutes later thieves attempted to break into a south Austin gun shop.
Right now it's not believed the cases are linked and the ATF is getting involved in locating those stolen guns.
Security cameras captured the moment a suspect pulls out a gun from his hoodie and points it at Central Texas Gun Works. "The last thing I want to do is have any of my guns on the streets of Austin, Travis County, Texas and used illegally," said owner Michael Cargill.
RELATED: Three suspects steal 32 firearms from gun range in Pflugerville
Cargill showed FOX 7 the damage left behind on his gun shop after a group of people tried to break in early Monday morning before fleeing empty-handed. "Police showed up before I did, We just barely missed them by 30 seconds," he said.
---------
Get breaking news alerts in the FOX 7 Austin News app. It is FREE!
---------
Cargill says the extra countermeasures they take paid off in this case. "You can't stop someone from trying to break in eventually they are going to get in. If they spend enough time they can get in so the goal is to slow them down so police can get there," he said.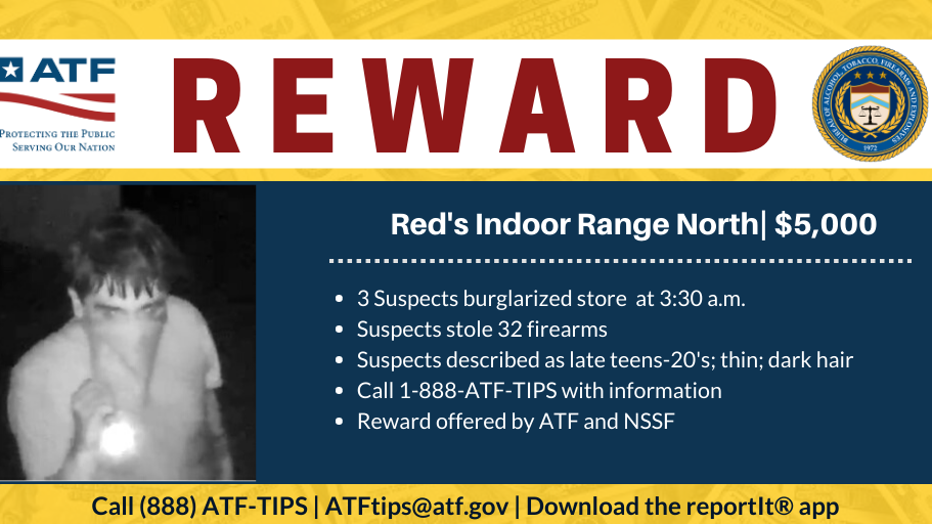 While thieves came up empty-handed in this case, just a few minutes earlier a gun range in Pflugerville was broken into. A total of 32 guns were stolen from Red's Indoor Range on West Pecan Street. The ATF is now getting involved to locate the firearms.
Cameras were able to see three suspects in this case described as light-skinned, dark hair, and thin builds. The ATF does not know if the two incidents are linked. Pflugerville Police Chief Jessica Robledo even stated on Twitter asking for people to step up with information as they don't need guns in the wrong hands.
The ATF is offering a $5,000 reward in the Pflugerville case. Austin police tell us the incident in south Austin is currently under investigation.