TikTok of Austin men judging dives at Barton Springs Pool goes viral
AUSTIN, Texas - A group of four men are bringing the community together, and trying to put a smile on your face, by setting up a judging system for people diving in at Barton Springs Pool. 
They call themselves the Barton Boys with the motto, "good dives, better vibes". Adam Semlali, Joey Pydyn, Andrew Foster and Alan Yanez are all native to Austin, and grew up frequenting Barton Springs. 
Semlali says it was nearly four years when he saw the crowd at Barton Springs cheer on a small girl as she braved the diving board. As the community came together to clap for the young girl, the lightbulb went off. 
"The response from the community has been incredible," Foster said. "Honestly the first time we planned to come out here we weren't sure if we were going to get stopped for judging people." 
On Sundays you can see them set up right across from the diving board, in sunglasses. 
First they do their handshakes, then in unison, they put on their matching visors and take their positions with laminated pieces of paper — numbered one through 10. 
People watching will cheer for high scores and similarly, react to the ones that aren't as high.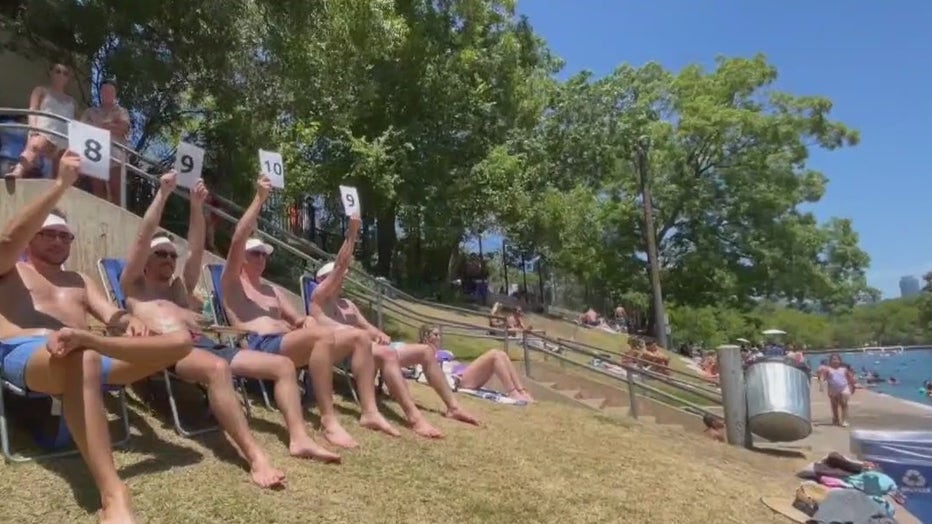 "Overall it's been a welcoming reception from everybody," Foster said. "It's really been amazing to see that what we wanted to get out of this and give to the community is actually the result of what we're doing." 
Lifeguards come up to the four men as we chat, asking them how long they plan to do this for in admiration. 
"I don't see any plans of us stopping soon," Pydyn said. 
The Barton Boys are extending an invite to celebrity and guest judges as well. 
"Matthew McConaughey, if you want to go ahead and come and jive with us, or judge with us, anytime we'll have you," Semlali said. 
They only ask that the judges will be locals, like Willie Nelson and the squad at Austin FC. 
"We're glad that we can make Austin a little bit weirder with our own little taste," Yanez said. 
The Barton Boys will continue to spread good vibes and more dives on their social media platforms. Check them out on TikTok and Instagram @bartonboysatx and @adamsmlolly, @joey_pydyn, @_andrew_foster_, and @alan_yanez24.