Texas men's basketball coach Chris Beard posts $10K bond after arrest for alleged assault
AUSTIN, Texas - University of Texas at Austin men's basketball head coach Chris Beard was arrested on Dec. 12 for alleged assault, police said. He was later released after posting his $10,000 bond.
Austin police say it started with a 911 call about a disturbance in West Austin on Vista Lane around 12:15 a.m. Monday. The caller told police the disturbance was no longer ongoing and one of the individuals had left the house.
Police say when they arrived they found a woman who said she had been assaulted and strangled by Beard.
The 49-year-old was arrested and booked into the Travis County Jail around 4:18 a.m. for assault by strangulation/suffocation, a third-degree felony.
Austin-Travis County EMS said first responders were also called to the home, but the patient refused treatment and transport.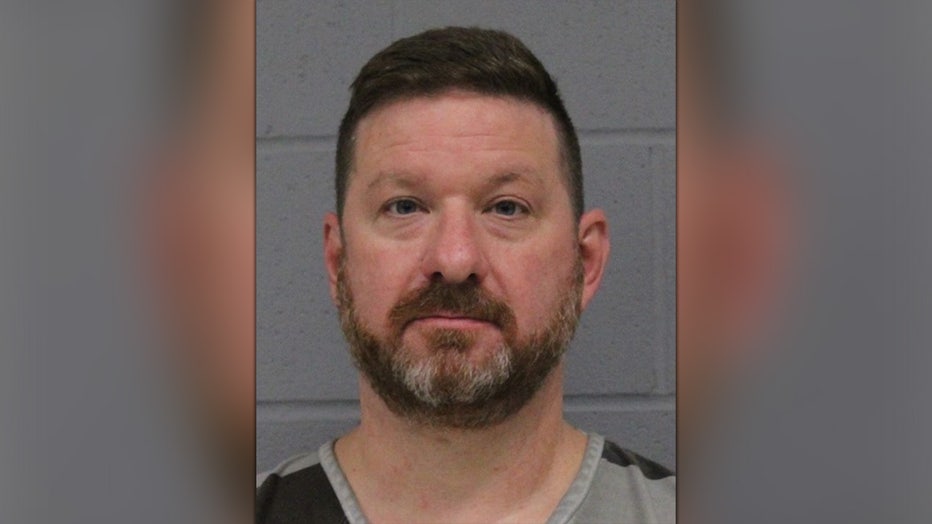 Bond has been set at $10,000, according to jail records.
UT released a statement on the arrest saying, "The University is aware of the situation regarding Chris Beard. We are continuing to gather information and monitoring the legal process."
Austin police are asking anyone with information to contact them at 512-974-TIPS. You may also submit your tip anonymously through the Capital Area Crime Stoppers Program at austincrimestoppers.org or by calling 512-472-8477
RELATED COVERAGE:
Around 2:55 p.m. on Dec. 12, Beard walked out of the Travis County Jail. He was rushed out, wearing a mask, and left in a SUV without making a comment.
Defense attorney Perry Minton declined an on-camera interview Monday morning, but briefly spoke to FOX 7 about the arrest.
"Coach Beard is 100% innocent of these charges. He should never have been arrested," said Minton. "The complainant wants him released immediately, and all charges dismissed."
That decision by the alleged victim can make the case problematic for prosecutors, according to former prosecutor Jim Young.
"It depends on what was said at the scene, what kind of physical evidence there may be, such as marks around the neck. So it's hard. You can't say right now without I don't know. There's not enough information out. But certainly in most case, most family violence cases, the victim wants the case dismissed at some point or another in the process. So that's not a deal killer right off the bat," said Young.
Beard signed a seven-year contract with UT in 2021. According to documents from the UT regents, he's paid $5 million a year with a number of perks that include:
Personal use of a private aircraft
Two cars
A $5,000 Nike Elite deal
Performance incentives that can total up to $850,000
Coaching contracts with UT have a section dealing with conditions for firing. One part specifically allows for termination in cases that involve a felony arrest. In a brief statement issued by UT Austin, university officials said they are aware of what has happened, and they are gathering information and monitoring the situation.
As a condition of his release, a two-month protection order was set. Beard is to stay away from the woman he allegedly attacked and cannot go to her West Austin home. The judge also said he is not allowed to carry a firearm.
Beard is the first top level UT Austin coach to be arrested for a felony since 2020. That previous case involved UT Austin's former men's tennis coach Michael Center. He was caught up in a nationwide recruiting bribery scandal.
Who is Chris Beard?
Chris Beard was named the 25th Head Basketball Coach at the University of Texas on in April 2021. Before he began coaching the Longhorns, Beard led Texas Tech to the 2019 NCAA Championship Game and the 2018 Elite Eight.
According to UT, Beard has served as a head coach for 12 seasons at 7 different collegiate programs during his career including Texas Tech, University of Arkansas at Little Rock, Angelo State University, McMurry University, Seminole State College and Fort Scott Community College.
Beard has an impressive 11-5 record in his five NCAA Tournament appearances, including a perfect 5-0 mark in First Round games, according to UT. In the 2021-22 season, Beard led the Longhorns to the school's first NCAA tourney win since 2014.