Victim's limbs were burned on BBQ pit, witnesses tell jury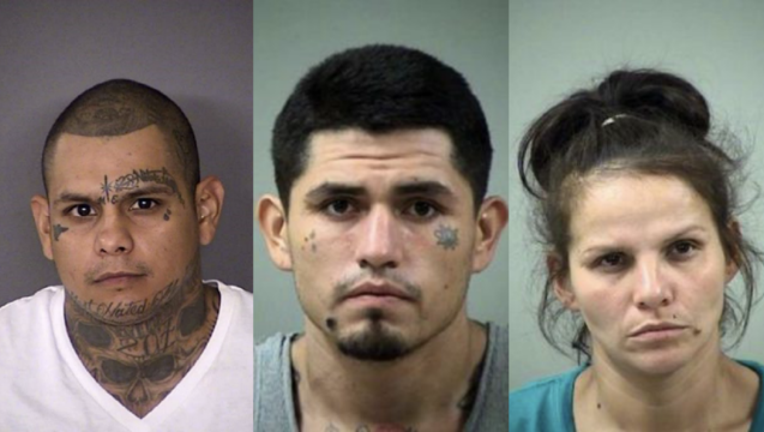 article
(FoxNews.com) - Jurors heard testimony Friday in the murder trial of the first of three defendants linked to a 2014 case in which authorities say the victim's limbs were burned on a barbecue pit.
Gabriel Moreno, 34, is the first defendant being tried in the case, the San Antonio Express-News reported. Co-defendants Daniel Moreno Lopez, 31, who is Moreno's cousin, and Lopez's girlfriend Candie Dominguez, 38, are also charged with murder and awaiting trial, the report said.
They are accused of killing Jose Luis Menchaca, 35, who authorities say was beaten with aluminum baseball bats, suffocated with a plastic bag over his head, then dismembered and barbecued.
At one point, witness Dennis Austin testified, he saw Menchaca's torso, with arms and legs missing, inside a blue plastic tub, with a plastic bag around the head that "held it in place."
"We saw the torso, head still attached, but detached, like a bobblehead," he said. "I will never forget that smell. It smelled worse than decayed animal."
Austin said he saw blood on the walls and couch of a San Antonio home that Lopez and Dominguez shared, while the victim was bound at his hands and feet, with his mouth taped, the report said.
"He (Menchaca) was bleeding from the cheeks, there was blood everywhere on him," Austin said. "It was like a horror movie."
Another witness, Menchaca's girlfriend, Sylvia Flores, said she saw Moreno and Lopez attack Menchaca with the bats Sept. 30, 2014, the Express-News reported.
She said Lopez and Menchaca were involved in an altercation over a drug deal, when Menchaca stabbed Lopez, who then shot at Menchaca, the report said.
Flores said on the day of the attack, Dominguez, who is also Menchaca's cousin, led her and Menchaca to a back room of Lopez's residence, where Moreno and Lopez beat Menchaca "until he fell to the ground with his bloody head pushed up against a sofa."
"He was on his back and was screaming for his life," she told the jury.
Flores was stripped naked and bound shortly after, she said. Days later, she said Lopez showed her the barbecue pit and was poking "a leg or arm, a joint" with a stick, the Express-News reported.
Austin said the two cousins tried to suffocate Menchaca with a pillow and plastic bag, the newspaper reported. He said the man told Lopez he was sorry and "begged for his life," but he said Lopez told Menchaca "no, you (expletive) with the wrong person."
If convicted, Moreno could face life in prison, Fox San Antonio reported.
More on FoxNews.com.