Watch: Albuquerque International Balloon Fiesta returns to New Mexico sky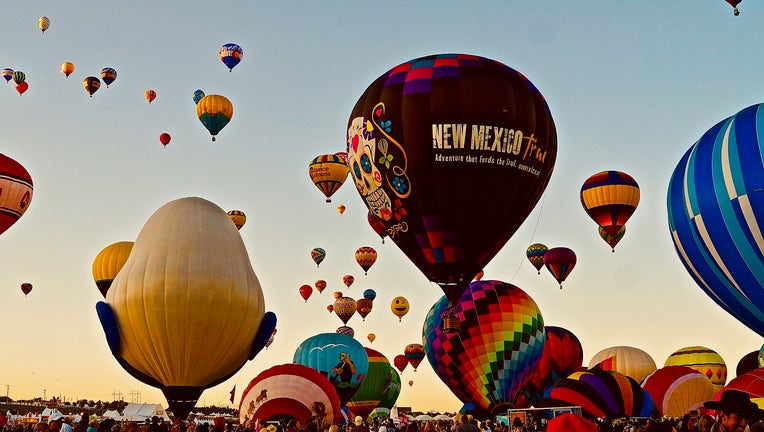 article
The Albuquerque International Balloon Fiesta has brought colorful displays to the New Mexico sky in an international event that attracts hundreds of thousands of spectators every year..
The event started at sunrise on Saturday with a drone light show and mass ascension of hot air balloons. Over nine days, local residents and visitors will be treated to a cavalcade of colorful and special-shaped balloons.
The annual gathering has become a major economic driver for the state's biggest city. The Rio Grande and nearby mountains provide spectacular backdrops to the fiesta that began with a few pilots launching 13 balloons from an open lot near a shopping center on what was the edge of Albuquerque in 1972.
The fiesta has morphed into one of the most photographed events in the world, now based at Balloon Fiesta Park. Balloon designs have featured cartoon animals, Star Wars characters and even the polar bear found on Klondike bars.
"But they're still all about the basics," said fiesta director Sam Parks, who flies a globe-style balloon modeled after one flown by the fiesta's late founder, Sid Cutter. "You add heat to a big bag of air and you go up."
Nearly 830,000 people from around the world attended last year's event. Scheduled nighttime events include fireworks and balloon glows, in which hot air balloons are inflated and lit up from the ground.
The launch window opens Saturday evening for what is billed as one of the biggest events in aviation: the Gordon Bennett competition. The winner of the gas balloon race is the one who flies the farthest distance.
Some 550 balloon pilots are registered to fly this year, seeking to take advantage of a phenomenon known as the "Albuquerque box," when the wind blows in opposite directions at different elevations, allowing skillful pilots to bring a balloon back to a spot near the point of takeoff.
Visitors to the event also can pay to go aloft for views of the Sandia Mountains to the west and Santa Fe farther north.
"It has become part of the culture," Parks said. "The thread, if you will, of those here."