Watch: Dog slips into grave at funeral, provides moment of levity
A somber occasion was injected with some levity when a dog slipped into a grave during a funeral in Auckland, New Zealand.
Video footage, filmed by Paul Graham, shows his 13-year-old dog named Cochise barking from the bottom of the grave as mourners respond to the end of the eulogy with an "amen."
Guy Yelchich, the son of the deceased, is heard asking people to "shove dad a little bit that way" to make room for him to jump down into the grave and retrieve Cochise.
One mourner then joked, "Never knew you'd go in there before your dad."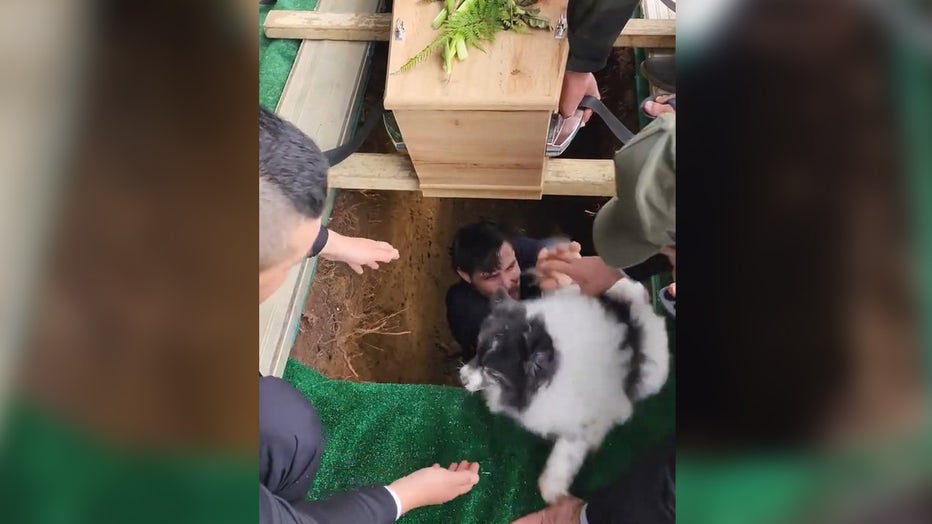 Video still of Guy Yelchich jumping down into the grave to retrieve the dog. (Credit: Paul Graham via Storyful)
According to Graham, the dog was initially leashed but was freed by some of the children in attendance. The animal fell into the grave during the eulogy and remained there for several minutes, barking the entire time.
RELATED: American Humane Hero Dog Awards 2023 announces 'top dog' finalists ahead of Veterans Day ceremony
"Everyone found it highly amusing, and it really lightened the mood of the funeral," Graham told video licensing company Storyful. "It was a traditional Maori tangi funeral, which had been going for three days at that point." 
This story was reported from Los Angeles. Storyful contributed.