Weather puts the brakes on Cyclo-cross Nationals Championship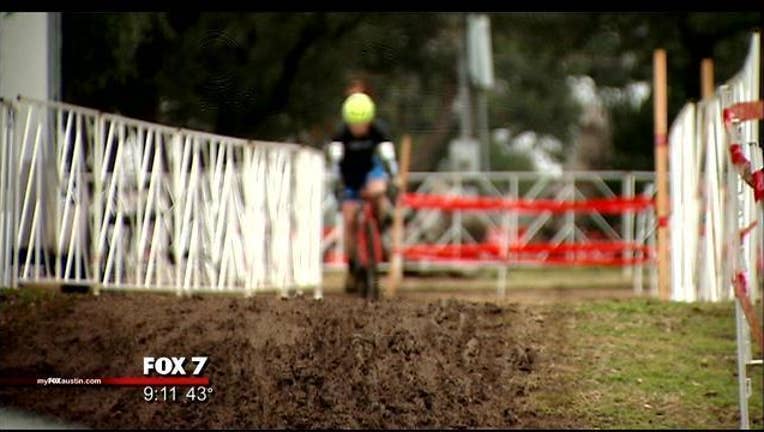 article
AUSTIN, Texas - The mud and frigid weather couldn't keep cyclists from finishing the Cyclo-cross Nationals at Zilker Park but their final day of competition had a little controversy mixed in to the bad weather.
The last race was supposed to be on Sunday but the city's Parks Department said heavy rains over the weekend made the course soggy. They were also worried about damage to the trees because riders zig zag around them.
The decision drew mixed reviews among those participating.
"We have way more rain in Oregon and we race a lot more with this many people if not more for 8 weeks in a row and our grounds are fine our trees are fine," said cyclist Erica Miranda.
"I'm someone who appreciates this park and appreciates the nature we have here so if the trees were truly going to be damaged from the racing then that would be the right call," said cyclist Payson McElveen.
McElveen grew up in Austin. He's is in town though from Colorado. Luckily his parents still live in the area.
"It's a tough situation. I wouldn't be surprised if there weren't some lawsuits," he said.
Three hundred and fifty riders scheduled to ride on the last day. The USA Cycling Association says that number was down 20% on Monday.
"The communication came down a little late about the cancellation and obviously that was fairly frustrating just to go through that piece but we were able to sit down and come to an agreement and race today and that's great for everybody," said Micah Rice, VP of National Events for USA Cycling.
Riders paid up to $75 to compete. But riders who skipped because of the delay will get that back.
"I really feel for those people that weren't able to stay the extra day, that had plans to fly back today and many other people are paying thousands of dollars to change their flight plans," Rice said.
Rice says their now in the hole for nearly $30,000 but that doesn't mean they'll skip out on cleaning up.
"We are going to be good stewards here and do what we said. I hope the park works with us on some of this clean up and jumps in and helps out and understands he hardship they put everyone through," Rice explained.
We talked to a spokesperson from the Parks Department. They didn't have anyone who would talk to us on camera but they tell us as far as USA Cycling being in the hole for this and still having to clean up the park, the spokesperson tells us typically insurance is taken out to cover losses for events. He cited this year's Trail of Lights cancellation as an example.