Central Texas under Winter Storm Advisory, freezing rain & sleet possible
AUSTIN, Texas - A Winter Storm Advisory has been issued for most of Central Texas as a cold front hits the area. The advisory lasts until 6 a.m. Friday, January 21. A very strong cold front arrived at around 5 p.m. Wednesday night and ushered in colder temps and a lot of wind. A wave of lower pressure could produce a wintry mix during the day today. 
Rain/freezing rain/sleet/flurries are all possible. Accumulations will be low and icing threat will be minimal. Elevated roads like bridges and overpasses will be the main problem north and west of Austin. The precipitation is long gone Thursday night but even colder with a hard freeze by Friday morning.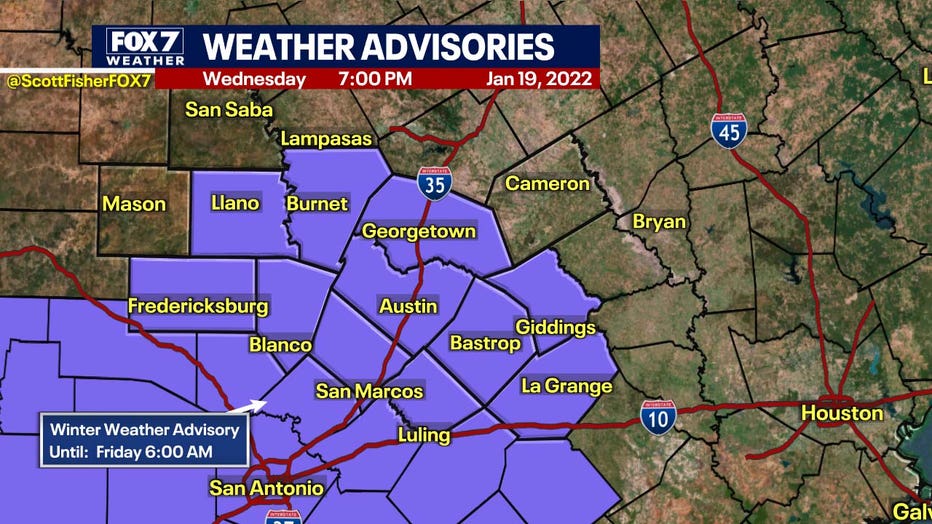 WATCH GOOD DAY AUSTIN LIVE:
It's going to be a big change from how it felt Wednesday as the day started in the 60s and the high was in the upper 70s. Temperatures this morning were in the 30s with wind gusts 25 to 40 miles per hour. Wind chills were in the teens and 20s.
Roads could be slippery in some spots on elevated roads mainly in the Hill Country and huge flyovers north of Austin. Texas Department of Public Safety has some safety tips if you have to be out on the roads.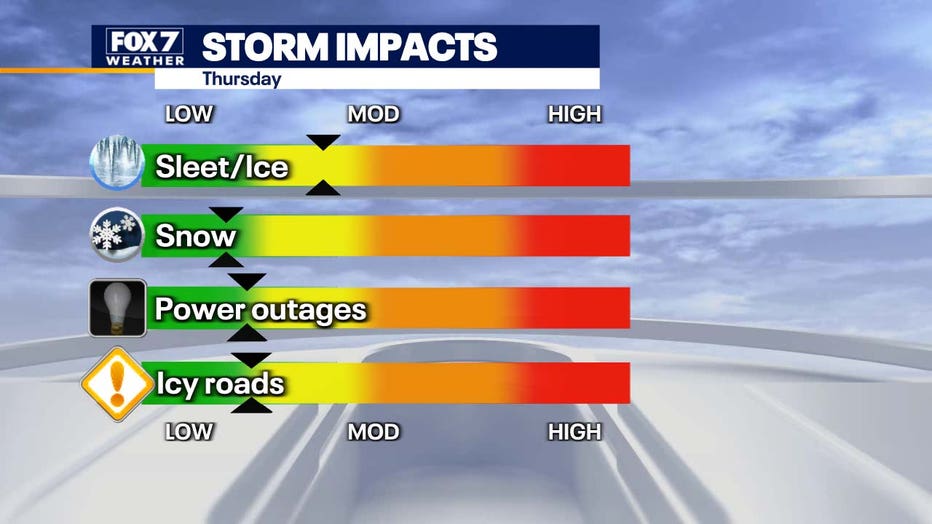 AUSTIN TRANSPORTATION TIPS FOR DRIVERS TO STAY SAFE ON THE ROADS
The Austin Public Works Department says crews from its Street and Bridge Operations (SBO) will be ensuring right-of-ways (ROW) remains accessible and safe for all users at all times. This includes monitoring elevated surfaces/bridges; treating potentially icy roadways; responding to weather related 3-1-1 requests; and removing any tree limbs or debris blocking the ROW. 
The Austin Transportation Department is also advising residents to take steps to travel safely in preparation for this week's winter weather. Anyone traveling during potentially icy conditions are advised to:   
Monitor weather conditions before setting out on your trip and avoid traveling, if possible

Avoid elevated roads, such as overpasses and bridges, if possible

Plan additional time for travel, go slowly and turn carefully

Avoid sudden braking or accelerating to maintain traction

Ensure you have packed emergency supplies in your vehicle such as blankets, jumper cables, emergency lights, and a cell phone charger in case of a crash or emergency.
Residents who need to report traffic light outages, road damage or any other weather-related concerns, may do so by contacting Austin 3-1-1 via phone (dial 3-1-1 or 512-974-2000) or the Austin 311 mobile app. Austin Transportation will be providing updates in case of an emergency on the department's Facebook and Twitter channels.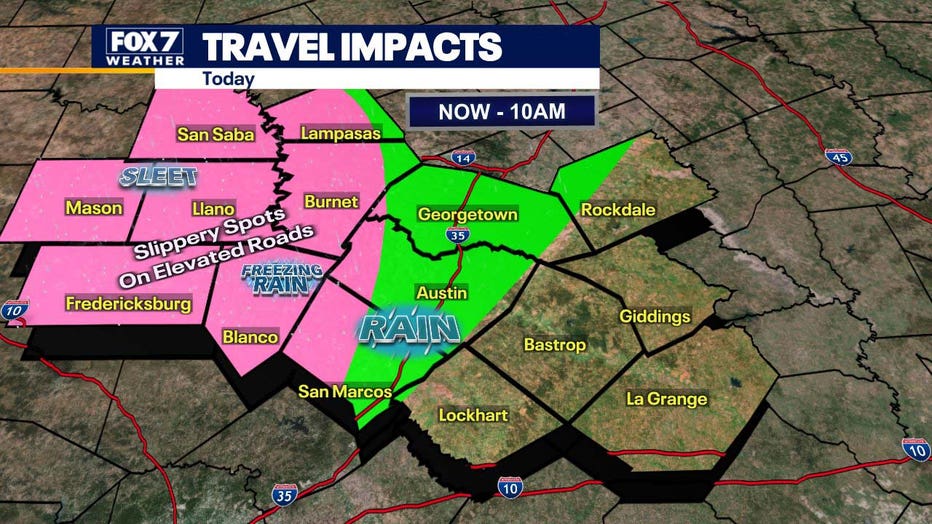 AUSTIN ENERGY TIPS FOR CUSTOMERS TO STAY WARM
Austin Energy customers are encouraged to be prepared for power outages by signing up for text Outage Alerts and checking the utility's mobile-friendly outage map at outagemap.austinenergy.com. Customers can also report outages at 512-322-6100.
Other ways customers can be prepared and stay safe before, during, and after a winter storm:
Sign up for Emergency Alerts at WarnCentralTexas.org.

Assemble a storm preparation kit with flashlights, fresh batteries, snacks, water, and other necessities. Make sure everyone in your home knows where to find it.

Keep cellphones charged and backup chargers fully charged.

If working or learning at home, save your work periodically and make sure your devices are on power strips. Using a power strip helps protect electronic devices in case of a power outage. Consider using external power sources for your electronics.

Heat your home safely. To avoid injury and illness, never heat your house with a gas oven or burn anything in a stove or a fireplace that is not vented. Do not burn paper in a fireplace.

If using an electric space heater, be sure it has an automatic shut-off switch and non-glowing elements. Make sure to keep them away from any flammable materials, like curtains or blankets.

Never place a space heater on top of furniture or near water. Never leave children unattended near a space heater. Do not use extension cords with space heaters.

Keep your refrigerator and freezer doors closed, if possible. Food will stay good up to four hours.

Do not drive over or go near a downed power line, it could be energized. Call 311 if you see a downed line to report it. If the line is sparking, call 911.

If you see limbs on wires or see downed tree limbs, please call 311 to report them.

Watch for scams. Scammers target utility customers every day, but storms, holidays and emergencies turn into opportunities for scammers because they know you are distracted. Learn how to recognize a scam.
Customers can also minimize their impact on the ERCOT (Electric Reliability Council of Texas) electric grid by following these tips to save energy during cold weather:
Set your thermostat at 68 degrees or lower in the winter. Wear warm, comfortable clothing to help stay warm indoors instead of adjusting the thermostat.

Keep doors and windows closed to minimize hot air from escaping the home.

If you have a fireplace, use it to help heat your home instead of turning up the thermostat. When not in use, make sure your fireplace damper is closed to prevent heat from escaping up the chimney.

Switch the setting on ceiling fans to run clockwise at a low speed. This gentle updraft helps push warm air near the ceiling down into your living space.

Save energy in the kitchen. Give your oven and wallet a break by using the oven light to check on the food instead of opening the door. Use a slow cooker or microwave instead of the oven. Do not use the oven to heat your home.
AUSTIN WATER TIPS TO PROTECT HOME IN FREEZING WEATHER
Austin Water has taken steps to prepare for winter weather, and with freezing temperatures expected in this week's forecast, we are reminding customers to take steps now to prepare as well. The following is suggested to protect property and water pipes during freezing temperatures.
Preparing for Freezing Weather
Locate Your Water Shutoff. Find your water main shutoff valve and keep it clear of debris and obstacles at all times.

For most homes in our service area, the property owner's shutoff valve is on your side of the water meter at the meter box. If you cannot find your shutoff valve or if it is damaged, then you should be prepared to access the City shutoff valve in the meter box. You may need a water meter key to open the meter box, which can be purchased at most hardware stores.

Keep Out Cold Air. Tightly close doors and windows to the outside. Make repairs to broken or drafty windows, doors, and walls. Seal all leaks in crawl spaces and basements. Winterize unheated spaces and close garage doors for the duration of the freeze.

Exposed Pipes and Water Heaters. Insulate pipes in unheated and drafty areas, such as an attic or garage. Also check manufacturer recommendations for your tanked and tankless water heaters. Hardware and plumbing supply stores carry insulation to help keep pipes from freezing.

Outside Faucets. Turn off outside faucets. Remove all connected hoses and wrap faucets with towels or a Styrofoam insulator. Turn off and drain automatic sprinkler systems.

Prepare Before Leaving Town. If you plan to be away during a time when freezing temperatures are possible, turn off your water at the meter and set your thermostat to 65 degrees or higher.
During Freezing Weather
Protect Indoor Faucets. Open cabinets beneath kitchen and bathroom sinks to allow warmer air to circulate around pipes. Be sure to remove any toxic substances located in these cabinets if there are children or pets living in the residence.

Drip Only if Needed. After the measures above are taken, drip one cold-water faucet slowly if you feel your pipes may still freeze. The faucet you choose should be the one that is the greatest distance from your main shutoff valve. It does not need to be a running trickle. If you do drip your faucet, capture the water for future use.

Power Outages. If you experience a power outage for more than 24 hours, stop dripping your faucets and turn off your water at the meter.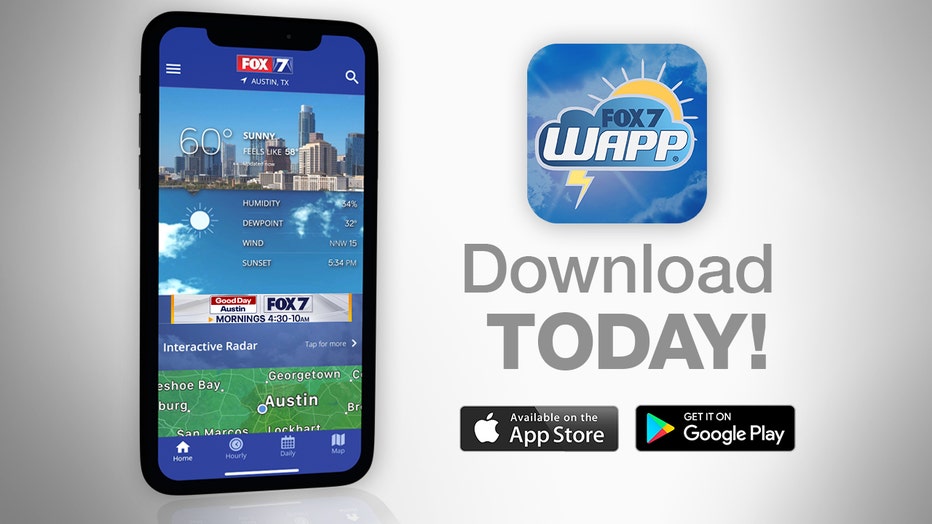 Track your local forecast for the Austin area quickly with the free FOX 7 WAPP, available on iOS and Android. Get your current forecasts at a glance, with fully integrated GPS to give you accurate conditions wherever you are so you can stay weather aware and safe!
___
MORE HEADLINES: 
How to stay prepared in the event of another severe winter storm
Texas readies resources ahead of potentially dangerous weather conditions
Winter fire safety tips from the Austin Fire Department
___
DOWNLOAD: FOX 7 AUSTIN NEWS APP
SUBSCRIBE: Daily Newsletter | YouTube
FOLLOW: Facebook | Instagram | Twitter