Man wanted for murder of common-law wife in NW Harris County: HCSO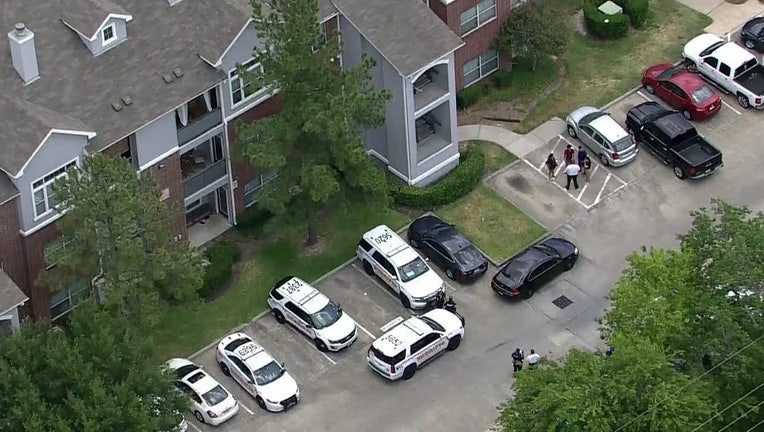 A man is wanted in the death of his common-law wife, who was found unresponsive in their apartment on Monday, the Harris County Sheriff's Office says.
According to HCSO, the district attorney's office accepted a charge of murder against Miguel Angel Gallegos, 23, in the death of 22-year-old Jael Romans Gonzalez.
FOLLOW THE LATEST HOUSTON-AREA NEWS
Deputies were dispatched to the scene in the 10000 block of N. Eldridge Pkwy near 290 and Highway 6 just before 10 a.m. Monday.
When they arrived, they found family members performing CPR on a woman, the sheriff's office say. Officials say EMS arrived and continued life-saving measures before pronouncing her dead.
According to HCSO, family members told deputies that the woman, Gonzalez, and her common-law husband, Gallegos, didn't show up for a family function the previous day.
After trying to contact them both multiple times by phone, family members went to their apartment and found it locked, authorities say.
The sheriff's office says family members used a spare key to get into the apartment and found Gonzalez unresponsive in a bedroom.
Gallegos was not at the scene and one of the couple's vehicles, a silver Nissan Altima with Texas license plate LJN-3031, was missing, HCSO says.
The HCSO Homicide Unit and Crime Scene Unit responded to the scene for the investigation. Investigators presented the investigation to the district attorney's office, which accepted the murder charge against Gallegos, HCSO says.
Investigators urge anyone with information about this case or Gallegos whereabouts to contact the Harris County Sheriff's Office Homicide Unit at 713-274-9100 or Crime Stopper's at (713) 222-TIPS.