Austin FC shares progress on stadium construction
AUSTIN, Texas - A construction team of more than 400 workers moved across the job site Tuesday morning. It was once a desolate vacant lot known as McKalla Place. 
"Its a sense of reality to see the project come to life," said Andy Loughnane.
As President of Austin FC, Loughnane is keeping a close watch on the transformation. He said they're on time, and have some wiggle room because they anticipate their first few games will be away. "We are scheduled to complete the stadium in Spring of 2021, so here we are in Feb of 2020, we are roughly 13 months out for our anticipated completion date," said Loughnane.
From SkyFOX Drone you can see the scope of the 24-acre site.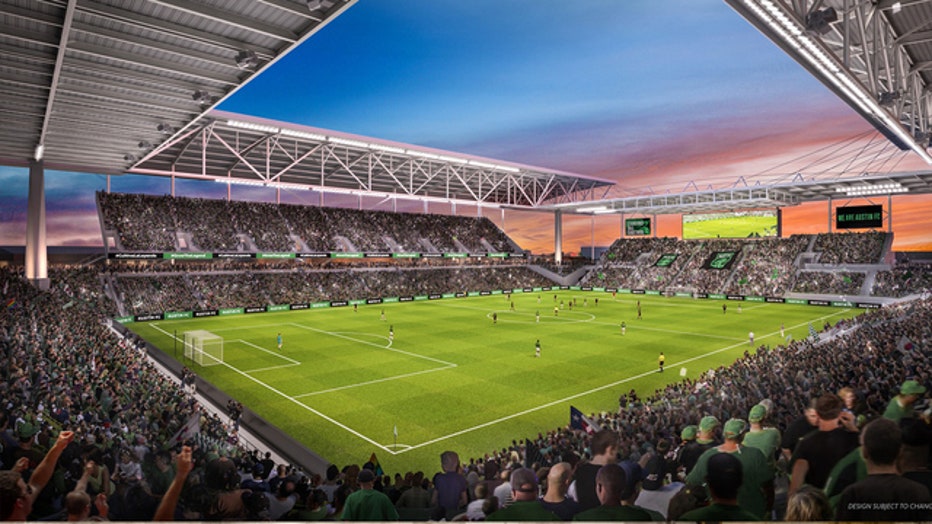 "Check out these updated renderings of our new stadium." (Austin FC / FOX 7 Austin)
RELATED: Austin FC reveals new renderings of soccer stadium
Two steel superstructures for stands are now being assembled. You can also see how deep crews have cut into the limestone rock for the pitch. The idea is the help increase the game day volume. When matches kick-off, this is what the new home for the MLS Austin FC will be an open-air facility with awnings.
The stadium, which is being paid for by the team, will hold a little more than 20,000 fans. The site was selected for being near the Domain. "I think we landed in a pretty incredible spot, not to mention this is one of the center points for the metro population its one of the most accessible of Austin metro area," said Loughnane.
The land is owned by the City of Austin. Once construction crews move out,  local schools, youth leagues, and concerts will be provided access; when games are not scheduled. "This $250 million project is literally a gift for the community," said Loughnane.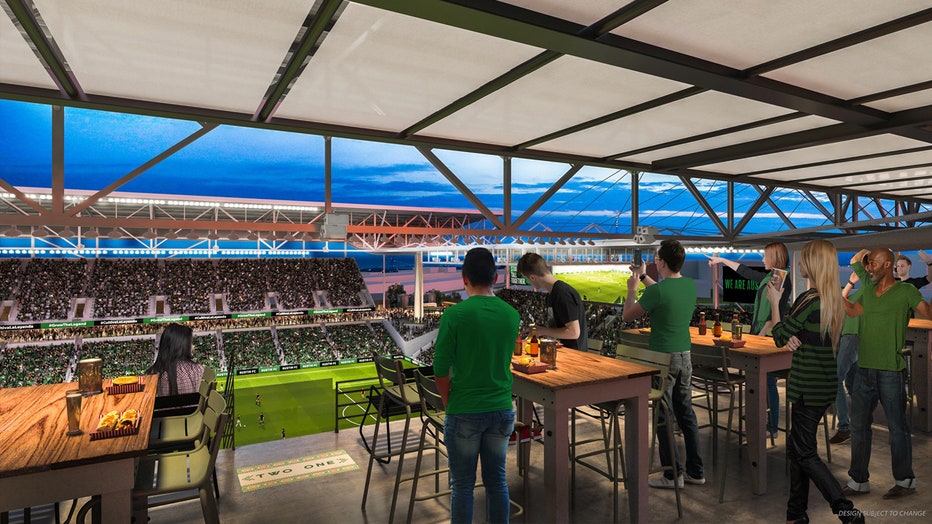 RELATED: Matthew McConaughey becomes one of the owners of Austin FC
As the stadium continues to take shape, the transportation plan to get 20,000 fans into that stadium remains a work in progress. But there is one thing we do know, CapMetro wont be here on opening day. There is no deal yet to build a metro rail train stop, according to Austin FC Operations Director Jordan Enke. "But it is something we are working with the city and CapMetro on to try to finalize to help mobility in the future," said Enke.
RELATED: Austin FC receives deposits for over 30,000 seats
An access plan is a must because there will be less than a thousand on-site parking spots.
The team is trying to work deals with local property owners for offsite parking. Opportunities for rideshare, bikes, and scooters are being built. "We look to be an agent of change in the area, Austin's got a mobility problem, everybody knows that we'd like to from day one to help train a behavior rather than recreate a behavior," said Enke.
RELATED: Demand for tickets crashes Austin FC website, sets MLS record
This is not the only construction site for the team. A $45-million training facility is being built. It will be located a few miles northeast from the stadium near the intersection of I-35 and Parmer Lane.