FOX 7 Friday Football Game of the Week: Round Rock vs Manor
MANOR, Texas - Week 7 of the Central Texas high school football season brings another FOX 7 Friday Football Game of the Week!
Every Thursday, FOX 7 Austin will feature one upcoming high school football game and offer you, the viewer, the chance to vote on who you think will win.
FOX 7 Austin is now on the FOX LOCAL app available through Apple TV, Amazon FireTV, Roku and Google Android TV!
This week's matchup is between two teams looking to solidify their playoff standings: the Manor Mustangs and the Round Rock Dragons.
The Mustangs (3-2 overall, 1-1 district) come into this match-up licking their wounds after last week's blow out 51-6 loss against state-ranked Vandegrift.
They're instead looking for a performance similar to the one they turned in the last time they were at home: a 42-31 win over McNeil in which Manor rallied back from a double-digit halftime deficit.
Round Rock (2-3 overall, 2-0 district) could be rounding into the district title contender many thought they'd be at the beginning of the season. 
After a disappointing 0-3 run through non-district play, the Dragons have won their first two district games, including a 28-0 win over Stony Point last Friday. 
In the 2022 match-up, Round Rock slugged its way to a 17-7 win. Both the Dragons and Mustangs went on to make the 2022 post-season. 
RESULTS
Viewers were right on the money this week with Round Rock.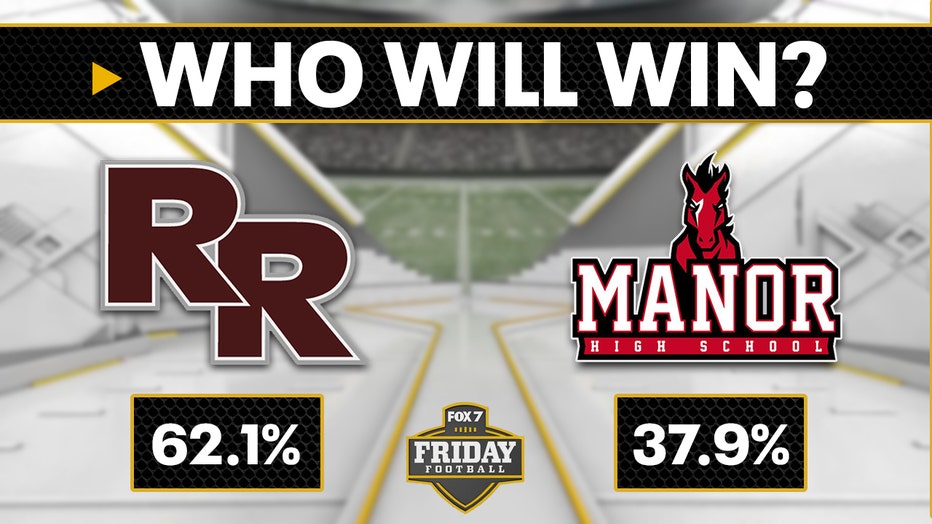 62.1% of voters chose the Dragons to win over the Manor Mustangs (37.9%).
Round Rock dominated the Mustangs 42-13, handing Manor another loss after their blowout loss to Vandegrift the week before.
View the Week 7 highlights and scores here.