Crash kills Nebraska punter, former Michigan State punter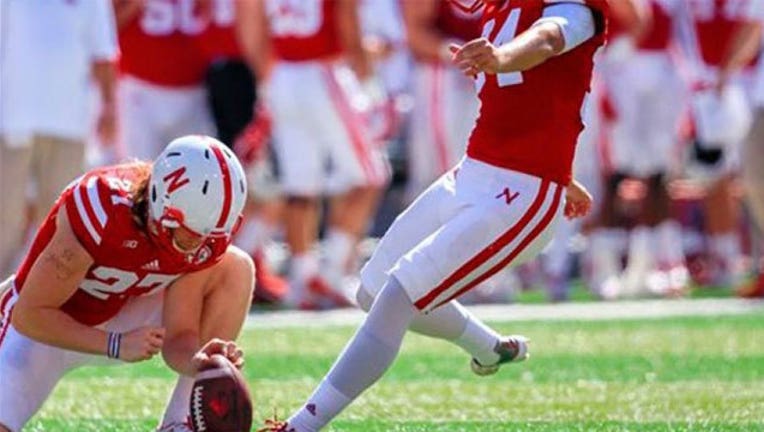 article
WAUKESHA, Wis. (AP) — Nebraska punter Sam Foltz and former Michigan State punter Mike Sadler died in a car crash in Wisconsin after working at a kicking clinic, a sheriff's department official said Sunday. LSU kicker Colby Delahoussaye was injured in the crash.
Waukesha County Sheriff's Lt. Thom Moerman said speed was likely a factor in the single-vehicle crash that happened around 11:45 p.m. Saturday.
The 24-year-old Sadler, of Grand Rapids, Michigan, was driving. He and 22-year-old Foltz, of Greeley, Nebraska, both died at the scene. Delahoussaye, 21 of New Iberia, Louisiana, was also a passenger. He was treated at Waukesha Memorial Hospital and released. A statement from LSU said his injuries were minor and that he was scheduled to return home Monday.
Moerman said in a statement that Sadler lost control on the wet pavement, left the roadway and struck a tree.
The University of Nebraska said Sunday the team will skip this week's planned Big Ten media days in Chicago because of Foltz's death. Officials with Michigan State didn't immediately respond to a request for comment.
Foltz was a three-year starter for the Nebraska team and last year he was named the Big Ten's punter of the year. Foltz graduated from Nebraska with a degree in agronomy in May. He led the Big Ten in punting last year at 44.2 yards per kick and ranked fifth in school history (42.6).
Nebraska Coach Mike Riley said Foltz was respected on the team and had a positive influence on everyone he interacted with.
"The young men in our football program are hurting but I know that their strength of character and resolve will bring us together and we will honor Sam every day moving forward," Riley said.
Several hundred friends and teammates of Foltz gathered outside Memorial Stadium in Lincoln Sunday afternoon to remember him. Several players talked about how hard Foltz worked and his faith in God.
"Sam was a kind and thoughtful young man who was a leader on the playing field, in the classroom, and in his community," Nebraska Chancellor Ronnie D. Green said in a statement. "He was an exemplary student-athlete who grew as a player and as a person on his path to recent completion of his degree in agronomy from the University of Nebraska-Lincoln, and anyone who knew him can testify that he had an enduring influence on those around him."
Sadler was a four-year starter and four-time academic All-American at Michigan State. He finished his college playing career after the 2014 season. He drew something of a cult following during his playing days because of his sense of humor and wit.
"I just asked my waitress what sport she thought I played. Her answer? Disk golf. Time to reevaluate my life," Sadler once tweeted.
He helped get his own mock Heisman Trophy candidacy rolling one season by pushing the hashtag #sadler4heisman. He would also regularly exchange funny lines on Twitter with the @FauxPelini account, a popular parody of the former Nebraska and current Youngstown State coach Bo Pelini.
"Mike impacted so many people not only as a football player, but also from an academic standpoint and in the community as well," Michigan State coach Mark Dantonio said in a statement. "The world has lost a rising star who dreamed big and was accomplishing those dreams, one after another. He was one of those people that brightened your day."
Dan Tracy with Kohl's Kicking said both Sadler and Foltz had been working at a weekend clinic at the camp in Wisconsin. Tracy said the camp ended early Sunday after an announcement about the deaths.
A statement from kicking camp director Jamie Kohl said the staff was mourning with the players' families and football programs.
"We mourn today with all of the people who were better men and women for knowing Sam and Mike," Kohl said. "Our thoughts and prayers are with them."