Racist letter sent to A&M coach Kevin Sumlin's home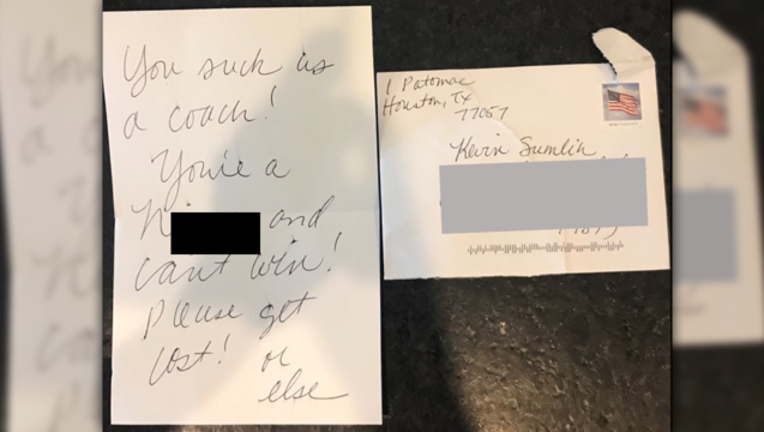 article
Texas A&M head coach Kevin Sumlin received a threatening and racist letter following the teams last minute loss to UCLA over the weekend.
Kevin Sumlin's wife, Charlene, posted a picture of the letter Thursday afternoon with the caption. "Please tell me how any part of this is ok. And to the sender: did it occur to you that a child may open it?"
The letter addressed to the coach said, "You suck as a coach! You're a n****r and can't win! Please get out! Or else."
The letter was anonymous, but its author wrote down the Houston Country Club as the return address.
Sumlin's daughter, Shelby, also spoke out on Twitter about the letter.
"Imagine being a kid & reading this bs abt your dad," she tweeted. "Things 'fans' say gets taken personal by more than just the coach. Humanity isn't hard."
After a stunning 45-44 loss to UCLA last Sunday, the Aggies coach has taken a lot of heat from fans and even had a university system regent calling for his firing.
"Our players were better tonight," regent Tony Buzbee wrote Sunday night after the stunning loss. "Our players were more talented tonight. But coaches were dominated on national TV, yet again. I'm only one vote on the Board of Regents but when the time comes my vote will be that Kevin Sumlin needs to GO. In my view, he should go now. We owe it to our school and our players. We can do better."
Buzbee even took to Twitter to demand the coach's firing.
"Sumlin has got to go," he tweeted followed by #firesumlin.
The coach has three years and $15 million left on his contract that runs through the 2019 season.
Texas A&M will host Nicholls State on Saturday night.
The Associated Press contributed to this report.