Carr's strong 2nd half lifts No. 7 Texas over West Virginia
MORGANTOWN, W.Va. - Marcus Carr waited for his chance to score. Those opportunities came rushing to the Texas guard in the second half.
Carr scored 19 of his 23 points in the second half to lead No. 7 Texas to a 69-61 victory over West Virginia on Saturday night.
The Longhorns (16-3, 5-2 Big 12) bounced back from a double-digit loss at No. 12 Iowa State on Wednesday. Without Carr taking over on Saturday, Texas could have been staring at its first losing streak since last January.
Although he couldn't get into much of a rhythm in the first half, missing all three 3-point attempts, Carr went 6 of 8 from the floor and sank 5 of 6 free throws after halftime. Carr finished 8 of 14, the first time in five games that he's made more than half of his field goal tries.
"Marcus all year long has let the game come to him," Texas interim coach Rodney Terry said. "He doesn't come out and force it. He got a couple of really good looks. Once he sees that basketball go through the basket, it opens up a lot for him. It really creates a whole different way of carrying himself on that end of the floor."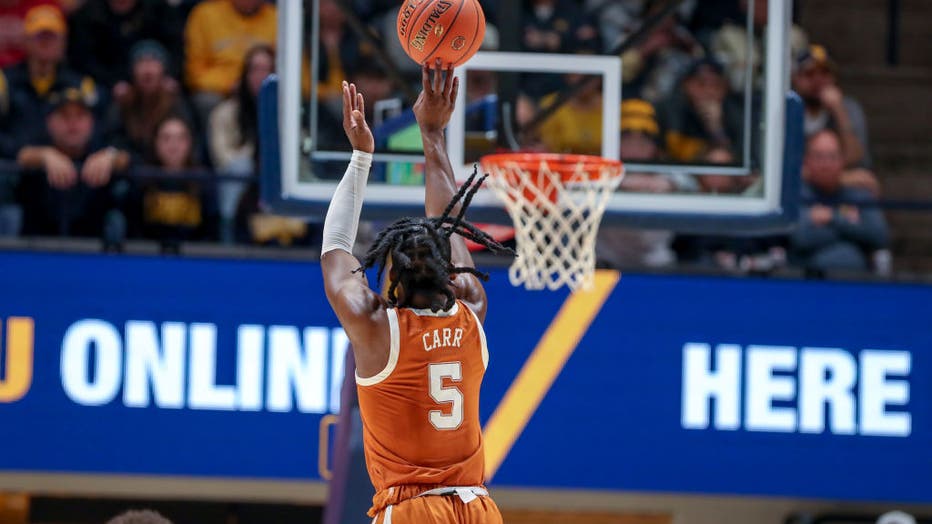 MORGANTOWN, WV - JANUARY 21: Texas Longhorns guard Marcus Carr (5) shoots during the first half of the men's college basketball game between the Texas Longhorns and West Virginia Mountaineers on January 21, 2023, at the WVU Coliseum in Morgantown, WV
READ MORE
West Virginia coach Bob Huggins believed his team has something to do with Carr's better fortunes late in the game.
"We just did a bad job," Huggins said. "He's a right-handed guy who loves to go right. We let him go right. He's a guy who you want to force to the baseline so that you can kind of swallow him up with size. We let him go where he wanted.
"We did everything pretty much opposite of what we planned to do."
Dylan Disu added 13 points before fouling out, while Christian Bishop and Tyrese Hunter scored 11 apiece for Texas.
The Mountaineers (11-8, 1-6) had several players in early foul trouble and couldn't match the energy of a win over No. 14 TCU on Wednesday. Kedrian Johnson had a career-high 22 points after scoring 20 against the Horned Frogs. But his teammates fell flat in the second half against the Longhorns.
West Virginia finished with 20 turnovers, "and not against pressure," Huggins said. "We just threw the ball to the wrong team. If you want to make a recipe for losing, just go back and look at our last 10 minutes, because we dropped balls. They didn't take them from us. We dropped them."
Disu put Texas ahead to stay on a baseline jumper and Bishop's dunk extended the lead to 58-52 with 5:15 remaining.
Johnson, who went 7 of 11 from the line over the final eight minutes, made three after getting fouled on a 3-point try, pulling the Mountaineers within 63-61 with 2:39 left. But West Virginia didn't score again.
Texas made 12 of its final 15 free throws, including five by Carr.
MITCHELL'S REUNION
The game marked a reunion for West Virginia's Tre Mitchell, who started 17 games last year for the Longhorns, and took a leave of absence in February and didn't play again. Mitchell finished with 12 points, but had just three after halftime. He also had five turnovers and went 4 of 11 from the floor.
"I just wanted to do what I could do to help us win, and clearly I didn't do too well at that," he said.
POLL IMPLICATIONS
Texas could drop a few spots in the AP Top 25 after a 1-1 week.
BIG PICTURE
Texas: The Longhorns limited their turnovers after halftime after committing nine in the first half. They've now won eight of the teams' last 10 meetings.
West Virginia: The Mountaineers have lost six of seven, and getting to the NCAA tournament won't be easy. West Virginia is scheduled to play ranked opponents in eight of its 12 remaining regular-season games.
"I thought that we were on that road to fixing it, and obviously we're not," Huggins said.
UP NEXT
Texas hosts Oklahoma State on Tuesday.
West Virginia plays at Texas Tech on Wednesday.