CJ Baxter scores late TD; No. 8 Texas derails Houston's last-chance drive for 31-24 win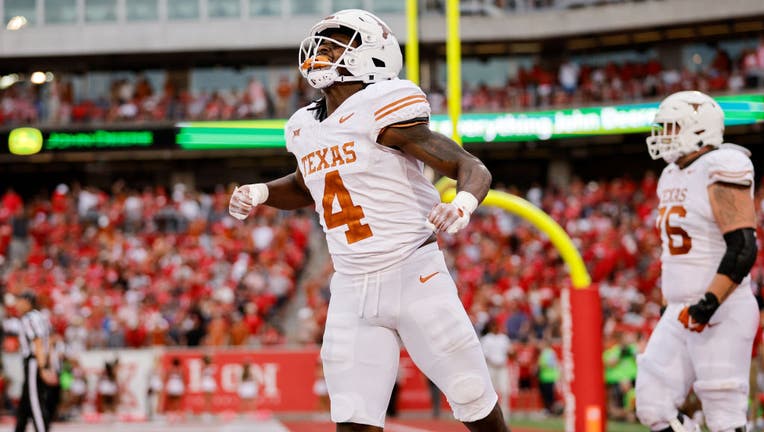 article
HOUSTON - CJ Baxter rushed 16 yards for a touchdown with 5½ minutes left in the fourth quarter, and No. 8 Texas stopped Houston on 4th-and-1 in the final minute on the way to a 31-24 win over Houston on Saturday.
Jonathon Brooks rushed for 99 yards and Xavier Worthy had 92 receiving yards and a touchdown for Texas (6-1, 3-1 Big 12).
"I think it speaks a lot to this team's resiliency, this team's mental toughness, their ability to finish in the fourth quarter I thought showed up tonight," Texas coach Steve Sarkisian said. "I'm really happy about that. I'm happy to know when I wake up tomorrow morning we are going to be 6-1 and not 5-2."
Quinn Ewers was 23 of 29 for 211 yards and two touchdowns, but exited after taking a hit on a scramble late in the third quarter. Ewers was replaced by Maalik Murphy on the Longhorns' first drive of the fourth quarter. Ewers was on the sideline late in the game with his right arm in a sling.
"He's got a hurt shoulder," Sarkisian said of Ewers. "We'll know tomorrow the extent of it. He tried to play through it. We didn't feel comfortable enough with his ability to continue to play, and that's when Maalik went into the game."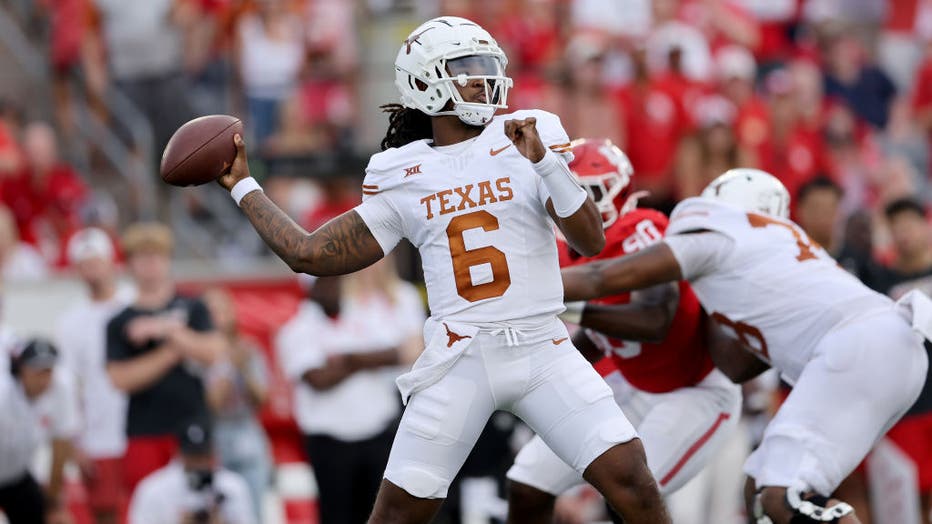 HOUSTON, TEXAS - OCTOBER 21: Maalik Murphy #6 of the Texas Longhorns throws a pass in the second half against the Houston Cougars at TDECU Stadium on October 21, 2023 in Houston, Texas. (Photo by Tim Warner/Getty Images)
Brooks credited Texas' preparation, mentality and attitude for being able to finish.
"This offseason we focused in on finishing the fourth quarter and finishing games," Brooks said. "Not getting down ourselves like that because we know what we are capable of. Just knowing that we are putting all that into effect and doing what we're talking about and not just saying that."
Texas outgained Houston 141-14 in rushing yards, but Houston (3-4, 1-3) outgained Texas 392-360 in total yards.
After the teams traded field goals, Baxter rushed for a 16-yard TD to give Texas a late 31-24 lead. Houston had a chance to tie it late, but on fourth down at the 10, Donovan Smith threw an incomplete pass with 1:03 remaining, ending the Cougars' upset bid.
"The game came down to two possessions," Sarkisian said. "We found a way to punch it in on ours, and we found a way to get a fourth down stop on defense."
Houston coach Dana Holgorsen was not happy with the spot of the ball after a run on third down.
"We took the mighty Texas Longhorns, the No. 8 team in the country, to the wire," Holgorsen said. "I think the spot was horrible. I think we got the first down. It was first-and-nine at the nine. I don't understand review. Every time I think something is reviewable, I can't get them to review it. They say they're looking at it, but I don't know that."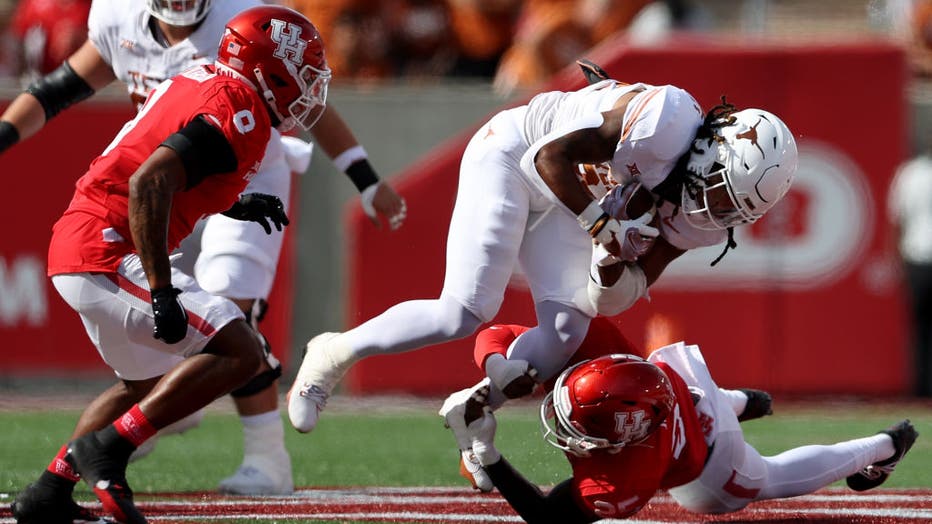 HOUSTON, TEXAS - OCTOBER 21: Jonathon Brooks #24 of the Texas Longhorns is tackled by Jamal Morris #25 of the Houston Cougars in the first half at TDECU Stadium on October 21, 2023 in Houston, Texas. (Photo by Tim Warner/Getty Images)
Ewers threw touchdown passes of 14 and 42 yards in the opening quarters, and Savion Red scored on a 1-yard run as Texas built a 21-0 lead with 12:49 left in the first half.
Donovan Smith was 32 of 46 for 378 yards and three touchdowns. Smith threw scoring passes of 32 and 3 yards to Matthew Golden, and a 21-yarder to Joseph Manjack IV as the Cougars tied it at 21 with 12:29 remaining in the third quarter.
Manjack caught six passes for 88 yards, Samuel Brown caught four passes for 80 yards and Golden caught seven passes for 88 yards for Houston.
THE TAKEAWAY
Texas: The Longhorns dominated the opening 22½ minutes as they built a 21-0 lead. … Texas' secondary struggled against Houston's passing offense. … Texas committed six penalties for 60 yards and struggled on third downs, going 3 of 12. Texas was 3 of 5 on fourth downs.
"The lesson learned here is we have to have a killer instinct," Sarkisian said of blowing the 21-point lead. "People aren't going to lay down against us. They're going to continue to fight. We relaxed. We didn't execute the way we had. … In turn, we end up in a dogfight 21-all."
Houston: The Cougars were able to get back into the game by almost completely abandoning the run game. … Houston committed one penalty for 15 yards. … Houston also struggled on third downs, going 4 for 13. The Cougars were 2 of 3 on fourth downs.
SERIES HISTORY
Texas improved to 17-7-2 against Houston and has won eight straight games. It was the first meeting between the schools since 2002.
POLL IMPLICATIONS
Texas' quick start and 21-0 lead raised the question of whether the Longhorns would move past No. 6 Oklahoma two weeks after losing to the Sooners, who struggled at home against a .500 team before holding off UCF 31-29.
By the end, the question became whether 11th-ranked Alabama would leapfrog Texas despite losing to the Longhorns in Week 2. The Crimson Tide dominated the second half in a 34-20 victory over No. 17 Tennessee.
UP NEXT
Texas: Hosts BYU on Saturday.
Houston: Travels to Kansas State on Saturday.