Texas Rangers AL Champions merch on sale now
Some stores opened late Monday night to let excited Texas Rangers fans buy their AL Championship gear.
Rangers' fans have waited for more than 10 years for another World Series run.
So, it wasn't a big deal for many who waited outside a few local Academy stores to buy official merch after the Game 7 blowout of the Houston Astros.
The stores, which usually close around 9 p.m., reopened for a few hours after the big win.
Fans purchased officially licensed t-shirts, hats, hoodies, and more.
And to say they were excited to rep their new swag was an understatement.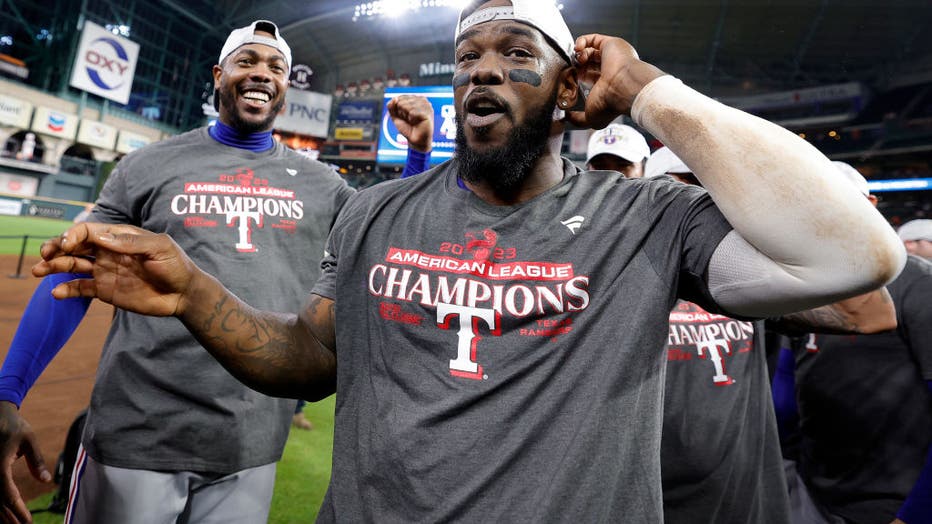 HOUSTON, TEXAS - OCTOBER 23: ALCS MVP Adolis Garcia #53 of the Texas Rangers celebrates with his teammates after defeating the Houston Astros in Game Seven to win the American League Championship Series at Minute Maid Park on October 23, 2023 in Hous
"It's a big deal to make it to the World Series. And yeah, I'm just excited and looking forward to it," one fan said.
"Going to the World Series and I think this is our year," another said.
The select stores reopened again Tuesday morning at 7 a.m.
They are located at: 1101 West Arbrook Boulevard in Arlington, 6101 Bryant Irvin Road in Fort Worth, 6375 E. Northwest Highway in Dallas and 1665 North Town East Blvd in Mesquite.
Game 1 of the World Series will be this Friday on FOX 4.