Watt's fund reaches $6 million as celebrity donations for Harvey relief pour in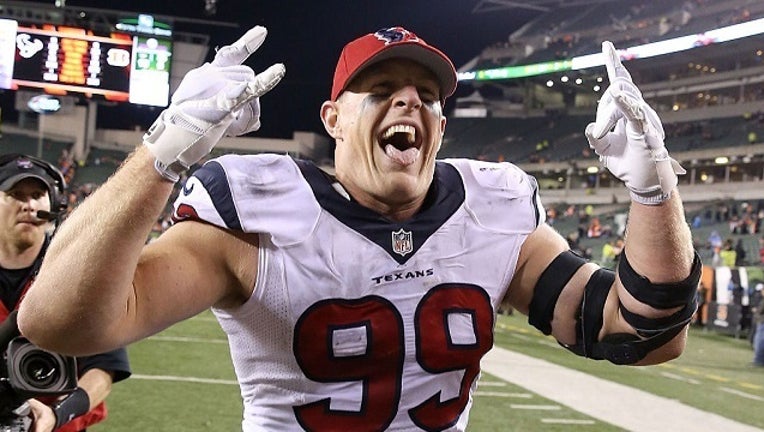 article
HOUSTON (WTXF) - Celebrities all around the country continued to donate millions of dollars to Harvey relief on Tuesday, as fundraisers continued to grow, and Harvey made its second landfall.
Houston Texans star J.J Watt's crowdfunding campaign more than doubled in over a 24-hour period. His fund has now reached $6 million after he originally set out to raise just $200,000. Watt has now set the goal for $10 million. More than 52,000 people have contributed to Watt's fund. Other athletes have pitched into his cause, including Texas native and Philadelphia Eagle Lane Johnson, who donated $25,000.
Meanwhile, Sandra Bullock, who has a home in Texas, donated $1 million to Red Cross relief, and the Kardashian siblings pooled together to donated half a million dollars.
Kevin Hart got the ball rolling for other celebrities, challenging a number of big names to match his $25,000 donation. Stars like Dwayne 'The Rock' Johnson and DJ Khaled matched that donation, while singer Chris Brown pledged $100,000. Hart himself pledged to donate to J.J. Watt's fundraiser.
LINKS: J.J. Watt's Houston Flood Relief Fund | Kevin Hart's Hurricane Harvey Donation Page | Chris Young's Hurricane Harvey Relief Fund 
"This is a serious matter," Hart said in the video. "I think the people are in bad shape and they need help. I'm going to lead the charge and step it up in this way."
Hart himself pledged to donate to J.J. Watt's fundraiser.
Hart started a crowdfunding campaign online with the Red Cross that has raised nearly $1 million with the help of more than $5,000 contributors.
Houston sports teams have also made donations with the Houston Astros and Rockets each donating $4 million, and the Texans chipping in another $1 million. Proceeds from Thursday night's preseason game between the Dallas Cowboys and Houston Texans will also go toward Harvey relief, the teams announced Tuesday. 
Also Sunday, country star Chris Young announced on Twitter that he has started an online fundraiser for the Red Cross and donated $100,000 to it. The campaign had taken in an additional $50,000 by midday Monday, and is now approaching $200,000