Austin soccer players catch World Cup fever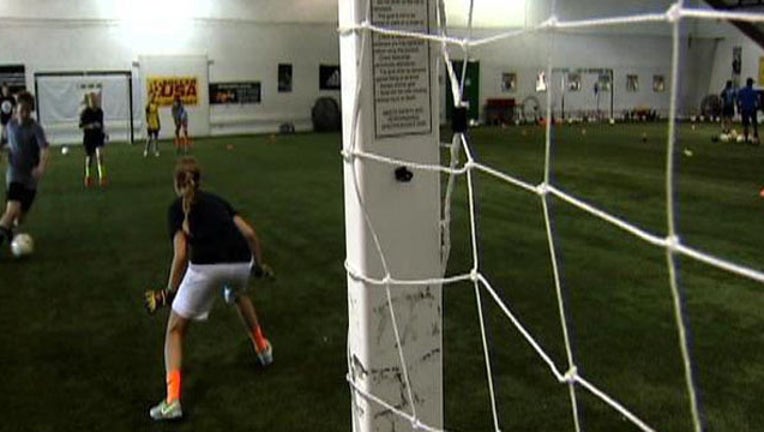 article
Championship fever is in full swing as the United States women advance to the final round of the Women's World Cup.
The US beat Germany, 2-0, on a penalty kick and a late goal. Now the United States has a score to settle as they go for a third World Cup title.
Young soccer fans in Austin will be among the millions cheering them on. The games are inspiring young soccer players attending Austin Sports Academy's soccer camps.
"Come off strong," said a coach as campers repeat drills.
Passion for the game drives players to practice. Their love for the game is growing thanks to all of the World Cup coverage.
"It's pretty wild. Every kid at camp we're encouraging to watch the games," said Brad O'Kelley, one of the ASA owners.
"We just beat Germany which is pretty awesome," said Vivian Sommer, 8. Sommer hopes to one day wear red, white and blue and play at the highest level.
"It inspires me because they've come so far and I want to do that," said Sommer.
She's not alone.
"That's my dream to be able to play in the Women's World Cup. It's great to see these players who were where I am just a few years ago," said Hannah Alexander, 12.
"I think it would be really cool to be on a team like that," said Audrey LeMond, 13.
"From an educational standpoint they can visualize themselves and a lot of these kids have aspirations to play at that level," said O'Kelley.
"We can talk about it and how they played and what they did good and bad," said LeMond.
By the end of the summer hundreds of soccer players will have trained at ASA.
"I don't think gender matters to these guys. They see it as a game," said O'Kelley.
As the U.S. Women go after the title these young fans will be watching and working on their goal that may just come true.
"I just love soccer," said Sommer.
The winner of Japan vs. England advances to the championship to take on the United States. Pre-game coverage starts on FOX 7 at 4 p.m. Sunday and the game begins at 6 p.m.