Austin woman bringing free outdoor movie nights to community
AUSTIN, Texas - With so many people still staying home during the COVID-19 pandemic, a woman in Austin came up with a way to bring some safe entertainment right to their yards. 
Kathlyn Stritzinger brings all the supplies to set up a family-friendly experience for her neighbors. "I come over, I set up my screen and I either use a tree, if there's a nice tree cause it's better than a stand looking, otherwise I use my stand," said Stritzinger.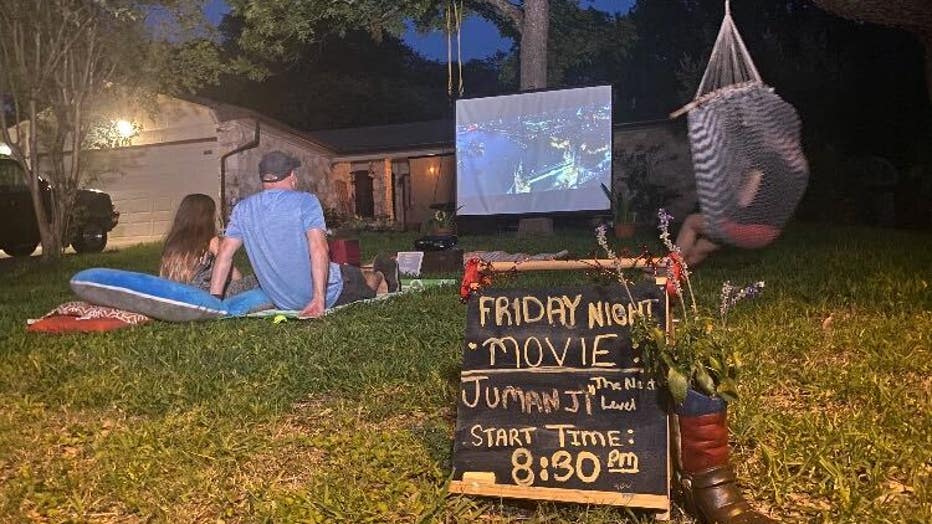 The professional photographer was looking for a way to spread a little cheer when businesses shut down during the COVID-19 pandemic. With a lot of extra time on her hands and a brand new projector screen in her possession, she asked her neighbors if they'd be interested in outdoor movie nights. 
"I'm doing it free just because I know there's people out there that can't afford it, right now especially, and it's something I can just do that makes me feel good and makes them feel good," Stritzinger said. 
---------
Get breaking news alerts in the FOX 7 Austin News app. It is FREE!
---------
"We've got to think of some ways to not be stuck in the house all the time and we can't really go to movie theaters, so I think this is it just a fun community thing," said Randee Wood, one of Stritzinger's neighbors. 
Stritzinger likes to set up signs so anyone else in the neighborhood can stop by and watch from across the street. Then, once the sun goes down, it's lights, camera, action. She's also taken the idea on the road, especially for elderly people who are afraid to leave home. 
RELATED: TIMELINE: Texas' continued response to COVID-19 pandemic
"I'm just doing it because I know there's people out there that need a break and need to get out of the house," Stritzinger said. 
With outdoor movies, everyone can easily keep their distance from others. Kathlyn said she sets everything up without any contact with her customers. For some families it's a matter of safety, for others, convenience. 
"I would not go into a movie theater at this point. I mean, nothing against the movie theaters, it's just if you have an option this is definitely the better option," said Stephanie, another one of Kathlyn's neighbors. 
"This is much more relaxing. Going to the movie theater is a tad bit stressful with our crew we have," said Wood. 
Kathlyn said the demand is picking up speed.  She was booked solid last weekend and, while she's enjoying her newfound hobby, she hopes those she helps entertain see the bigger picture. 
SIGN UP FOR FOX 7 AUSTIN EMAIL ALERTS
"Everybody needs to realize we need to stick together and just doing something fun and happy and making people smile is my goal," Stritzinger said. 
To contact Kathlyn for an outdoor movie night of your own, email her here.
CLICK HERE FOR THE LATEST INFO ON THE CORONAVIRUS OUTBREAK
FOX 7 Austin is working to keep you up to date with coronavirus, with both local and national developments. Every weekday we're live at 12 p.m. with a special show reporting the latest news, prevention tips and treatment information.
You can watch live in your FOX 7 Austin app or on the FOX 7 Austin Facebook page.
You can also get the latest COVID-19 news from around the country at coronavirusnow.com.