Back In Time: Movie cars popular at Austin Auto Show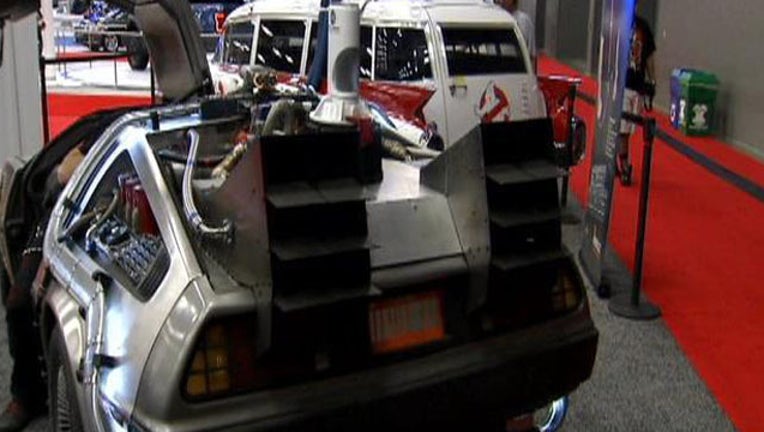 article
AUSTIN, Texas - It's a sight that's almost too awesome: a Ghostbusters "Ecto-1," a Back to the Future DeLorean time machine and KITT from Knight Rider...all in one spot.
It literally brought movie fan Michael Ramirez to his knees.
"I'm just really stoked, excited to see the cars. I'm actually kind of just shaking a little," he said.
The movie cars are part of the Austin Auto Show.
It's a chance for the Austin Automobile Dealers Association to show off what they have to offer.
"This [Tacoma] is our midsized pickup truck, the Tundra is our full sized. They're both built in the San Antonio Texas plant so we're proud to say they're built in Texas by Texans," said Vicki O'Brien with Toyota.
Reality star VideoBob Moseley from "Screen Machines" on the Reelz Channel is the man behind those fine movie automobiles. He says it all started in 2003 when he bought a DeLorean.
"Things just got way out of hand and I started building these complete total replicas. Customers started coming to me asking me for them and now we've built over 20 of these DeLorean time machines," he said.
VideoBob says it took about 10 years worth of research to get the details exact. He visited Universal Studios and even befriended some of the folks that made Back to the Future.
"Basically we have a book of every square inch of the original car that we reference. So we get every single wire, color, gauge, direction, every single zip tie...every little part is exactly the way it was in the film," he said.
He says stuff lights up inside when it hits 88 miles per hour. But instead of going back in time you just get a ticket.
VideoBob says his "Ecto-1" is a 21-foot 1960 Cadillac ambulance that gets terrible gas mileage.
"This was actually an in-use hearse up until when I bought it so it's all original interior. Runs and drives, still has that nice formaldehyde smell in the back," VideoBob said.
And of course, KITT from Knight Rider. He says looking around at all of the brand new cars at the auto show, there's an interesting lesson learned.
"There's a lot of things that were totally considered fantasy in a car like this, like GPS and you know video screens and all those things which are now standard equipment on just about every new vehicle," he said.
For more information on the Austin Auto Show, click here.