Capitol Hill Buzz: Feinstein vs. Cruz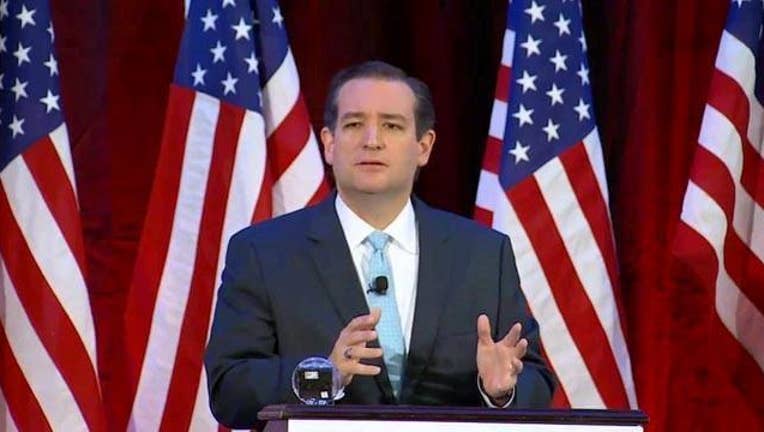 article
WASHINGTON (AP) — It was another round of Cruz vs. Feinstein.
Republican presidential candidate Ted Cruz and five-term Democratic Sen. Dianne Feinstein engaged in a heated exchange on the Senate floor on Wednesday over "sanctuary cities" that shield residents from federal immigration authorities and over human rights in China.
The debate ended with Texas freshman senator all but calling Feinstein a Communist.
"It saddens me that in the face of unspeakable brutality and evil, that the Democratic senator chooses to align herself with the Communist party dictators rather than a Nobel peace laureate," Cruz said.
At issue is legislation that Cruz has been trying to pass that would name the street in front of the Chinese embassy in Washington "Liu Xiaobo Plaza." Liu Xiaobo is a Chinese activist and Nobel Peace Prize winner imprisoned on charges of inciting state subversion. Cruz, like most of his Republican rivals, has been critical of China's role in the world.
Cruz tried to pass the bill by voice vote Wednesday. Feinstein objected, saying that such a move could be detrimental to U.S. efforts to negotiate with the country.
"Unlike the senator from Texas, I've had a long experience with the Chinese, going back more than 30 years," Feinstein said. "And I know what can convince them to move toward a goal."
The two also tussled over so-called sanctuary cities. Last month, Senate Democrats blocked a bill that would crack down on cities that have adopted policies of disregarding federal immigration requests, or "detainers," which advocates say can unfairly target innocent immigrants.
Republicans have pushed the legislation since the July 1 shooting of Kathryn Steinle in San Francisco. The man charged in the killing had a long criminal record and was in the country illegally. He had been released by San Francisco authorities despite a request from federal immigration authorities to keep him detained.
Cruz tried to pass that bill, too, by voice vote. Senate Democratic Leader Harry Reid objected, prompting Cruz to say that Reid was choosing "to stand with violent criminal illegal aliens instead of the American citizens."
Feinstein again took issue with Cruz, noting that he had mentioned the defeat of San Francisco Sheriff Ross Mirkarimi in Tuesday's elections. Mirkarimi's office had released Steinle's killer.
Feinstein said the sheriff's defeat was "multifaceted" and was not for just one reason.
"Respectfully, senator, I do not believe you know much about San Francisco," said Feinstein, a city native who served as mayor.
The 44-year-old Cruz and 82-year-old Feinstein have a history of facing off. Twice earlier this year, Feinstein blocked Cruz from passing the street-naming bill. In 2013, the two exchanged harsh words over gun control legislation during a committee vote on an assault weapons ban sponsored by Feinstein.
"I'm not a sixth grader," Feinstein snapped when Cruz challenged her with a legal comparison between the proposed assault weapons ban and the First Amendment only hypothetically applying to certain books.
"It's fine you want to lecture me on the Constitution," Feinstein told Cruz. "I appreciate it. Just know I've been here for a long time."
___
Follow Mary Clare Jalonick on Twitter at http://twitter.com/MCJalonick