3 arrested in New Braunfels after vehicle searches uncover drugs, cash, firearms: police
NEW BRAUNFELS, Texas - Three Fort Worth men are in jail in Comal County after New Braunfels police say they found hundreds of thousands of dollars in cash, trash bags full of drugs and multiple firearms in their vehicles.
NBPD says around 7:40 p.m. April 8, officers were called to the Fischer Park parking lot, where witnesses reported seeing three men wearing all black outside two vehicles with black facemasks, large amounts of cash and firearms in plain view.
Officers found and detained the two men while a K-9 performed an open-air sniff of the vehicles, a white Cadillac Escalade and a gray Honda Civic. A subsequent search of the vehicles uncovered around $260,000 in cash, which police say was "packaged in a method consistent with drug distribution."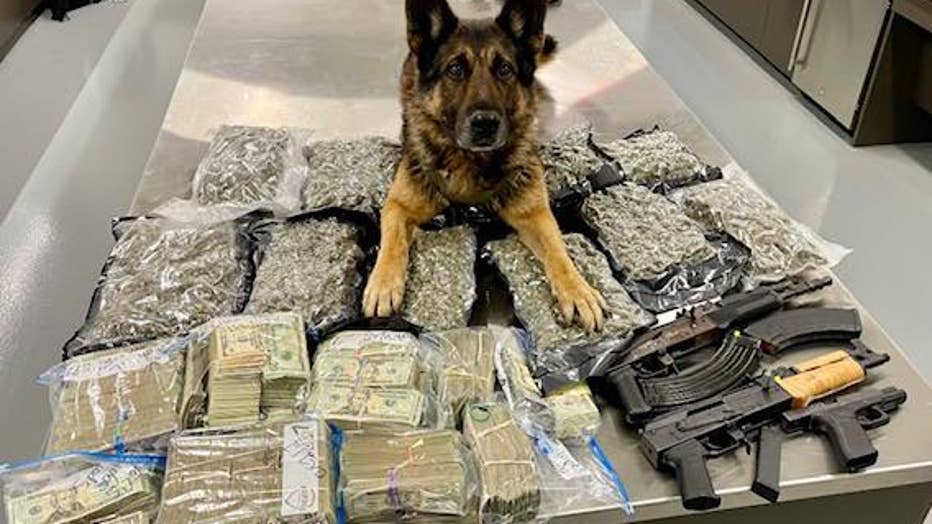 (New Braunfels Police Department)
Officers also found two large trash bags containing around 11 lbs of marijuana, a stolen handgun and two other firearms.
25-year-old Eduardo Javier Munoz, 26-year-old Jonathan Martinez, and 24-year-old Aaron Scott Dittman Jr. were transported to the Comal County Jail and each charged with possession of marijuana (greater than 5 lbs but less than or equal to 50 lbs) as well as engaging in organized criminal activity. 
Dittman also had an active warrant for aggravated assault with a deadly weapon out of Tarrant County and Martinez had an active warrant out of Fort Worth for assault causing bodily injury. 
Aaron Dittman Jr. (New Braunfels Police Department)
Bond had not been set as of April 9.
This case remains under investigation by the NBPD Street Crimes Unit and additional charges may be pending, NBPD says.