Code department cracking down on decades-old garage conversions in South Austin
AUSTIN, Texas - More than a dozen homeowners in South Austin on Green Forest Drive were slapped with code complaints last week. 
The complaints filed are for garage conversions that the majority of homeowners did not even do themselves. 
"The house was built in '64. This door was probably put in in the 70s or 80s," said Sean McGuire referring to the glass sliding door in place where a garage door would normally go.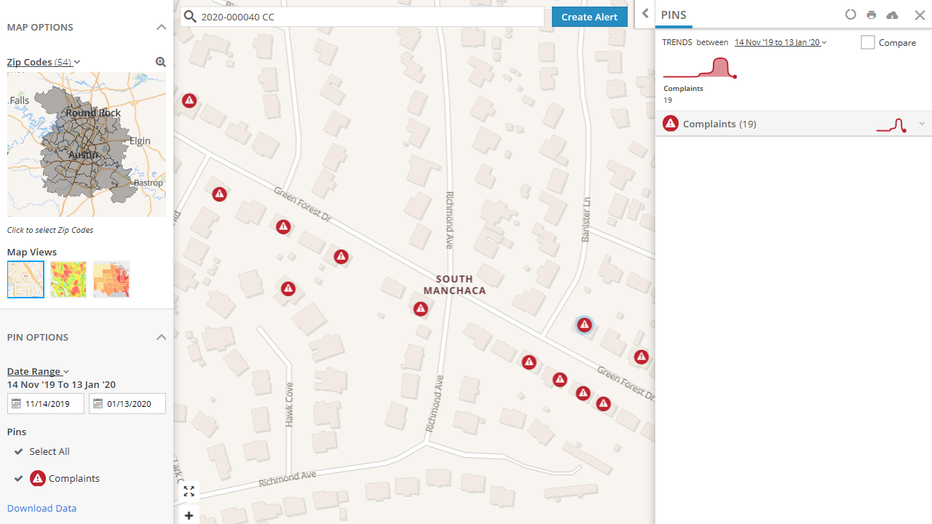 A screenshot from the Austin Code Department website of homes along Green Forest Drive in South Austin that received code complaints last week concerning garage conversions.
In the 16 years McGuire has lived there, he's never been contacted by the code department about that room in his house. That changed Jan. 6. 
"Last week I got a certified letter with this complaint violation," McGuire said. 
The Austin Code Department said the garage conversion was not permitted. A statement from the department reads:
"The Austin Code Department received a service request from a property located on Green Forest Dr. where an inspector conducted an initial inspection and found various code violations pertaining to public health and safety. Additionally, the inspector conducted initial inspections of similar conditions within a half block proximity to the original location and found 15 properties with similar conditions within the vicinity of Green Forest Drive.  All validated complaints will be notified via a Notice of Violation (NOV) for work conducted without permits with a timeframe to comply within twenty (20) days and locations where unsanitary conditions were present will have a seven (7) day remedy timeline to bring the property to compliance.  
Austin Code is primarily a reactive department and responds to resident service requests. Austin Code inspectors are able to generate proactive cases when substandard dangerous condition to health and safety are observed within proximity of the original complaint.  Often times, the Austin Code Department works in specific neighborhood initiatives that impact the preservation of a community's public health. Some examples of these initiatives are the clearing of illegal dumping sites, sign placement initiatives, open and assessable structures or nuisance abatement concerns to the public health."
Although McGuire said when he bought the home a city inspector checked it out, never mentioning any issues with the converted garage, it's McGuire's problem now. 
"This was done 40 years ago. It's not a safety issue, it's a money issue," said McGuire. 
It's not only his problem. The code inspector filed complaints for 15 additional properties in his neighborhood. 
"It has very real effects on people, families. It's not good," McGuire said.  
In McGuire's case, it couldn't have happened at a worse time. 
"I'm disabled and I'm trying to raise a family and my wife was actually laid off in November… We don't need additional stresses," said McGuire. 
He can't afford to not comply.
"They're saying if I don't fix this in 30 days, they could fine me $2,000 a day," McGuire said. 
To avoid the fine, he's left with two options. 
"I either have to draw up floorplans, that include the glass door, and get that permitted or I have to cut out the glass door and get a garage door reinstalled," said McGuire.  
Each of those solutions will cost about $400. 
McGuire's considering working with his neighbors to take legal action against the city. 
"It's a threat. It's making us feel uncomfortable in our home, like we're under attack," McGuire said. 
Homeowners who received a complaint for a converted garage are asked to work with the Development Services Department to correct the violation.