Dallas Mayor Eric Johnson says he is now a Republican
DALLAS - Dallas Mayor Eric Johnson announced Friday that he is switching parties from a Democrat to a Republican, making the city the largest in the country run by a Republican.
Johnson announced the change in an op-ed that was published in the Wall Street Journal on Friday.
"Next spring, I will be voting in the Republican primary. When my career in elected office ends in 2027, on the inauguration of my successor as mayor, I will leave office as a Republican," Johnson wrote.
Prior to being elected the mayor of Dallas in 2019, Johnson represented Dallas in the Texas Legislature for nine years as a Democrat.
"I was never a favorite of the Democratic caucus, and the feeling was mutual," Johnson wrote.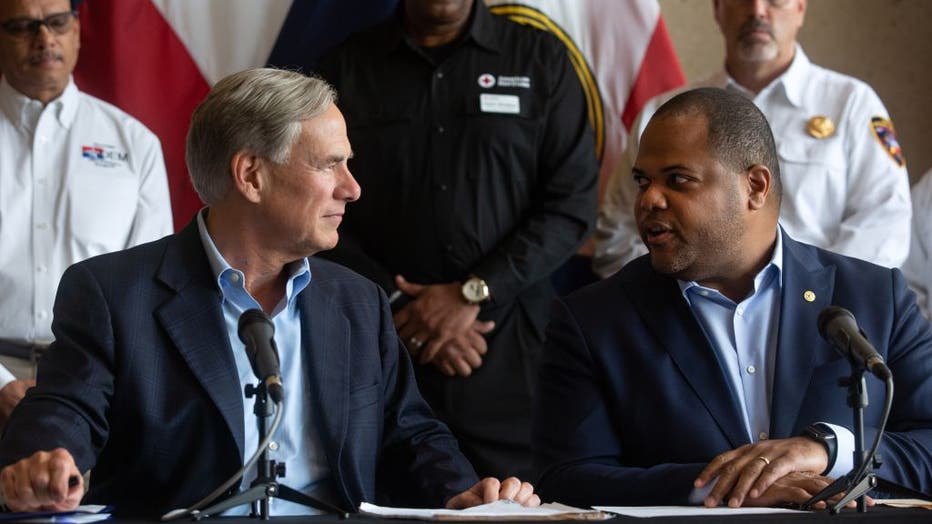 Eric Johnson, mayor of Dallas, right, speaks with Greg Abbott, governor of Texas, during a news conference in Dallas, Texas, US, on Tuesday, Aug. 23, 2022. A massive rainstorm in North Texas drenched parts of the Dallas-Fort Worth area with more than
In announcing the switch, Johnson said he understands the decision will surprise many, but it is not a shock to many who closely follow politics, though it could have big implications for the future.
When Johnson was sworn in for his second term as Dallas mayor in June, the then-Democrat had Texas' two Republican senators there supporting him.
He's now joined the two.
The mayor said he has no intention of changing his approach to his job, but disagrees with Democrat policies on things like public safety and spending.
"Too often, local tax dollars are spent on policies that exacerbate homelessness, coddle criminals and make it harder for ordinary people to make a living," Johnson wrote. "The future of America's great urban centers depends on the willingness of the nation's mayors to champion law and order and practice fiscal conservatism."
He also accused Democrats of "virtue signaling."
Johnson has long made cracking down on violent crime, lowering property rates, and attracting business central tenets to mayorship.
He discussed those efforts in an appearance on FOX News channel late last month.
"We've worked really, really closely with the community here in Dallas to make sure our police feel supported throughout this time when a lot of people have talked about defunding police and questioning the role law enforcement plays," he said.
Johnson's party switch makes him the only Republican mayor of the nation's 10 largest cities.
The GOP welcomed Johnson with open arms.
Republican Party of Texas Chairman Matt Rinaldi issued a statement saying, "We are thrilled to have Eric Johnson join the Republican Party. In his tenure as Mayor he has set the example by fighting to lower property taxes, resisted efforts to defund the police and make Dallas safer. We look forward to working with him to make Dallas better."
Texas Governor Greg Abbott shared a link to a story about Johnson's announcement saying "Texas is getting more Red every day."
Although mayoral positions are technically non-partisan, Johnson's move sparked backlash for going Republican in solidly Democrat Dallas County.
Some Democrats were not shocked by the announcement. Gilberto Hinojosa and Shay Wyrick Cathey, the Chair and Vice-Chair of the Texas Democratic Party issued this statement:
"Given his long-standing affinity with Republican leaders and ideology — like when he cozied up with longtime podcast host Ted Cruz at his inauguration this year — this announcement is neither surprising nor unwelcome. But the voters of Dallas deserved to know where he stood before he ran for reelection as Mayor. He wasn't honest with his constituents, and knew he would lose to a Democrat if he flipped before the election. In a city that deserves dedicated leadership, Mayor Johnson has been an ineffective and truant mayor, not only disconnected from Democratic values, but unable to even be an effective messenger for conservative local policy. This feeble excuse for democratic representation will fit right in with Republicans — and we are grateful that he can no longer tarnish the brand and values of the Texas Democratic Party."
Kardal Coleman, the Dallas County Democratic Party chair called the Johnson's party change "nothing short of an insult to the electorate."
"That Johnson has the gall to join a party so blatantly opposed to the values of Dallas is an embarrassment not only to him, but to our community," Coleman said.
"Well, Johnson was never a particularly partisan Democrat," SMU political science professor Matthew Wilson said.
Wilson said the move could be advantageous if Johnson seeks higher office.
"Texas is becoming more two party competitive, but clearly it's still a state where Republicans have an advantage. And moreover, by becoming pretty much the only African American Republican leader of a major city, he puts himself in a much more kind of unique political position than he is within the Democratic Party," Wilson said.