Drunk driver hits APD patrol car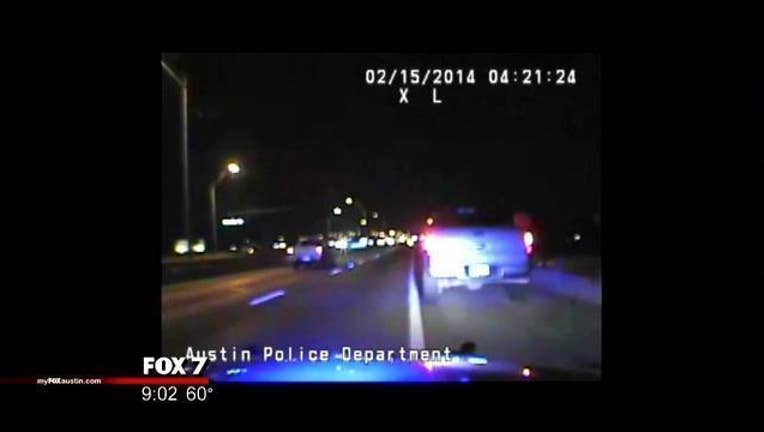 article
AUSTIN, Texas - A drunk driver slams into an Austin police patrol car on I-35 and we have the video.
On February 15th of last year, Corporal Ryan Lillie parked his patrol car on the upper deck of I-35 to help block a stranded driver.
Lillie explains to the driver the importance of his blockade because of the high probability of a crash.
"You drive along and on these guardrails you see scuff marks where people have slid and hit them and bounced off of them," Cpl. Lillie said.

In the dash camera video, the men continue their conversation for another minute. Then, a vehicle slams into Lillie's patrol car thrusting it forward. Lillie says the patrol car came within a foot of striking him.
"Someone just ran into my car on the upper deck. I'm going to need a couple units," he said.

The driver who crashed into Lillie's car was identified as Shelby Rounsaville. Rounsaville's truck rolled, trapping him inside.
According to court paperwork, Rounsaville had a preliminary breath alcohol test which registered at .219.
Officers say another driver had been following Rounsaville and called 9-1-1 to report him swerving. He showed up on the scene and can be heard telling the officer this, "Thank God you're okay man."
The officer was uninjured. He says the patrol car came within a foot of striking him.
Rounsaville was convicted of DWI and sentenced to 20 days in the Sheriff's Weekend Alternative Program. His driver's license was suspended for 180 days. He also paid $1,300 dollars in restitution to APD.