Georgetown assisted living facility gifted second large generator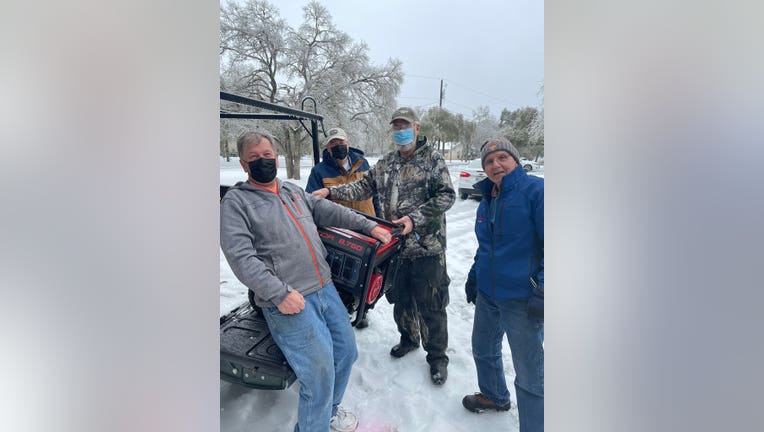 article
GEORGETOWN, Texas - Tuesday, FOX 7 Austin reported that Platinum Resort Assisted Living and Memory Care in Georgetown, Texas was in need of a second-generator to provide light for it's 13 residents and staff. 
Wednesday, Georgetown business "Russell Glass" was able to donate the generator. Mickey McLaughlin and Sheridan Young dropped it off just after noon. 
Facility Director Shannan Conway said "we want to thank our community, they have been calling us, texting us, emailing us… We couldn't ask for a better community here in Williamson County." 
Facility owner Laura Chotsky added that community members have been "dropping off gas, dropping off blankets, dropping off generators. Honestly, we are so appreciative, thank you so much."
Conway told FOX 7 Austin the facility even received calls from people out of state looking to help. Adding that Thomas, Sophie and Kathy Young donated water, and Zac Lovas ordered 21 blanket sets for staff who have been at the facility 24/7 since the storm hit. 
"It's very warm in here, very cozy, and thanks to the public for everything they've done to help out in this situation," said Marie Knight, whose father Charles Faubion lives at the facility. 
Around 4 a.m. Monday Platinum Resort Assisted Living and Memory Care lost power. Power sporadically returned, but the 13 resident home spent most of Monday and Tuesday without it.  
"[The weather has] been good to see, but it's cold, it's rough." said resident Imogene Davis. 
The facility had one generator they were using to power three space heaters and a griddle. "That doesn't take place of the heater," said resident Charles Faubion. 
Facility Director, Shannan Conway says staff is trying to "keep everybody in the center of the house where it's warm." Each resident is situated near a heater with a shirt, sweatshirt, sweater and blankets. 
DOWNLOAD THE FOX 7 AUSTIN NEWS APP
Staff have not left the facility since the severe weather hit. Facility Owner, Laura Chotkevys says they are working to keep everyone calm. "Individuals who have dementia, they sense energy, so I think that's what we're very cognizant of," she explained. 
In the meantime, Conway says she would appreciate a timeline. "We'd love to know what to tell the residents." she said.