Hundreds of motorcyclists gather at the Capitol for "Ride for the Fallen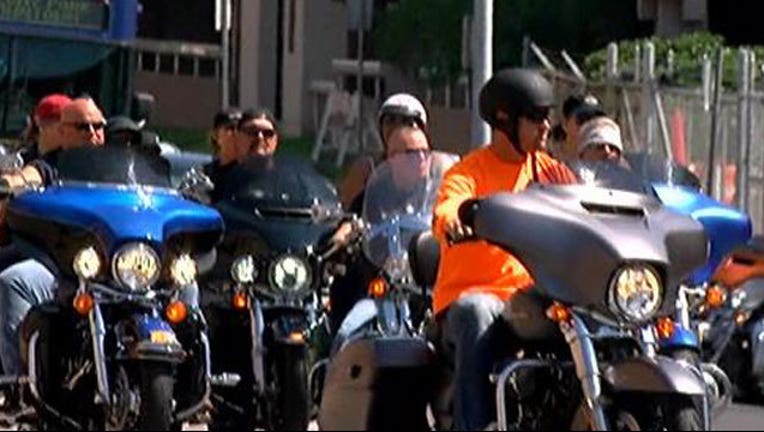 article
They put themselves in harm's way each day to save others. Saturday morning thousands of officers, their families and supporters came to Austin to pay tribute to those killed in the line of duty. The ceremony was put on by Combined Law Enforcement Associations of Texas or C.L.E.A.T.
It has been 13 years since the Bennett family lost their beloved son, and brother Shane in an accidental shooting.
"He was on a call and everything turned bad, there was a hostage situation. He was the first in the door, cleared the scene. His partner came in and opened fire and caught him in the back of the head," said Ronald Bennett, son killed in line of duty."
Ever since then they have made an effort to honor their son's memory. They joined the seventh seal law enforcement motorcycle group to remain close to police community.
"We've survived and have been able to learn how to deal with the process," said Annette Bennett, Shane's mother.
"They were just a few of hundreds at the 14th "Ride for the Fallen" ceremony at the Capitol's Peace Officer Memorial Saturday. The motorcycle convoy started in Round Rock. They rode down I-35 together, symbolizing their unity in the midst of dealing with the losses of fellow comrades.
"I think this is an excellent way to honor our brothers and sisters who have given the ultimate sacrifice for their jobs and their state," said Eric Hoffman, member of Seventh Seal Motorcycle Club.
"They're taken entirely too much for granted," said Ronald Bennett.
Officers laid a wreath at the monument, prayers were said, and reflections made on those who lost their lives years ago, all the way up until just days ago.
The Bennetts' loss may be painful, but they believe their son's death was not in vain, and they try to help others get through the tragedies of losing a loved one.
"He did his job, he did it well. He was an all-around great person," said Brad, Shane's brother.
Sunday will be the candlelight vigil at 7:30 at the same monument.
They will wrap things up Monday, May 4 at 10:30 am, at the Capitol's south steps.