Kentucky woman with over 230 great-great-grandchildren meets great-great-great-grandchild: See the photo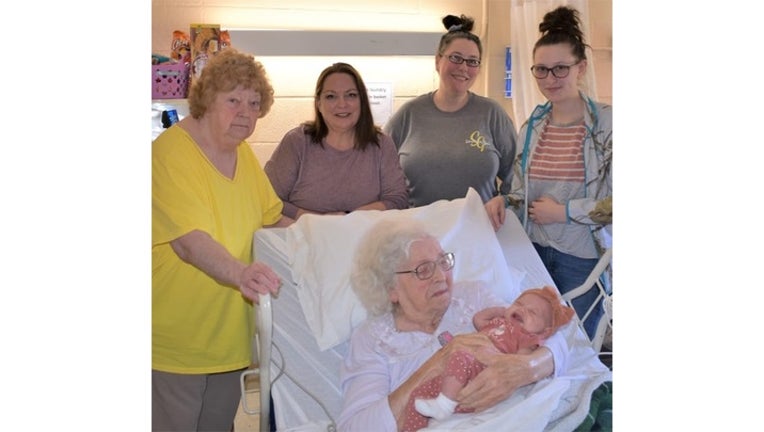 article
A recent family photo that shows six generations of women and a 98-year-old matriarch meeting her great-great-great-granddaughter for the first time in Kentucky has gone viral.
Seven-week-old Zhavia Whitaker met her great-great-great-grandmother, MaeDell Taylor Hawkins, at a nursing home residence in Kings Mountain, Kentucky, on Saturday, Feb. 18.
The pair were joined by MaeDell Hawkins' daughter, Frances Snow; her granddaughter, Gracie Snow Howell; her great-granddaughter Jacqueline Ledford; and her great-great-granddaughter Jaisline Wilson.
MOM OF 12 KIDS, PREGNANT FOR 16 YEARS IN A ROW, SHARES STRONG MESSAGE OF FAITH: 'CHILDREN ARE A BLESSING' 
MaeDell Hawkins' granddaughter, Sheryl Blessing (not pictured) — the sister of Gracie Snow Howell — snapped the family photo.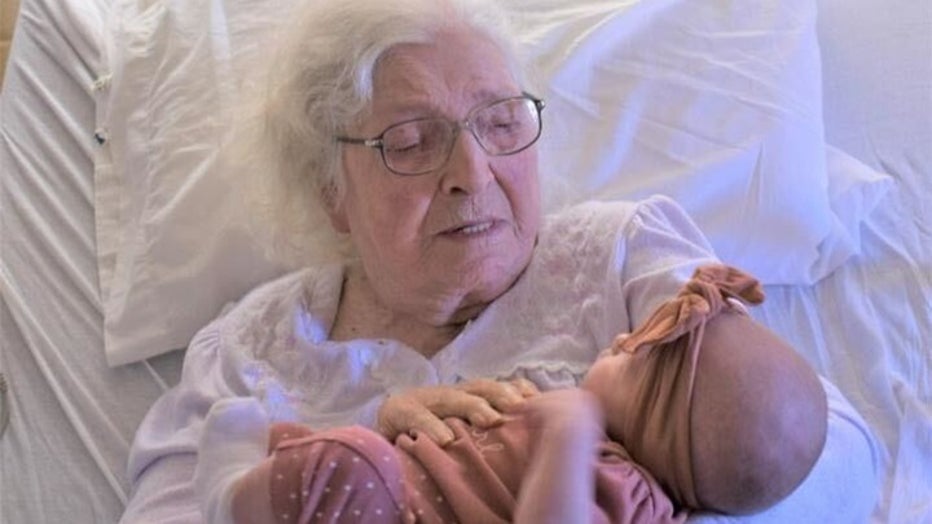 On Feb. 18, MaeDell Taylor Hawkins, 98, got the chance to hold her great-great-great-granddaughter, Zhavia Whitaker, for the first time. (Sheryl Blessing)
Gracie Snow Howell shared the photo on her personal Facebook account nearly a week later.
"SIX (living) generations," she wrote on Friday, Feb. 24. "MaeDell, Frances, Gracie, Jacqueline, Jaisline, and Zhavia."
The photo has been shared by many other social media users on Facebook and Twitter.
In a phone interview with Fox News Digital on Monday, March 6, Howell said the family hadn't intended to make an "all-female" trip out of their visit — but that's what ended up happening.
LIVING TOGETHER: MORE PARENTS ARE MOVING IN WITH THEIR ADULT CHILDREN, SURVEY FINDS
Coordinating travel and schedules were a challenging part of the group's visit since half of the women in the photo currently live out of state.
Snow, 77, is based in Fairborn, Ohio; Howell, 58, is based in Myrtle Beach, South Carolina; and Ledford, 39, is based in Anderson, South Carolina. 
Wilson, 19, as well as Whitaker, are based in Somerset, Kentucky.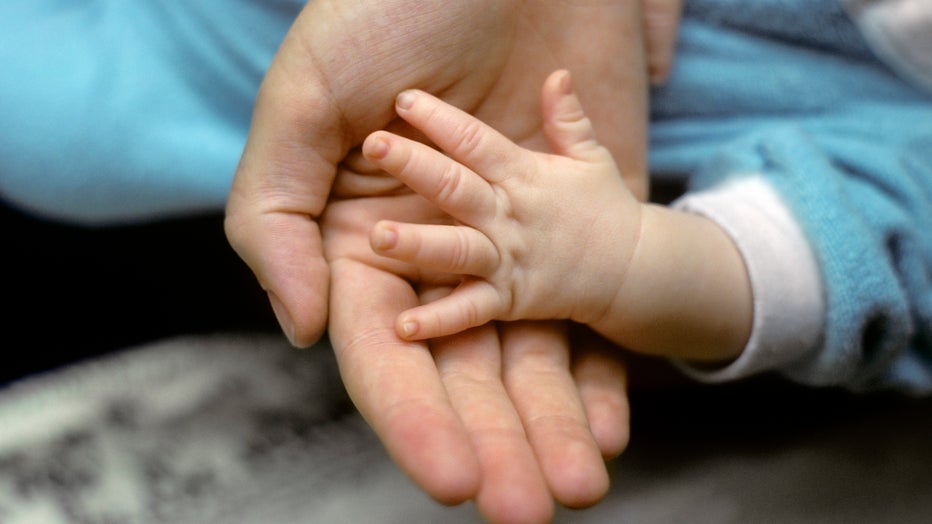 (Photo by D Logan/Classicstock/Getty Images)
MaeDell Hawkins got to hold her great-great-great-granddaughter and catch up with her family. She was admitted to a nursing home after suffering a bad fall at home two years ago.
"We spent three hours with her that afternoon," Howell recalled to Fox News Digital. "We had a really good visit."
LONDON'S OLDEST WOMAN TURNS 108, SAYS COVID-19 IS 'NOTHING COMPARED TO WORLD WAR I' 
MaeDell Hawkins was born and raised in the state of Kentucky. 
She took on household responsibilities very early in her life when she married her first husband, Bill Taylor, in 1940.
"She was 16 when she married him. He was 50. That's a big difference," Howell told Fox News Digital. 
"He already had 10 children. His wife died having twins at home. He worked on the railroad. He had to get back to work. He needed somebody to take care of the kids."
So MaeDell Hawkins, at just age 16, stepped into the role of mother — and went on to have 13 children of her own.
Howell said MaeDell took care of the household without many of the "modern conveniences" people take for granted today, including running water, indoor toilets, electric stoves, washing machines, radiators and window insulation.
"She took care of everybody," Howell went on. "I've never heard my mom say anything about hearing her complain."
10 BABY NAMES THAT ARE 'DYING OUT' IN AMERICA: FROM MILDRED TO PAULINE
Howell said she believes MaeDell's dedication and work ethic set a foundation for the rest of the women in her family.
"She would often say, 'Hard work is what keeps you going,'" Howell recalled.
Interestingly, MaeDell Hawkins' descendants — Snow, Howell, Ledford and Wilson — all gave birth around the age of 19.
Howell told Fox News Digital that the family is not ashamed of their early marriages or their early starts at motherhood.
In the case of MaeDell Hawkins, Howell said, "a lot of women married real young then."
"Now we don't. We have children later in our life, so families are not that big," Howell continued.
"Having six generations is very, very rare to start with."
Guinness World Records reports that the current world record for the family with the most living generations ever was reached in 1989 and was awarded to a New York family who had seven living generations.
The family of MaeDell Hawkins is planning a follow-up visit that will likely happen this summer — and they're hoping to bring more of her great-great-great-grandchildren to see her.
When tallying up Hawkins' biological and step-descendants, she is linked to 623 people, according to a family chart made by Janice Taylor, her daughter-in-law.
MaeDell Hawkins has 106 grandchildren, 222 great-grandchildren, 234 great-great-grandchildren and 37 great-great-great-grandchildren combined, as of this reporting.
She's hoping to meet her third sixth-generation grandchild after his birth, according to Howell.
"If everything goes well, the baby's doing well, Grandma's doing well — we're all going to meet back in June and get another picture," Howell told Fox News Digital. 
"We're hoping to get all three of the great-great-great grandchildren with her."
During the family's recent visit, Howell said she was able to make MaeDell's famous tomato preserves recipe and bring it to her in Kentucky.
"If anybody ever asked me what my favorite memory of Grandma is, it's her tomato preserves. They were just the best," Howell recalled. 
CLICK HERE TO GET THE FOX NEWS APP
"Grandma showed me what to do on a video chat and I got to take her some tomato preserves. It went full circle."
"I'm going to pass that recipe down," Howell continued. "Maybe one day Zhavia will make them."
MaeDell Hawkins' 99th birthday will be celebrated on Wed., July 19, 2023.