Man accused of threatening children at South Congress playground charged with aggravated assault
AUSTIN, Texas - A homeless man accused of threatening to kill children playing at a South Congress preschool Thursday afternoon has been charged with a felony.
Damen Eugene Horner, 33, has been charged with second-degree felony aggravated assault with a deadly weapon and evading arrest on foot, a class A misdemeanor.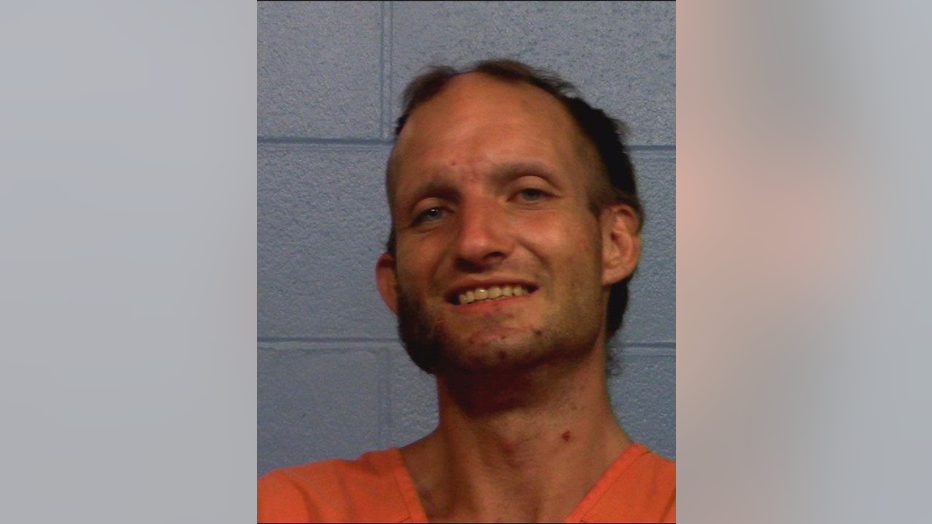 Damen Horner (Williamson County Sheriff's Office)
According to an arrest affidavit, Austin police officers were called to a disturbance hotshot call at The Church on Congress Avenue. The caller said a white man wearing a bright yellow blanket was standing outside the church playground fence and screaming at children that he had a knife and was going to kill them.
RELATED: Man with knife threatens to kill children on playground on South Congress
The man was described as pacing back and forth and agitated, says the affidavit. A second caller said the man attempted to throw a rock at them, and a third said he was looking into vehicles near Hudson's Meat Market.
Officers found the man, later identified as Horner, walking in the 1800 block of South Congress Avenue. Horner saw the police vehicle and stopped. Officers say Horner's hands were hidden inside a large yellow blanket he was wearing around his shoulders. Officers gave Horner loud verbal commands to show his hands, but he resisted.
One officer drew their taser and warned Horner twice that they would tase him. Horner continued to resist, saying they were not real cops and positioned himself with his feet set apart, which officers noted was a "preparatory form of resistance," says the affidavit. Horner began to backpedal from the officers so officers began to command him to get on the ground.
Horner threw down a large rock, approximately the size of a grapefruit, and a four-to-five-inch knife with a green handle and kept moving backward. He started to turn away from the officers and one tased him, but the taser was ineffective due to the prongs hitting his blanket, says the affidavit. He then began running north on South Congress.
DOWNLOAD THE FOX 7 AUSTIN NEWS APP FOR YOUR MOBILE DEVICE
He then ran through the intersection of South Congress and Annie Street and continued north in the street, almost getting hit by multiple vehicles. He dropped his blanket in the intersection and continued running from the officers. One of the officers tried to taser him, but it was also ineffective. Officers tackled Horner after both taser attempts didn't work due to the layers Horner was wearing. Officers managed to put Horner in handcuffs despite him resisting their commands to roll over.
A groundskeeper at the Church spoke with officers, telling them Horner had threatened him with a rock after he approached Horner to ask him why he was yelling at the children. The groundskeeper said Horner began advancing on him while wielding a large grapefruit-sized rock in his hand in an overhand throwing position. Horner closed the distance to approximately ten feet while cussing and yelling at the man, says the affidavit.
The groundskeeper grabbed a stick to defend himself and Horner lunged towards him throwing the rock. The rock struck the ground between them and the groundskeeper moved away from Horner, but saw Horner pick the rock back up. He said Horner walked south and threw the rock again, striking a pole with multiple pedestrians around, and then picked the rock back up and left.
A church supervisor told officers one of her employees called her frantic that a homeless man, identified as Horner, was standing on something that allowed him to be very close and provided him access to jump over the playground fence. The employee described Horner as aggressively cussing and screaming threats at the kids and that he kept leaving and returning, but continually getting close to the fence where he could reach out and touch a child, says the affidavit.
The employee said Horner was staring at the kids and yelling "I'm gonna kill you" and "I'm gonna get you." The supervisor said she told the employee to take the children inside and she went to the playground to check on the children and her employee. A child around five years old came running up to her and said: "the bad man says he has a knife." The supervisor says she recognized Horner as someone she has seen in the area but said he has never threatened the children or frightened her staff.
She also told police she saw Horner get within inches of passing pedestrians' faces and yelling at them aggressively. She said she saw Horner throw the rock at the pole and that pedestrians started to run from the area when they saw him approaching. The affidavit says the rock Horner threw down is the same one he threatened the groundskeeper with and was about two and a half pounds. 
According to the affidavit, Horner has a violent history of trespassing, verbally threatening people along South Congress and causing people to fear for their safety due to his erratic and dangerous behavior and of evading from police and carrying weapons.