Marine donates flag flown in Afghanistan to Spring Hill Elementary in Pflugerville ISD
PFLUGERVILLE, Texas - A Marine serving overseas has donated a flag that recently flew in Afghanistan to a Pflugerville ISD elementary school.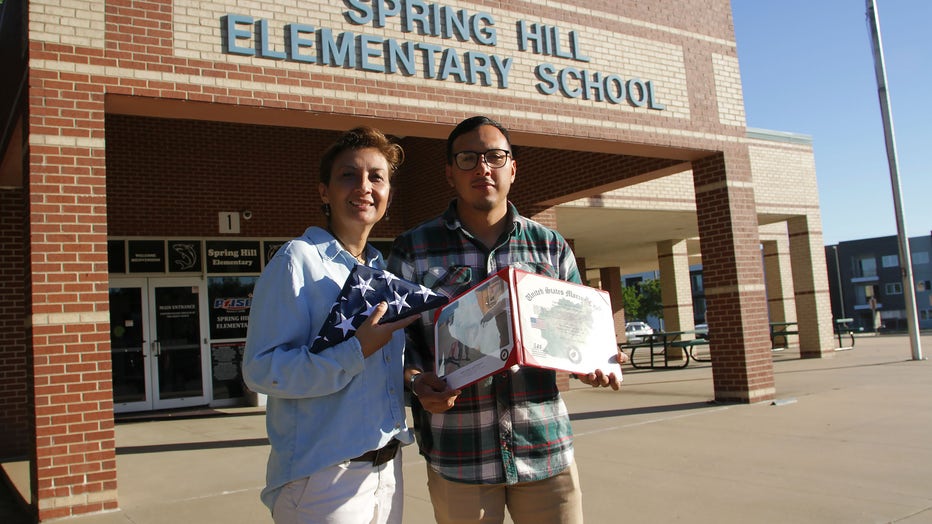 Victor Mansilla, who has been active in the Marine Corps for eight years, donated the flag and a proclamation to Spring Hill Elementary Principal Camille Ramirez-Longoria at the campus last week. 
DOWNLOAD THE FOX 7 AUSTIN NEWS APP FOR YOUR MOBILE DEVICE
The flag flew over a military base camp in Afghanistan while Mansilla was attached to a Marine task force there. Mansilla, who graduated from Connally High School, says he wanted to honor the teachers, especially for their work during the COVID-19 pandemic. Mansilla's mother, Irma is a fifth-grade teacher at Spring Hill.
"All the teachers here have been working hard, doing a good job on top of the pandemic, to keep this next generation of kids learning," Mansilla said. "This is something important and I just wanted to dedicate this flag to them." 
SIGN UP FOR FOX 7 AUSTIN EMAIL ALERTS
Mansilla has been visiting his family on leave after returning from Afghanistan and expects to be stationed stateside for the near future.