Northwest Austin family's newly purchased home explodes
AUSTIN, Texas - An Austin couple returned to what's left of their once dream home Monday to salvage what items they could. Candace Barnes said she, her daughter and her fiancé Ryan Palmer moved in a week ago.
Saturday morning Palmer awoke to what he thought was an earthquake.
"It sounded like a bomb went off, like somebody drove through the house," said Palmer.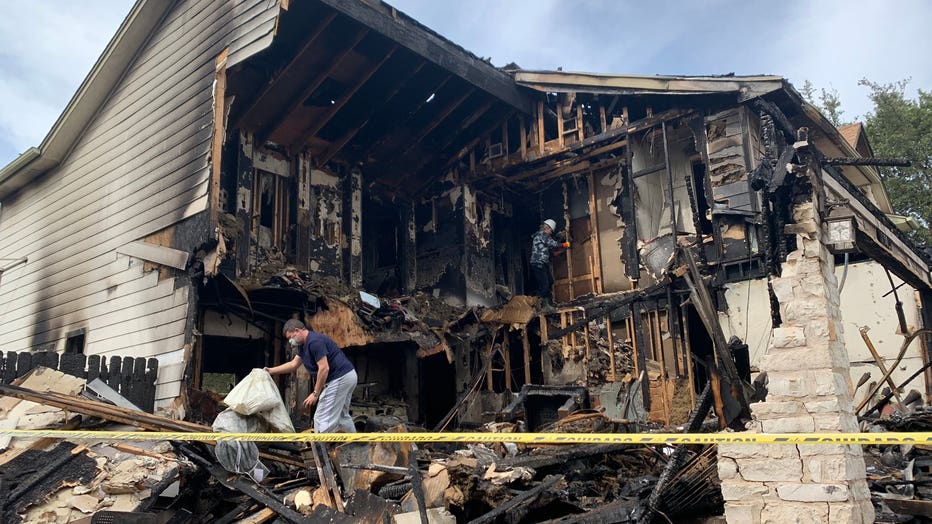 Barnes grabbed a hold of her 10-year-old and the family ran down the stairs.
 
"He started yelling fire, get out of the house. I thought something happened in the kitchen," said Barnes. "The ceiling was already on fire and falling down on top of us so we went out the front door. This whole floor collapsed and from there the fire went up into the attic and spread across the whole top part of the house."
DOWNLOAD THE FOX 7 AUSTIN NEWS APP FOR YOUR MOBILE DEVICE
 
The family watched from a distance as the flames on their house grew taller. Palmer said all of the pets managed to make it out of the house, except one.
 
"She was our shadow, she followed us around the house," said Palmer. "Her name is Nugget and she was an orange cat. She looked like a chicken nugget."
Austin firefighters did their best to salvage what they could.
"The firefighters asked Zoe if there's one thing we could find for you, what do you want that to be?" said Barnes. "She said can I please have my blue bear which she's had her teddy bear since she was an infant. They warned her the stuffed animals never make it."
Fortunately for Zoe, her blue bear did make it. Newly engaged, Barnes and Palmer say they're happy to be together. Under the rubble, the couple found Barnes' grandfather's urn and family photos.
"They are just things you can't get back," said Barnes choking back tears. 
The outpouring of support from neighbors has been overwhelming for the family. Barnes said, for now, they'll assess the damage, keep their wedding date and look forward to rebuilding a new dream home.
The house and a car are deemed a total loss. A GoFundMe has been set up to help the couple rebuild after the explosion.