Tornadoes spotted across Central Texas
AUSTIN, Texas - Officials say multiple tornadoes were spotted including in Round Rock, one northeast of Luling, in Taylor, and a confirmed large and extremely dangerous tornado over Granger.
NWS offers these tips when a tornado warning has been issued:
In general, get as low as you can. A basement below ground level or the lowest floor of a building offers the greatest safety. Put as many walls between yourself and the outside as possible. Avoid windows at all cost!

Tornadoes could be obscured by rainfall or come at nighttime. Do not wait until you see or hear the tornado, it may be too late.

Do not waste time opening or closing windows and doors. It will not protect the structure. You will only waste time and put yourself and others in greater risk. Use those valuable seconds to find a place of safety.

In homes or public buildings: go to the basement or a small interior room, such as a closet, bathroom or an interior hall on the lowest level. Close all doors to the hallway for greater protection. If possible, get under something sturdy like a heavy table. Protect yourself from flying debris with pillows, heavy coats, blankets or quilts. Use bicycle or motorcycle helmets to protect your head.

In mobile homes: leave well in advance of the approaching severe weather and go to a strong building. If there is no shelter nearby, get into the nearest ditch, low spot or underground culvert. Lie flat, covering your head with your hands for protection.

In vehicles or outdoors: when tornadoes are possible, limit your outdoor plans or finish them early. Stay close to a sturdy shelter. If caught outside, find shelter in a ditch or remain in your vehicle and cover your head for protection. Do not take shelter under a highway overpass, where wind speeds can increase due to a tunneling effect. It is best to not put yourself or others in a situation where no sturdy shelter is available.

Remember, stay away from doors, windows, outside walls and protect your head!
The National Weather Service has also issued a tornado watch for most of the Austin viewing area and most of Central Texas until 1 a.m.
Most of Central Texas was upgraded from enhanced for moderate risk for severe weather for Monday, March 21. The upgrade in risk is specifically due to the tornado and hail potential. Strong tornadoes are possible this evening with golf ball to baseball size hail possible late this afternoon and evening.
Many school districts in the area also canceled activities and dismissed students early in anticipation of the storm.
FOX 7 Austin meteorologist Carlo Falco says storm threat modes will begin as hail, transition to large or very large hail, before becoming a tornado threat. Storms should fire along a dry line in the TX Hill Country near Hwy-281, moving east with tornado & hail threat approaching I-35 by 4-7 p.m.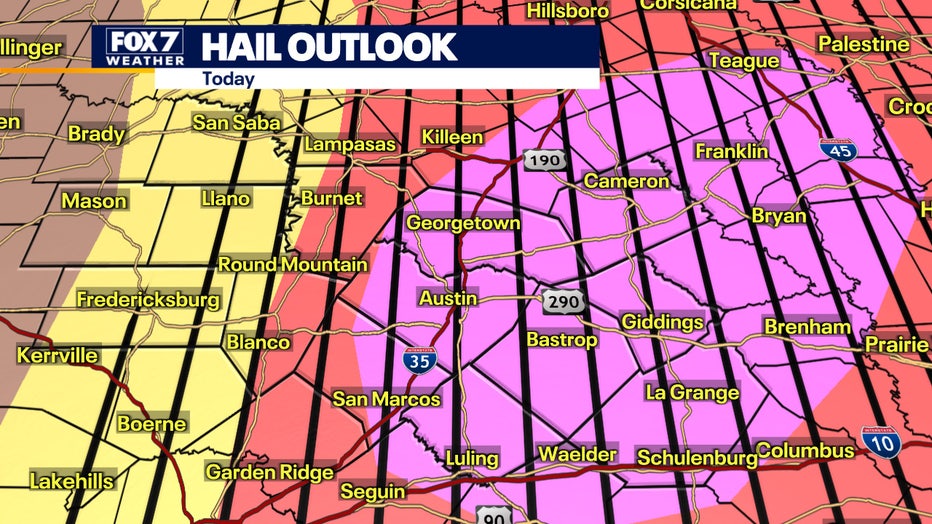 Very large hail is very likely from Austin to La Grange (45% chance of damaging hail will happen within 30 miles of your location) along with downburst winds. Even a few tornadoes are possible (10% chance a tornado will happen within 30 miles of your location). Besides hail, winds could gust to 80 mph. 
The storms will move east, maintaining or increasing in intensity across our eastern counties and along the coastal plain. They're expected to depart the Austin area by 9-11 p.m.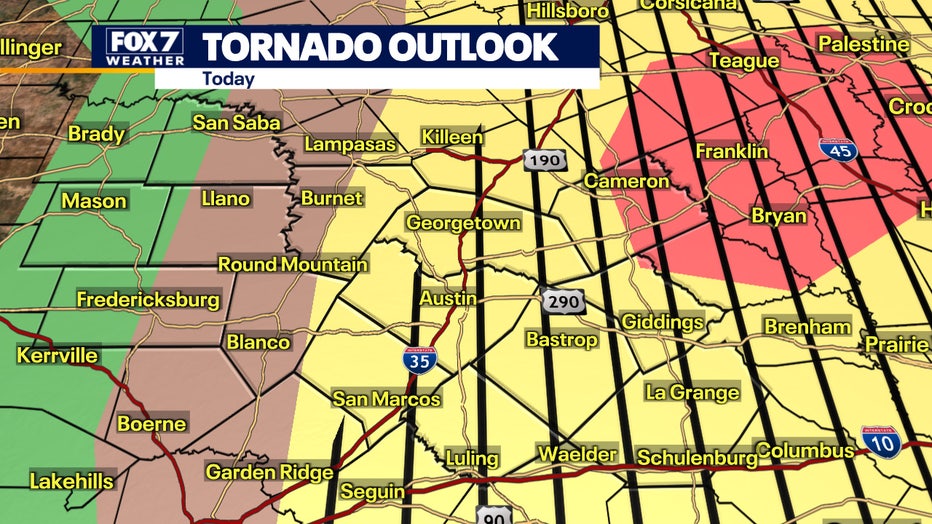 There is a low risk for significant flash flooding, though storms can drop extremely heavy rain and produce hyper-localized urban and street flooding conditions.
Stay weather aware and follow along in FOX 7's Weather Center to view the latest forecast and interactive radar. 
Track your local forecast for the Austin area quickly with the free FOX 7 WAPP. The design gives you radar, hourly, and 7-day weather information just by scrolling. Our weather alerts will warn you early and help you stay safe during storms.
___
MORE HEADLINES:
Multiple tornadoes cause damage across Central Texas
2 temporary shelters set up in Round Rock following severe weather
___
DOWNLOAD: FOX 7 AUSTIN NEWS APP
SUBSCRIBE: Daily Newsletter | YouTube
FOLLOW: Facebook | Instagram | Twitter