South Carolina veterinarian saves German shepherd from choking on toy in dramatic moment caught on camera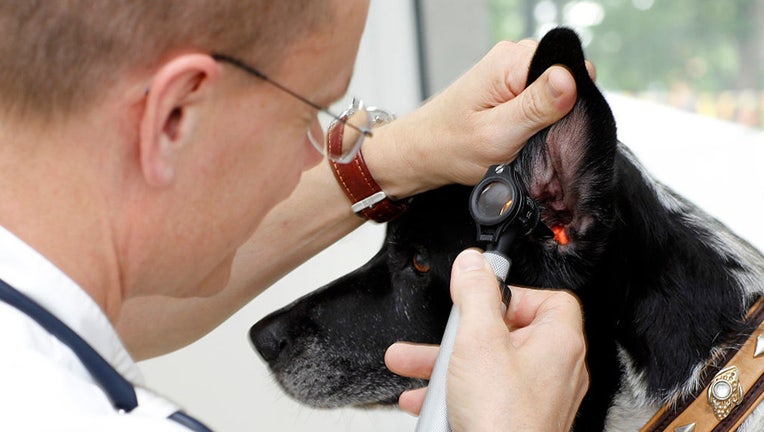 article
A South Carolina dog was given a second chance at life, thanks to heroic actions at a local animal hospital.
Dr. Margaret Hunt, a veterinarian at Travelers Rest Animal Hospital in Travelers Rest, South Carolina, was able to save her German shepherd patient from choking on a large Kong Toy that had gotten stuck in his esophagus.
In a swift maneuver, Hunt laid the dog named Clyde on his back and massaged his throat – in what's considered the external extraction technique (XXT) – until the toy was dislodged.
NATIONAL PUPPY DAY: HOW TO PREPARE FOR A PUPPY, WHAT TO DO WHEN IT ARRIVES
The moment was captured on camera as other veterinarians and Hunt cheered in triumph.
Clyde was saved, and the video went viral on social media. (SEE the moment the toy popped out of Clyde's throat in the Facebook post, below.)
Hunt called the rescue a "group effort."
She told Fox News Digital via text, "Every success at our clinic is the result of a group effort."
She added, "From the front office staff who quickly brings the patient back to the technicians, who gather materials and assist with positioning and restraint, and all the other staff who keep the rest of the appointments going … because those animals need attention, too."
US ARMY SPECIALIST HOPES TO RESCUE HELPLESS PUP FOUND OVERSEAS: 'STRUGGLING TO SURVIVE'
Hunt does not consider herself a hero, she said.
"I'm a veterinarian blessed to work at a fantastic clinic with highly trained and supportive coworkers," she also said.
How to perform XXT
XXT is a safe and effective intervention "in the case of a dog with full airway obstruction due to a ball, a kong toy or any other round object," Paola Cuevas, veterinary consultant at Hepper.com, an online pet products store, told Fox News Digital. 
The animals, said Cuevas, "can quickly become unconscious, [and] in this case, XXT is a safe and effective method."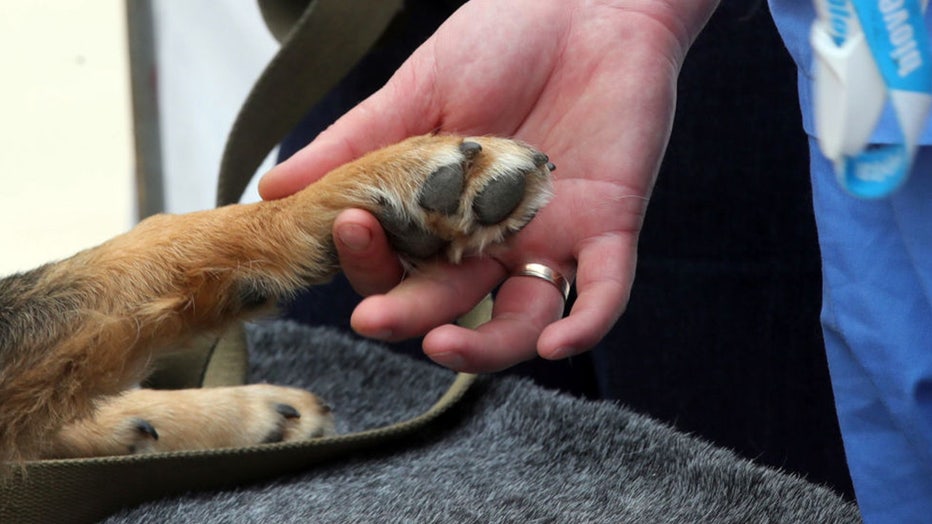 FILE - Doctors of the Kyiv City Hospital of Veterinary Medicine teach people to provide urgent medical care to an animal during a lesson. (Pavlo Bahmut/ Ukrinform/Future Publishing via Getty Images)
CLICK HERE TO SIGN UP FOR OUR LIFESTYLE NEWSLETTER
"To perform this technique, the patient needs to be placed over his back, with the neck area and airway straight and parallel to the floor," said Cuevas.
"Depending on the size of the dog, you might be able to straddle over it, [but] make sure not to put too much pressure. Otherwise, a second person must help to hold the dog's back limbs," she added.
To perform the procedure, "first identify the trachea and the object inside it," she continued.
Then, "make a diamond shape with your hands and use your thumbs to push the ball down and up toward the mouth, as if you were to draw a 'J' shape with both thumbs," Cuevas said.
CLICK HERE TO SIGN UP FOR OUR LIFESTYLE NEWSLETTER
This pressure should "eject the object from the mouth," Cuevas also said. 
"Some dogs will recover right after this — but others might need two rescue breaths and even cardiopulmonary resuscitation to recover."
CLICK HERE TO GET THE FOX NEWS APP
Consumer advisory: Any rescue attempt performed by non-medical persons may be risky or could even be fatal. Before trying XXT on your pet, be sure to get the advice and consult of a veterinary professional.