Texans from across the state attend inauguration festivities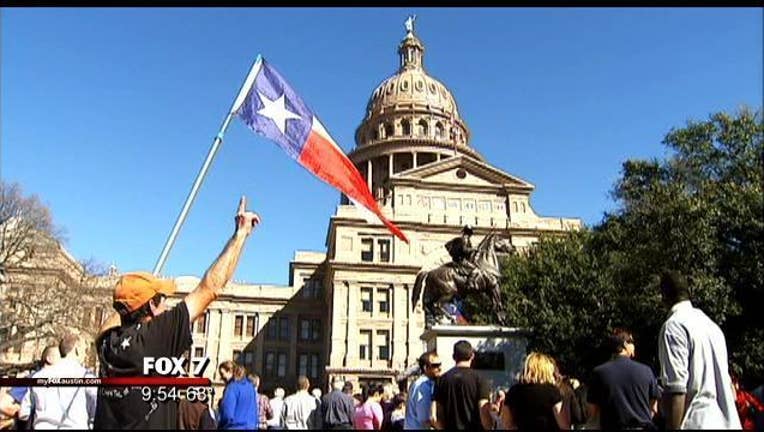 article
AUSTIN, Texas - Republicans come from all over Texas for Inauguration
Texans from across the state made the trip to Austin for Governor Greg Abbott's inauguration. State pride was in full force Tuesday. Some people waved the state flag while others wore it. People of all ages gathered around the front steps of the capitol. They all shared different reasons for coming out.
"I have been to a few press conferences and I have shaken his hand so I feel I have a personal context so I thought it would be nice to come down," said Anna Bartosh who drove in from San Angelo.
"Garrett is homeschooled and last week he learned about the governorship and I thought what a great way for him to see it in person," said Anna Wise who brought her son for a history lesson.
Wayne and Betty Musgrove brought their two dogs Hershey and Bailey and the two proudly wore Greg Abbott buttons. "Bailey has licked Greg Abbott on the mouth the first time she met him. I apologized and he said 'Oh man I love dogs," said Wayne Musgrove about his interactions with the new Governor.
On most street corners people were selling political memorabilia marking the moment. Some of the buttons even hinted at who may be running in 2016. On the Capitol lawn official merchandise could be purchased ranging from $5 to $100.
Through the pomp and circumstance voters have their hopes for Abbott and Patrick while they are in office.
"I hope to see strong principled leadership," said Elizabeth Hunter who drove in from Dallas.
"I would like to see all of our people be first class in everything and no one left behind," said Musgrove.
"I hope he carries through on his promises. That's what I hope so we will see," said Bartosh.