Chris Beard: Texas men's basketball head coach fired following domestic violence charge
AUSTIN, Texas - The University of Texas has fired men's basketball head coach Chris Beard as he faces a felony domestic violence charge.
Beard had been suspended indefinitely without pay after his Dec. 12 arrest on a felony charge of strangling his fiancé who lives with him. 
The Associated Press obtained the termination letter that was sent to Beard's attorney.
Beard had five years left on a seven-year guaranteed contract that includes a provision he could be fired for cause if he was charged with a felony. The charge of assault by strangulation/suffocation family violence carries a possible prison sentence of two to 10 years if convicted.
The AP says a January 18 court hearing is scheduled for Beard, according to online records.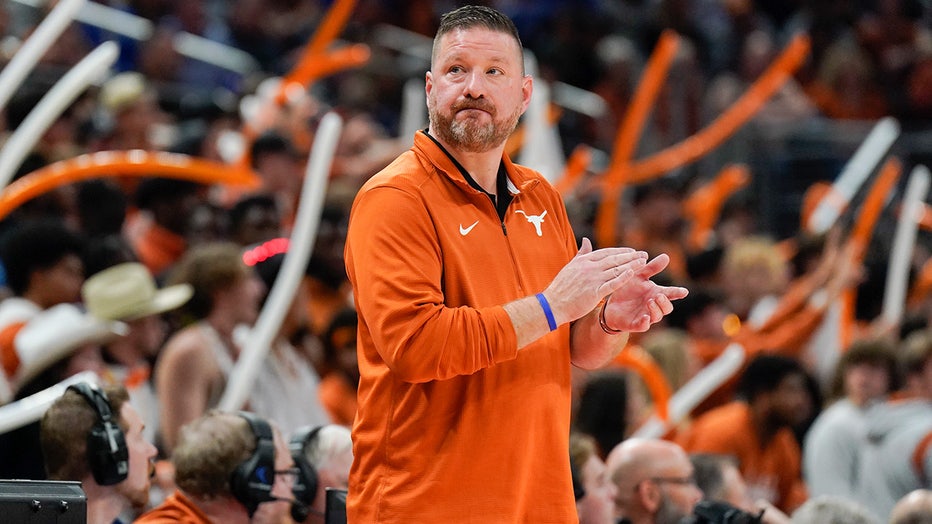 University of Texas Vice President and Athletics Director Chris Del Conte released the following statement about the firing:
"The University of Texas has parted ways with Chris Beard. This has been a difficult situation that we've been diligently working through. Today I informed Mr. Beard of our decision to terminate him effective immediately.
We thank Coach Rodney Terry for his exemplary leadership both on and off the court at a time when our team needed it most. We are grateful he will remain the acting head coach for the remainder of the season.
We are proud of our student-athletes, coaches and staff, who throughout this difficult time have continued to make us proud to be Longhorns."
The Travis County District Attorney's Office also released a statement on the matter:
"The matter is still under review, and our prosecutors are evaluating all the evidence, including recent statements and all evidence collected by law enforcement. Our office takes all allegations of domestic violence seriously; in each case, we are committed to working through the unique challenges presented."
Texas coach Beard accused of assaulting fiancé
Beard was arrested on Dec. 12 for alleged assault, police said. He was later released after posting his $10,000 bond.
Austin police say it started with a 911 call about a disturbance in West Austin on Vista Lane around 12:15 a.m. Monday. The caller told police the disturbance was no longer ongoing and one of the individuals had left the house.
Police say when they arrived they found a woman who said she had been assaulted and strangled by Beard.
An arrest affidavit revealed new details about the incident. 
The victim told investigators she had been assaulted and strangled by Beard, saying, "He just snapped on me and became super violent," according to the affidavit.
Then she described what happened, "He choked me, threw me off the bed, bit me, bruises all over my leg, throwing me around, and going nuts."
She says she didn't feel safe, and that's why she called 911.
The victim said the two had been upset with each other for a couple of days. She went to check on him, got frustrated, took a pair of glasses from his hand, broke them, and left the room.
About 10 to 15 minutes later, she says he came into the master bedroom upset, so she offered him a new pair of glasses.
RELATED STORIES: 
Then, the affidavit says she told police he slapped the glasses she was wearing off of her face.
When she went to retrieve them, she told police that Beard threw her from the bed to the floor.
Police say she had a visible injury to her left leg, from her knee to her foot, as a result.
She told police, at that point she couldn't see because she didn't have her glasses, and that's when Beard came up behind her and put his arm across her neck, choking her.
She said, "I couldn't move or do anything at all," according to the affidavit.
The victim said after that, Beard threw her on the bed and moved his face within inches of her face.
She told police she's not sure why he eventually stopped.
Beard told police that he has audio recordings of the incident, and he was not the primary aggressor. But when police asked if he would share the audio, he said no, according to the affidavit.
Police say the victim told them the following injuries were from Beard's assault that night:
Bite mark on right forearm (with visible teeth marks and redness)
Abrasion to right eyebrow/temple area
Abrasion/scrape to left leg
Cut to left thumb
Beard's fiancé says he didn't strangle her
After Beard's arrest, in a statement sent to The Associated Press by her attorney, Randy Leavitt, Beard's fiancé Randi Trew said she is "deeply saddened" by the incident and said Beard was acting in self-defense from her.
"Chris and I are deeply saddened that we have brought negative attention upon our family, friends, and the University of Texas, among others. As Chris' fiancée and biggest supporter, I apologize for the role I played in this unfortunate event. I realize that my frustration, when breaking his glasses, initiated a physical struggle between Chris and myself," Trew said in the statement.
"Chris did not strangle me, and I told that to law enforcement that evening. Chris has stated that he was acting in self-defense, and I do not refute that. I do not believe Chris was trying to intentionally harm me in any way. It was never my intent to have him arrested or prosecuted. We appreciate everyone's support and prayers during this difficult time," she said.
Leavitt confirmed that Trew, whose name was redacted by police from charging documents, agreed to be named publicly. He declined further comment.
The AP says that the Travis County district attorney's office has not responded to previous requests for comment on Beard's case or whether Trew's Dec. 23 statement would change how prosecutors proceed with the felony charge. 
Who is Chris Beard?
The AP says Beard led Texas Tech to the 2019 NCAA Tournament championship game and was hired at Texas in 2021. He had the Longhorns program off to a strong start this season with a 6-0 record and ranked as high as No. 2.
Associate head coach Rodney Terry took Beard's place during the suspension.
A Texas graduate, Beard spent 10 seasons at Texas Tech as an assistant under Bob Knight from 2001-2011, then returned there as head coach in 2016. He was 112-55 in five seasons with the Red Raiders and was named The Associated Press coach of the year in 2019 as he guided Texas Tech to a 31-7 finish and lost in an overtime thriller to Virginia in the national championship game.
In Beard's first season, he led Texas to a first-round victory over Virginia Tech that was the Longhorns' first NCAA Tournament win since 2014.
____
The Associated Press contributed to this report.